UPDATES FROM THE MLK COMMUNITY CENTER
Friday, October 16th, 2020
DEAR DOLLY…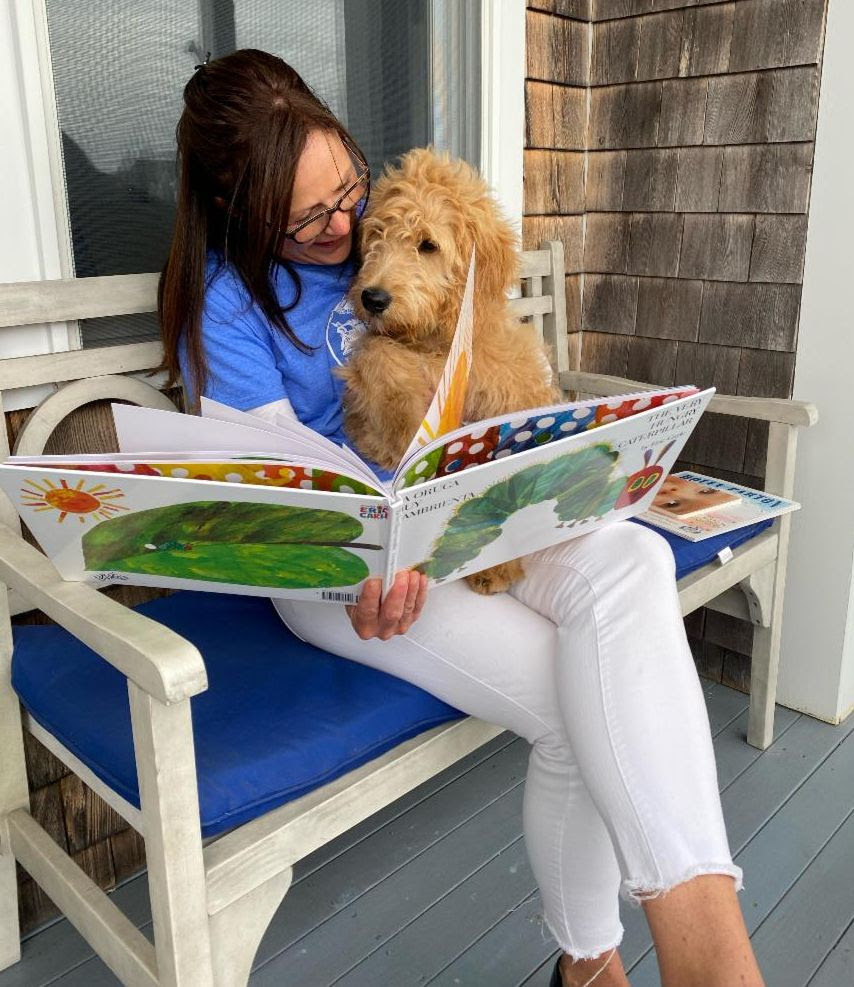 Dear Dolly Parton,
We know you're so busy that it's probably out of the question for you to come visit little ol' Newport, Rhode Island again. In the meantime, our resident "book lady" Judy Hall has been hanging out with a doggy friend who shares your name: doggy Dolly Parton! Here's Judy reading the beloved Eric Carle's "The Very Hungry Caterpillar" to doggy Dolly.
Dolly, we'd love to tell you about the 753 children who have enjoyed Dolly Parton's Imagination Library in Newport County. Thanks to Dolly Parton's Imagination Library, presented by the Bazarsky Family Foundation, all 753 children receive a free age-appropriate book in the mail, from birth until their 5th birthday.
PS: This one of the books participating children are sent in the Imagination Library program…and it's doggy Dolly-approved. And better yet – it's the bilingual (English/Spanish) version!
---
"RAMPING UP" FOR THE HOLIDAYS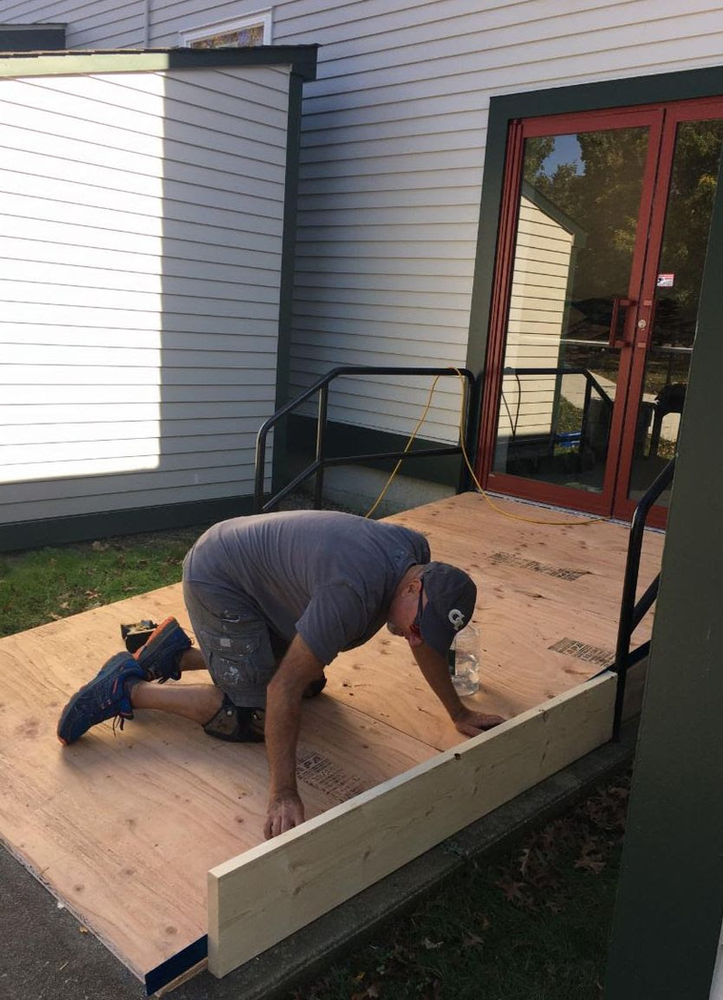 We're 'ramping up' for our Thanksgiving and Christmas/Holiday programs…literally. Shown here under construction, we are adding a ramp to the Center's rear door*. Clients using the holiday meal pantries and Santa's Workshop will enter via the Edward St. entrance. To maintain social distancing, we needed another accessible exit for clients using Holiday Help. The regular on-site food pantry will remain in operation throughout, so we'll need the main entrance on Marcus Wheatland Blvd. available for those clients.
(*Little known fact: the basketball courts and playground behind our building are not MLK property. The City of Newport owns that property.)
---
REMINDER: EARLIER HOLIDAY HELP REGISTRATION DEADLINES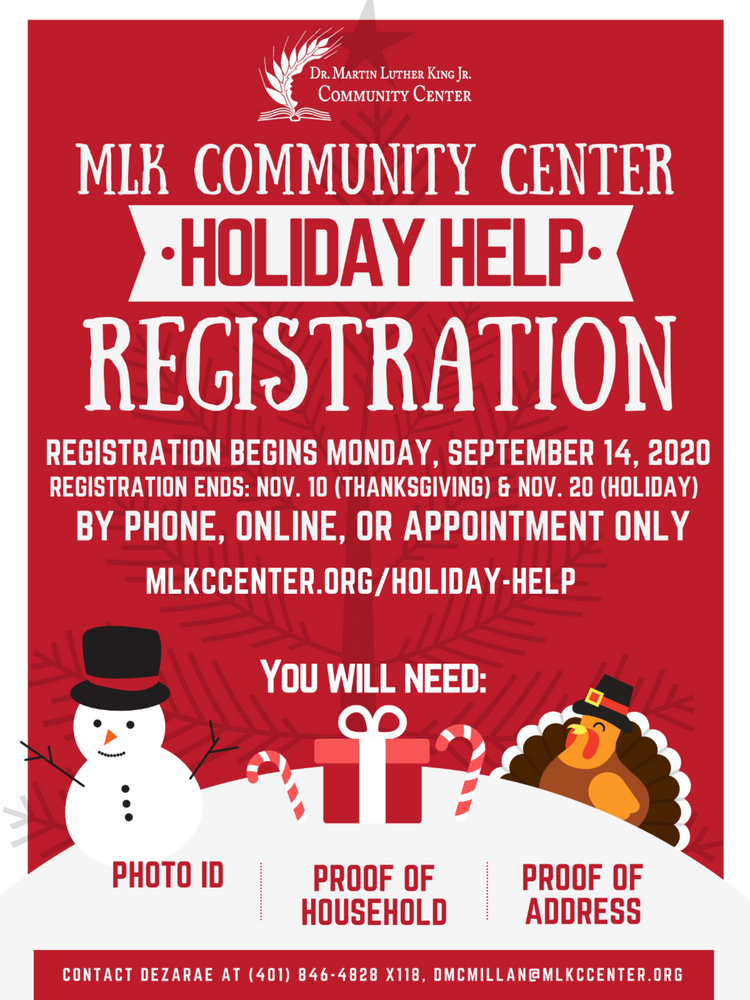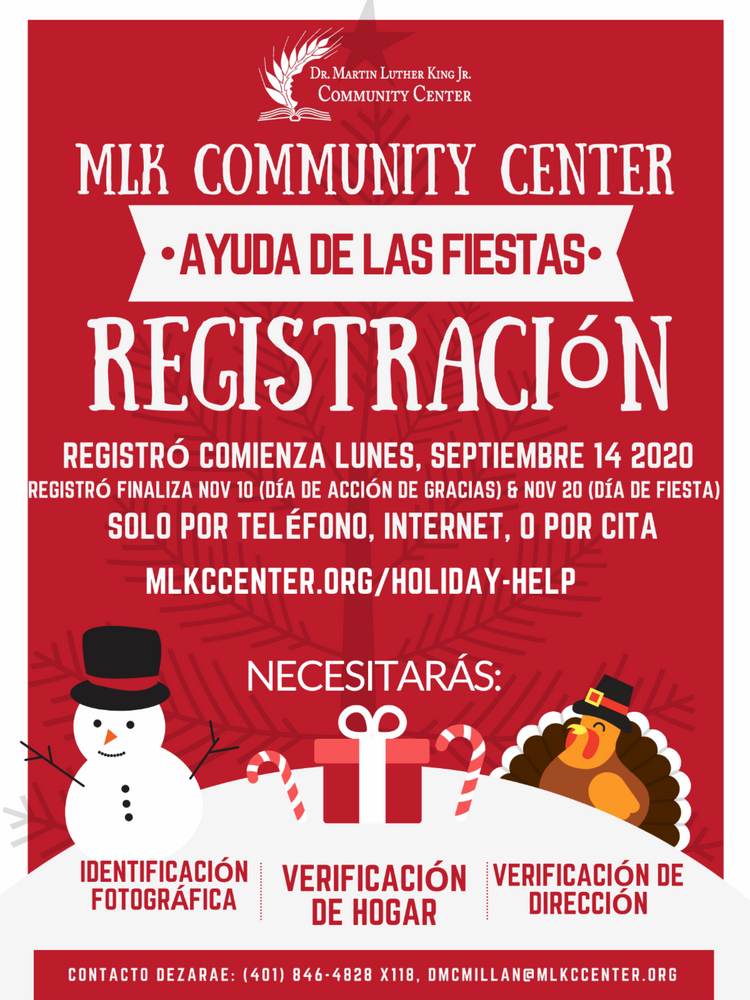 Registration for our Holiday Help programming (Thanksgiving food pantry, holiday food pantry, and Santa's Workshop) is ongoing. As a reminder, registration deadlines are much earlier this year. Thanksgiving food pantry registration must be completed by November 10th, which is right around the corner. The registration deadline for the holiday food pantry and Santa's Workshop program is November 20th.
Register online, or contact Dezarae for an in-person appointment: (401) 846-4828 x118, dmcmillan@MLKCCenter.org.
---
SOCIALLY DISTANT IN-PERSON PROGRAMMING RETURNS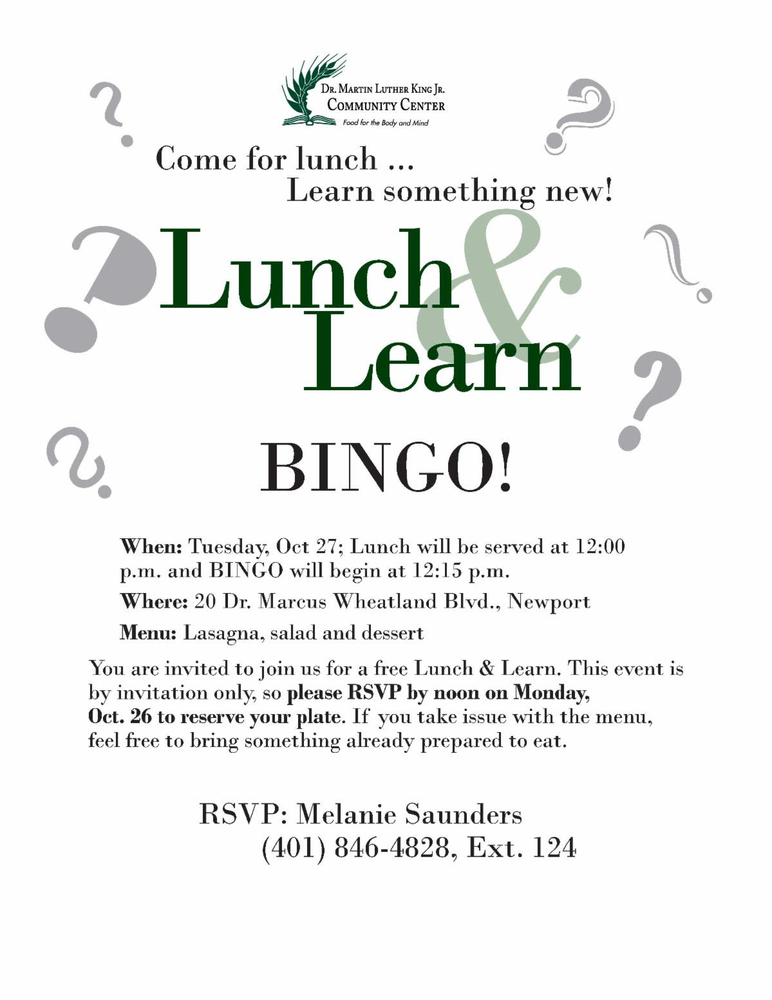 Lunch & Learn, the Center's recurring free lecture series for older adults, returns on Tues., Oct. 27th at noon, but with a few changes. (Other dates TBA)
This week, the activity will be BINGO! Lasagna and salad will be served. Precautions will be in place to keep everyone socially-distant. Masks are required when participants aren't eating. Please do not attend if you aren't feeling well or have been in contact with someone who hasn't been feeling well.
RSVP is required. Please RSVP with Melanie at msaunders@mlkccenter.org or call (401) 846-4828 x124.

And don't forget: free fitness classes at the MLK are back, too! Shape Up! with Debra is a full-body workout that aims to improve balance, bone health, flexibility, and strength of participants in a safe, welcoming, and fun environment. Shape Up! meets every Wednesday morning at 8:30 a.m. and participants are socially distant. Please also RSVP with Melanie (info above).
---
KEEPER OF THE DREAM: October 26th
Have you RSVP'd?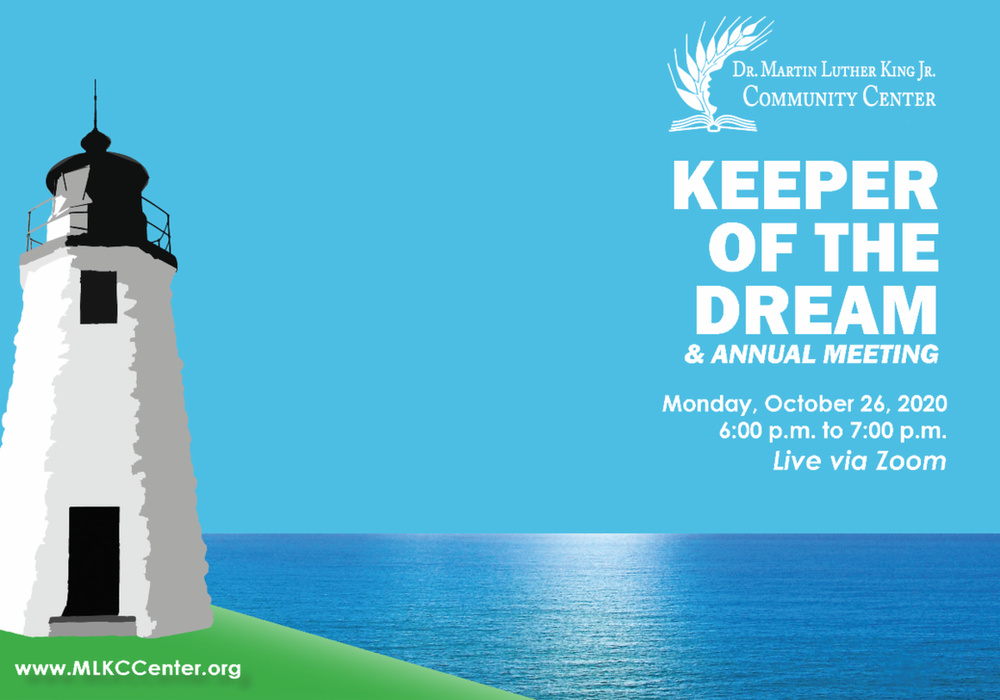 As a reminder, the Keeper of the Dream awards & Annual Meeting will be held virtually on Monday, October 26th from 6-7 p.m. on Zoom. We will be honoring some of our very best: Keepers of the Dream: Nancy & Doug Horsey; Keeper of the Dream – Community Partner: ,Jamestown Community Farm; Volunteers of the Year: Betsy Blair & Jim Van Winkle.
RSVP is required to receive the private Zoom invitation on the day-of the event. Join us and raise a [virtual!] glass to 2019 and these incredible honorees!
---

---
HERE TO HELP
Grab-n-Go Breakfast Mon-Fri, 7:30 – 8:30 a.m. (Marcus Wheatland Blvd entrance)
Food 2 Friends delivery for homebound seniors. Contact Ed for more info
Mobile Food Pantry visits to low-income housing communities
Preschool for registered preschool students. Openings currently available for 3 year olds. Contact Tanya by email or by phone: (401) 846-4828 x117
After School program for registered students
Daily Bread: Mon-Fri at the Marcus Wheatland Blvd entrance
On-site food pantry: Monday, Wednesday, and Friday from 10 a.m. to 2 p.m. and Wednesday evenings from 4 p.m. to 6 p.m. First Saturday of each month from 10 a.m. to 12 p.m.
Veggie Days weekly vegetable distribution outside, Thursdays 10 a.m. to 2 p.m. or while supplies last. ,Now year-round!
LivFit Cooking & Nutrition class Tuesday & Thursday at 5 p.m. Class is socially distanced and masks are required. Call or text Kristin to attend: (401) 368-7614
Grab 'n Go lunches: Tues, Oct. 20th, Tues. Nov. 3rd, & Tues. Nov. 17th from 11:30 a.m. to 1 p.m. Free! Presented in collaboration with McGrath's Clambakes. Menu TBD. Eating on-site not permitted
Free flu shot clinic: Tues, Oct. 27th from 10 a.m. to 11:30 a.m. Adults 18+ only. Please bring your health insurance card if you are insured, but no one will be turned away. RSVP required: email or call Gianna: (401) 846-4828 x121
**NEW** Shape Up! Fitness class with Debra: Held every Wednesday at 8:30 a.m. Free. This full-body workout aims to improve balance, bone health, flexibility, and strength of participants in a safe, welcoming, and fun environment. RSVP with Mel by email or phone: (401) 846-4828 x124
**WELCOME BACK** The Lunch & Learn series for older adults returns to the Center beginning on Tues. Oct. 27th at 12 p.m. Other dates TBA. This Lunch & Learn's activity will be bingo, and lasagna, salad, & dessert will be served. RSVP with Mel by email or phone: (401) 846-4828 x124
Stepping Stones mentoring program: Start your journey to food security and overcome the obstacles that might stand in your way with the help of Client Support Specialist, Dezarae. This one-on-one mentoring program is open to any Newport County resident willing to meet (virtually or in-person) twice per month for at least six months, aged 18+, who is struggling with food insecurity. Contact Dezarae via email or call (401) 846-4828 x118
Dolly Parton's Imagination Library, presented by the Bazarsky Family Foundation in partnership with the MLK Community Center, puts books into the hands and hearts of children across the world. They partner with local communities to mail a hand-selected, age-appropriate, high-quality book each month to registered children from birth to age five, completely free of cost & regardless of family income. More info
Senior farmers market coupon booklets are available to pickup at the MLK. While supplies last, Rhode Island residents seniors ages 60+ who meet the income requirements can pick up one booklet per season. ,Reminder: coupons expire Oct. 31st, 2020
Holiday Help: Registration is open! Contact Dezarae by email or by phone: (401) 846-4828 x118 or register online. Due to limits on gathering, no drop-in registrations permitted this year. Thanksgiving registration deadline: Nov. 10th. Holiday pantry & Santa's Workshop deadline: Nov 20th
Donations: Donations of non-perishable food, fresh produce, household items, and personal care items are accepted at our loading dock Mon-Fri 8:30 a.m. – 5:00 p.m. Please ring the bell upon arrival. Masks required to donate. A list of our urgent needs available here
Dr. Martin Luther King, Jr. Community Center
(401) 846-4828
No temenos la capacidad de traducir cada entrada del blog a español porque usamos una herramienta de traducción en el internet. Por favor, disculpe cualquier error gramática. Por favor, llame al Centro si tiene alguna pregunta.
Una carta abierta a Dolly Parton: ¡Ven a visitar el MLK!
ACTUALIZACIONES DEL MLK COMMUNITY CENTER Viernes 16 de Octubre de 2020
QUERIDA DOLLY …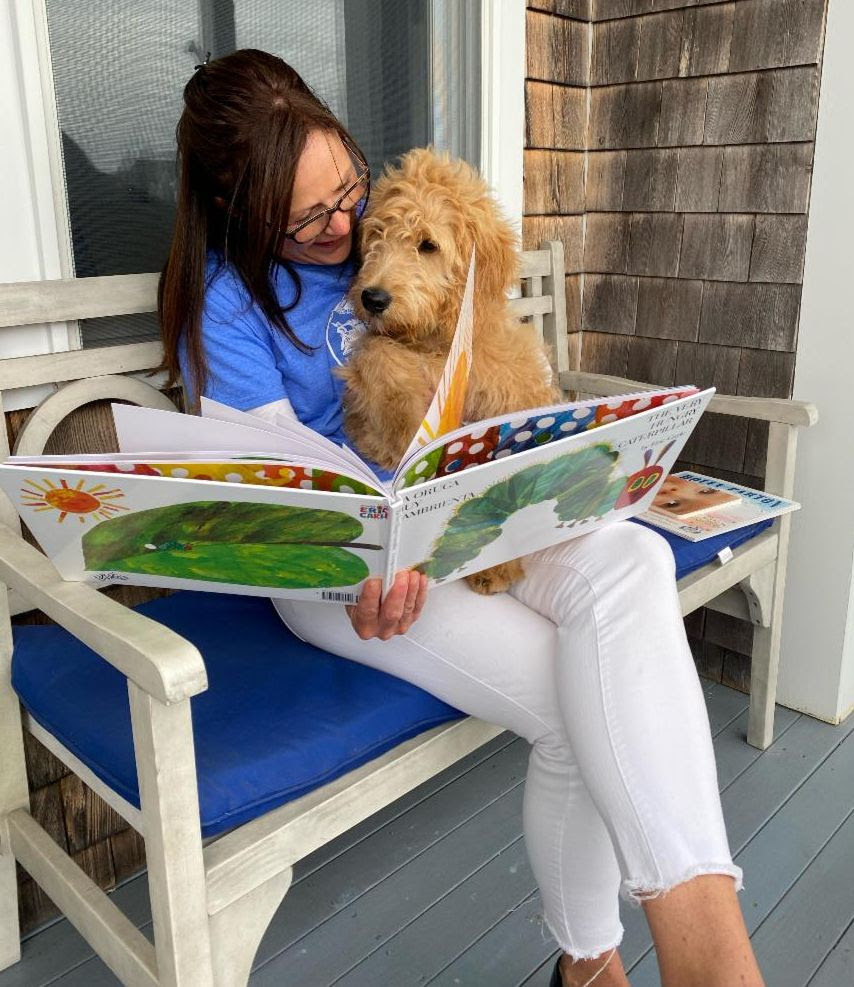 Querida Dolly Parton,
Sabemos que está tan ocupado que probablemente sea imposible que vuelva a visitar el pequeño Newport, Rhode Island. Mientras tanto, nuestra "señora de los libros" residente Judy Hall ha estado saliendo con una amiga perrita que comparte su nombre: ¡la perrita Dolly Parton! Aquí está Judy leyendo "La oruga muy hambrienta" del querido Eric Carle a la perrita Dolly.
Dolly, nos encantaría contarle sobre los 753 niños que han disfrutado de la Biblioteca de imaginación de Dolly Parton en el condado de Newport. Gracias a la Biblioteca de ,,imaginación de Dolly Parton, presentada por la Fundación de la familia Bazarsky, los 753 niños reciben por correo un libro gratuito apropiado para su edad, desde el nacimiento hasta los 5 años.
PD: Este es uno de los libros que los niños participantes son enviados al programa Imagination Library … y está aprobado por Dolly. Y mejor aún, ¡es la versión bilingüe (inglés / español)!
---
"ARRIBA" PARA LAS VACACIONES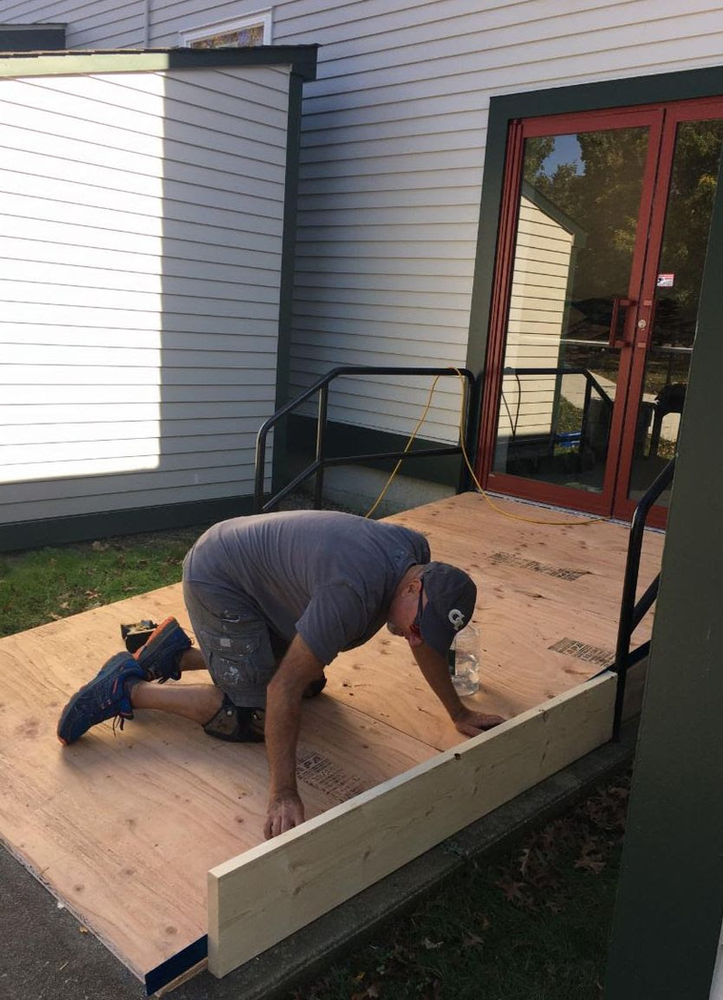 Estamos 'acelerando' nuestros programas de Acción de Gracias y Navidad / Vacaciones… literalmente. Mostrado aquí en construcción, estamos agregando una rampa a la puerta trasera del Centro *. Los clientes que usen las despensas de comidas navideñas y el Taller de Santa entrarán por la entrada de Edward St. Para mantener el distanciamiento social, necesitábamos otra salida accesible para los clientes que utilizan Holiday Help. La despensa de alimentos habitual en el lugar permanecerá en funcionamiento en todo momento, por lo que necesitaremos la entrada principal en Marcus Wheatland Blvd. disponible para esos clientes. (* Dato poco conocido: las canchas de baloncesto y el área de juegos detrás de nuestro edificio no son propiedad de MLK. La ciudad de Newport es dueña de esa propiedad).
---
RECORDATORIO: FECHAS LÍMITES DE REGISTRO DE AYUDA DE VACACIONES ANTERIORES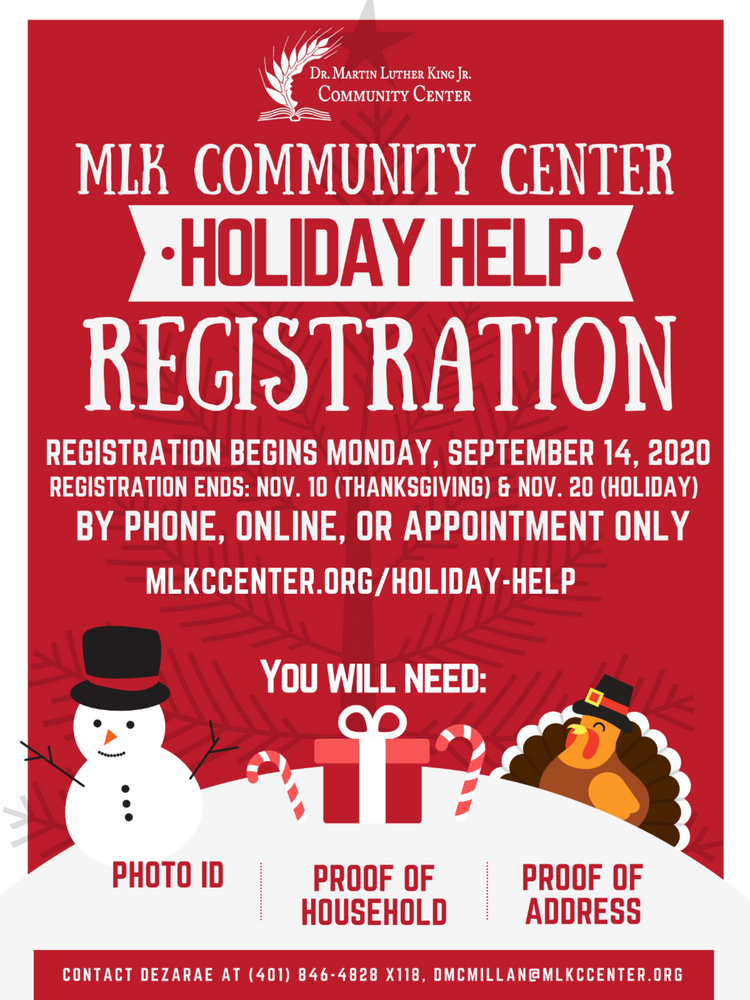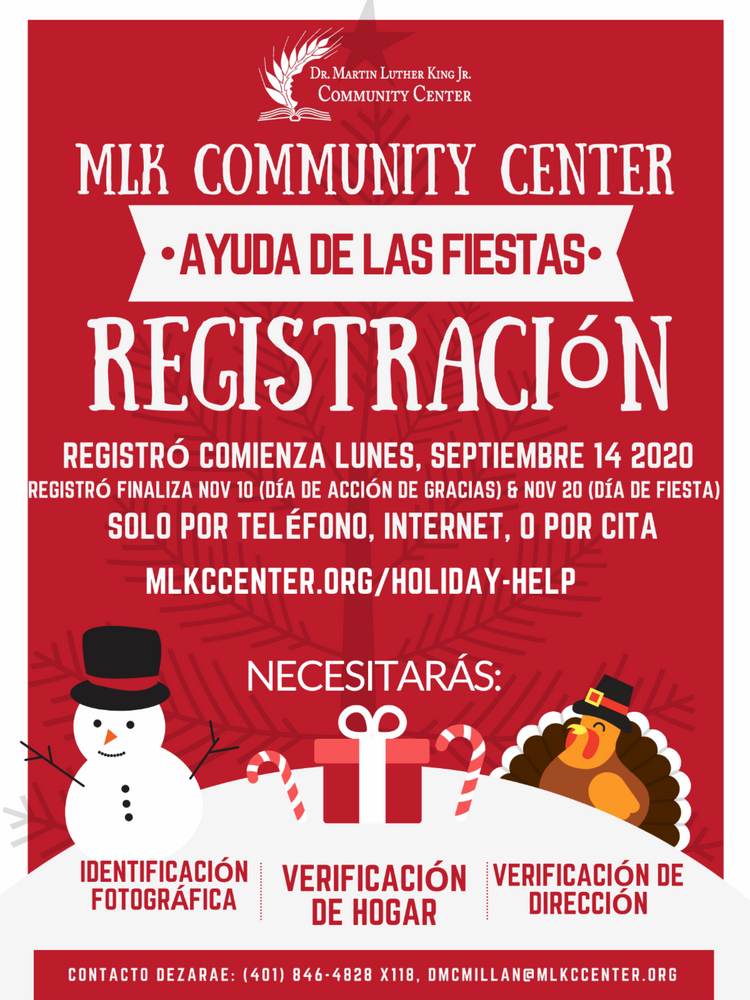 La inscripción para nuestra programación de Ayuda para las fiestas (despensa de alimentos de Acción de Gracias, despensa de alimentos para las fiestas y el taller de Santa) está en curso. Como recordatorio, las fechas límite de inscripción son mucho antes este año. El registro de la despensa de alimentos de Acción de Gracias debe completarse antes del 10 de noviembre, que está a la vuelta de la esquina. La fecha límite de inscripción para la despensa de alimentos navideña y el programa del Taller de Santa es el 20 de noviembre.
,,Regístrese en línea o comuníquese con Dezarae para una cita en persona: (401) 846-4828 x118, ,,dmcmillan@MLKCCenter.org.
---
DEVOLUCIONES DE PROGRAMACIÓN EN PERSONA SOCIALMENTE DISTANTES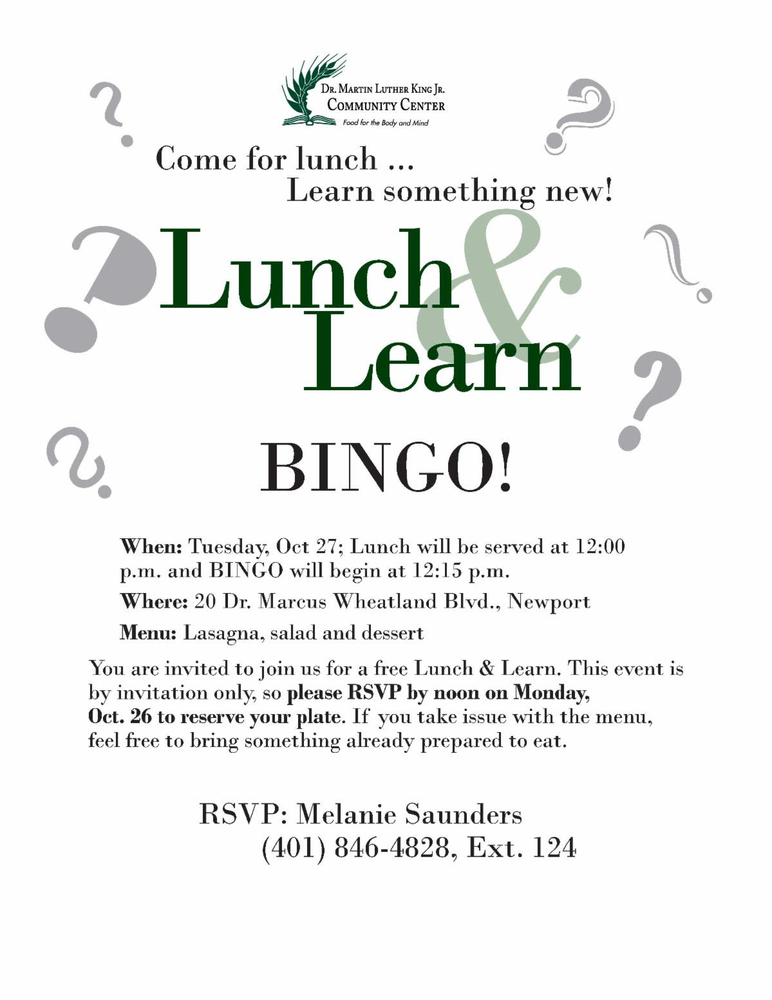 Lunch & Learn, la serie de conferencias gratuitas recurrentes del Centro para adultos mayores, regresa el martes 27 de octubre al mediodía, pero con algunos cambios. (Otras fechas por confirmar) ¡Esta semana, la actividad será BINGO! Se servirá lasaña y ensalada. Se tomarán precauciones para mantener a todos socialmente distantes. Se requieren máscaras cuando los participantes no están comiendo. No asista si no se siente bien o ha estado en contacto con alguien que no se ha sentido bien. Se requiere RSVP. Confirme su asistencia con Melanie en ,msaunders@mlkccenter.org o llame al (401) 846-4828 x124.

Y no lo olvides: ¡también han vuelto las clases de fitness gratuitas en el MLK! ¡Ponerse en forma! with Debra es un entrenamiento de cuerpo completo que tiene como objetivo mejorar el equilibrio, la salud ósea, la flexibilidad y la fuerza de los participantes en un entorno seguro, acogedor y divertido. ¡,Ponerse en forma! se reúne todos los miércoles por la mañana a las 8:30 a.m. y los participantes son socialmente distantes. Por favor también confirme su asistencia con Melanie (información arriba).
---
KEEPER OF THE DREAM: 26 de octubre ¿Ha confirmado su asistencia?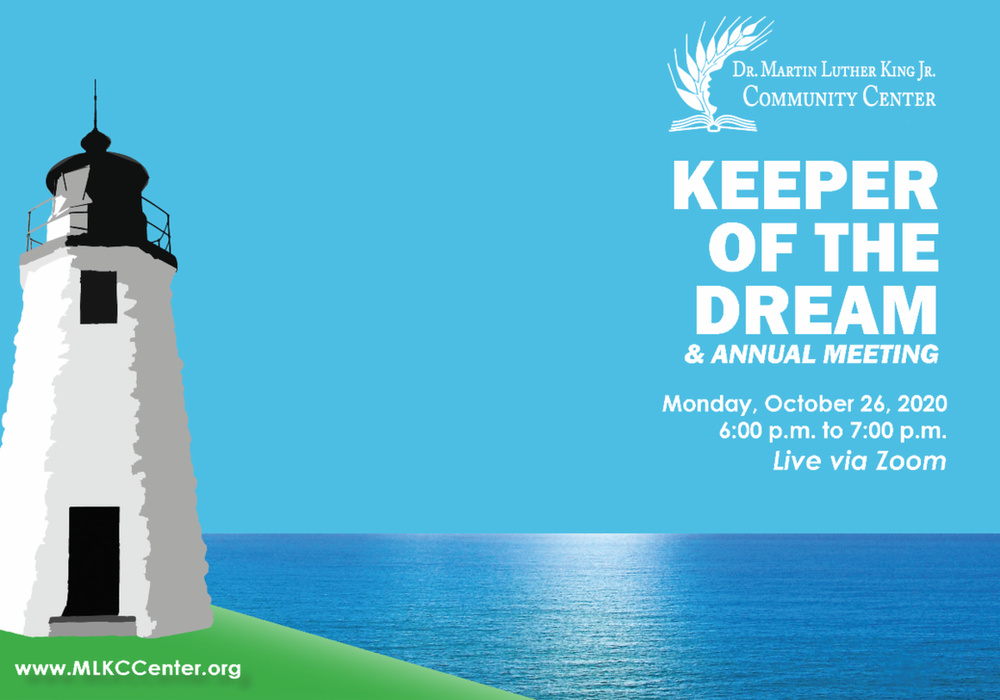 Como recordatorio, los premios ,Keeper of the Dream y la reunión anual se llevarán a cabo virtualmente el lunes 26 de octubre de 6 a 7 p.m. en Zoom. Honraremos a algunos de nuestros mejores: Guardianes del Sueño: Nancy & Doug Horsey; Keeper of the Dream – Socio de la comunidad:, Jamestown Community Farm; Voluntarios del año: Betsy Blair y Jim Van Winkle. Se requiere ,RSVP para recibir la invitación privada de Zoom el día del evento. Únase a nosotros y levante una copa [¡virtual!] Por el 2019 y estos increíbles homenajeados. ,RSVP para Keeper of the Dream
---

---
AQUÍ PARA AYUDAR Tenga en cuenta que el Centro estará cerrado el próximo lunes 12 de octubre en conmemoración del Día de la Raza / Día de los Pueblos Indígenas.
Desayuno para llevar de lunes a viernes, de 7:30 a 8:30 a.m. (entrada de Marcus Wheatland Blvd)
Entrega de Food 2 Friends para personas mayores confinadas en el hogar
,Visitas móviles de despensa de alimentos a comunidades de viviendas de bajos ingresos
Preescolar para estudiantes de preescolar registrados. Aperturas actualmente disponibles para niños de 3 años. Comuníquese con ,Tanya por correo electrónico o por teléfono: (401) 846-4828 x117
Programa extracurricular para estudiantes registrados
Pan diario: de lunes a viernes en la entrada de Marcus Wheatland Blvd
Despensa de alimentos en el lugar: lunes, miércoles y viernes de 10 a.m. a 2 p.m. y miércoles por la noche a partir de las 4 p.m. a las 6 p.m. Primer sábado de cada mes de 10 a.m. a 12 p.m. Despensa de alimentos en el lugar: lunes, miércoles y viernes de 10 a.m. a 2 p.m. y miércoles por la noche a partir de las 4 p.m. a las 6 p.m. Primer sábado de cada mes de 10 a.m. a 12 p.m.
,Veggie Days distribución semanal de verduras al aire libre, jueves de 10 a.m. a 2 p.m. o hasta agotar existencias. ¡Ahora todo el año!
,Clase de cocina y nutrición LivFit los martes y jueves a las 5 p.m. La clase está socialmente distanciada y se requieren máscaras. Llame o envíe un mensaje de texto a Kristin para asistir: (401) 368-7614
,Almuerzos Grab 'n Go: martes 20 de octubre de 11:30 a.m. a 1 p.m. ¡Gratis! Presentado en colaboración con McGrath's Clambakes. Menú TBD. No se permite comer en el lugar
,Clínica gratuita de vacunación contra la gripe: martes 27 de octubre de 10 a.m. a 11:30 a.m. Solo para adultos mayores de 18 años. Traiga su tarjeta de seguro médico si está asegurado, pero nadie será rechazado. Se requiere RSVP: ,envíe un correo electrónico o llame a Gianna: (401) 846-4828 x121
** NUEVO ** ¡,Ponte en forma! Clase de fitness con Debra: todos los miércoles a las 8:30 a.m. Gratis. Este entrenamiento de cuerpo completo tiene como objetivo mejorar el equilibrio, la salud ósea, la flexibilidad y la fuerza de los participantes en un entorno seguro, acogedor y divertido. RSVP con Mel por correo ,electrónico o teléfono: (401) 846-4828 x124
** BIENVENIDO DE NUEVO ** La serie ,Lunch & Learn para adultos mayores regresa al Centro a partir del martes. 27 de octubre a las 12 p.m. Otras fechas por confirmar. Esta actividad de Lunch & Learn será bingo y se servirá lasaña, ensalada y postre. RSVP con Mel por correo ,electrónico o teléfono: (401) 846-4828 x124
Programa de mentores Stepping Stones: comience su viaje hacia la seguridad alimentaria y supere los obstáculos que puedan interponerse en su camino con la ayuda del especialista en atención al cliente, Dezarae. Este programa de tutoría individual está abierto a cualquier residente del condado de Newport que desee reunirse (virtualmente o en persona) dos veces al mes durante al menos seis meses, mayores de 18 años, que esté luchando contra la inseguridad alimentaria. Póngase en contacto con Dezarae por correo ,electrónico o llame al (401) 846-4828 x118
,La Biblioteca de imaginación de Dolly Parton, presentada por la Fundación de la Familia Bazarsky en asociación con el Centro Comunitario MLK, pone libros en las manos y corazones de niños de todo el mundo. Se asocian con las comunidades locales para enviar por correo un libro de alta calidad, seleccionado a mano y apropiado para la edad cada mes a los niños registrados desde el nacimiento hasta los cinco años, completamente gratis e independientemente de los ingresos familiares. ,Más información
Los folletos de cupones del mercado de agricultores mayores están disponibles para recoger en MLK. Hasta agotar existencias, los residentes de Rhode Island, personas mayores de 60 años o más que cumplan con los requisitos de ingresos, pueden recoger un folleto por temporada. Los cupones vencen el 31 de octubre
Ayuda de vacaciones: ¡La inscripción está abierta! Comuníquese con Dezarae ,por correo electrónico o por teléfono: (401) 846-4828 x118 ,o regístrese en línea. Debido a los límites de recolección, no se permiten registros directos este año.
Donaciones: Se aceptan donaciones de alimentos no perecederos, productos frescos, artículos para el hogar y artículos de cuidado personal en nuestro muelle de carga de lunes a viernes de 8:30 a.m. a 5:00 p.m. Por favor toque el timbre a su llegada. Se requieren máscaras para donar. Una lista de nuestras necesidades urgentes ,,disponible aquí
Centro Comunitario Dr. Martin Luther King, Jr. (401) 846-4828 anovick@MLKCCenter.org www.MLKCCenter.org