UPDATES FROM THE MLK COMMUNITY CENTER
Friday, October 9th, 2020
---
HOLIDAY HELP 2020: A DIFFERENT KIND OF MERRY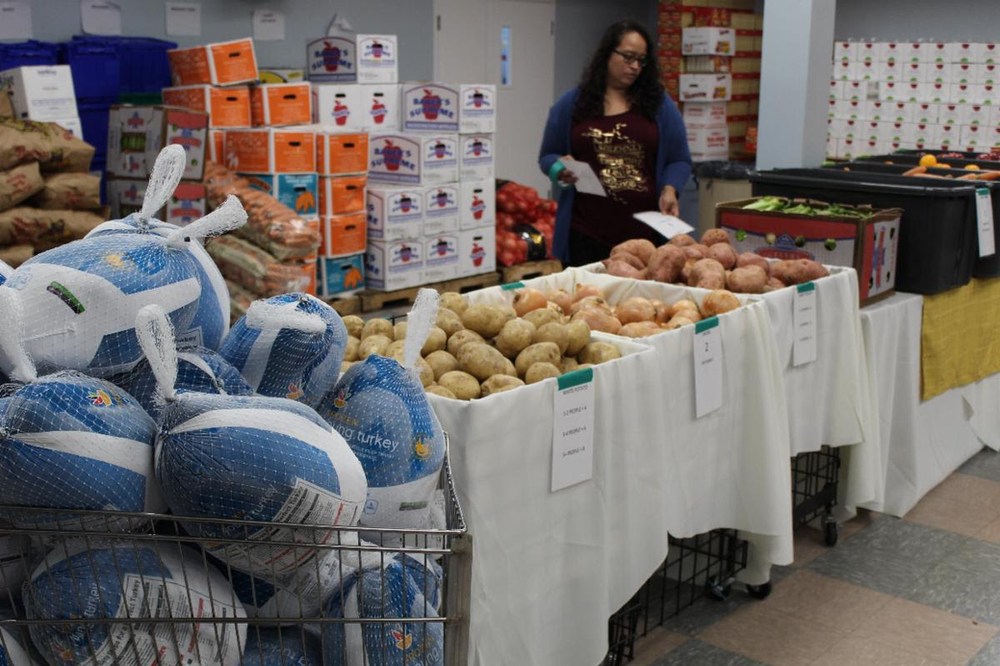 Santa's Workshop is usually a 2-day extravaganza with hundreds of clients in and out of the Center, and hundreds of volunteers to assist. Of course, business as usual isn't possible in 2020. With so many things cancelled this year, this is a different kind of merry. The Dr. Martin Luther King, Jr. Community Center is still committed to ensuring that there is food on holiday tables, gifts under the tree, and that those who want to help make the holidays brighter can do so. Thanksgiving food pantry:
Our Thanksgiving food pantry will look largely the same, just spread out over a longer timeframe in order to reduce how many people are in the Center at a time. Clients will still be given a time and date to come in and "shop" the Thanksgiving food pantry. Every family receives a turkey plus all the fresh produce and ingredients to make a traditional holiday meal.
Holiday food pantry:
Our Holiday food pantry will also look largely the same, also spread over a longer period of time.
Santa's Workshop:
In an effort to reduce how many items are handled and how much time is spent shopping at the Center, children from birth to 12 will receive 1 toy or game, plus at least one gift card (depending on the generosity of the community). Children from 13 to 17 will receive two gift cards, in $25 increments.
Since Santa's Workshop is relying more heavily on gift cards, we are encouraging our supporters to hold gift card drives (in $25 increments) instead of the typical toy drive. Gift card drives are no-touch for donors, less stress, and less contact. Please include gift receipts with gift card donations.
The deadline to donate toys and Santa's Workshop gift cards is November 30th. This earlier deadline is to accommodate the necessary spreading out of Santa's Workshop, and because we're working with limited staff and volunteers.
For all of our Holiday Help programming, we will be relying on a limited number of volunteers & staff this year. This is to reduce how many people are in and out of the Center, for the safety of our clients, our staff, and our volunteers. We know the holidays are a favorite time to give back for many of us, and we're so thankful for your volunteerism in past years. We hope to welcome back a full fleet of volunteers in future years, so please – stay in touch. There are other ways to get involved this year, however! How You Can Help:
Santa's Workshop: Hold a gift card drive for Santa's Workshop! Encourage friends, family, co-workers, and neighbors to contribute gift cards in $25 increments.
Thanksgiving: Cash donations are still our biggest need for Thanksgiving, which helps us defray purchase costs.
Holiday pantry: For our Holiday food pantry, Stop & Shop gift cards in $10 or $20 increments are most-needed, since clients receive supermarket gift cards to purchase their preferred Holiday meal protein.
Donations can be dropped off to our loading dock Monday – Friday, 8:30 a.m. – 5 p.m. (for Santa's Workshop & Holiday pantry: deadline of November 30th).
Cash donations for any of our Holiday Help programs are so necessary and very appreciated. Just visit our website, hit "Donate," and select the Holiday Help program you wish to contribute to from the Optional drop-down menu. Or, mail checks to the Center: 20 Dr. Marcus Wheatland Blvd, Newport, RI 02840.
We sincerely thank all of our supporters for ensuring this especially difficult holiday season will be merry and bright for all of our neighbors. If you have any questions on Holiday Help programming and how it will operate, please contact Nancy Harten at (401) 846-4828 or email nharten@mlkccenter.org.
---
MEET MIRASIA
Introducing our new Mobile Food Pantry Coordinator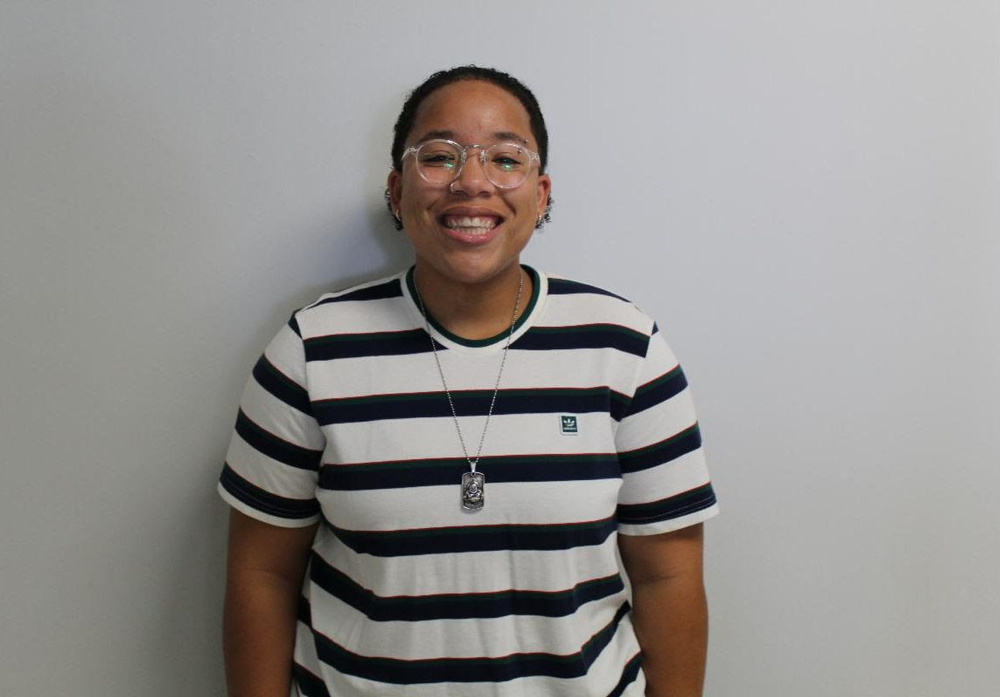 Please join us in welcoming the MLK Community Center's new Mobile Food Pantry Coordinator, Mirasia Cassese! (Pronouns: she/her/her's)
Our staff are all very connected to the Center's mission: many blur the lines between supporter, staff, donor, and overall champions of our mission. But, it's really special when someone with other ties to the Center becomes a staff member, like Mirasia.
Born and raised in Newport, Mirasia attended Salve Regina for her undergraduate degree in social work. She continued on to Rhode Island College where she obtained her master's in the advanced social work program and graduated in 2020.
Mirasia volunteered with the Center starting when she was in high school. "It's been a dream and a goal of mine to go from volunteer to staff member at the MLK, so quite literally I am living the dream," she remarked. "I am a person of color and a person of LGBTQ identity, so helping marginalized communities is something very dear to me," Mirasia added.
We are thrilled to have Mirasia on our team. When you see her out and about for Mobile Food Pantry, please give her a socially-distanced warm welcome!
---
MOBILE FOOD PANTRY SPONSOR
United Healthcare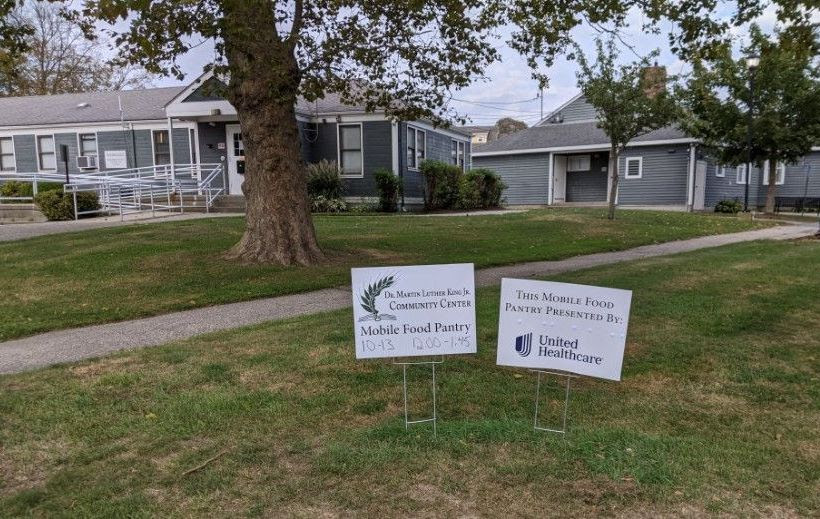 UnitedHealthcare is is our generous sponsor for this Tuesday, October 13th's Mobile Food Pantry at Parkholm Senior Center from 12 p.m. – 1:45 p.m. Thanks to UnitedHealthcare's support, the MLK Community Center is able to bring non-perishable food, fresh produce, milk, meat, and eggs into Newport County communities where transportation is often a barrier. Click here to sponsor a Mobile Food Pantry.
"We are incredibly grateful for the services provided to our community by the MLK Center's Mobile Food Pantry. These services are critical all the time, but especially in recent months as the COVID-19 pandemic has meant added stress and uncertainty for many when it comes to food. UnitedHealthcare is thrilled to support the MLK Center's efforts to deliver food to those who need it most," said Jennifer Barros, Manager of Medicare & Medicaid at UnitedHealthcare.
---
HOW 'BOUT THEM APPLES?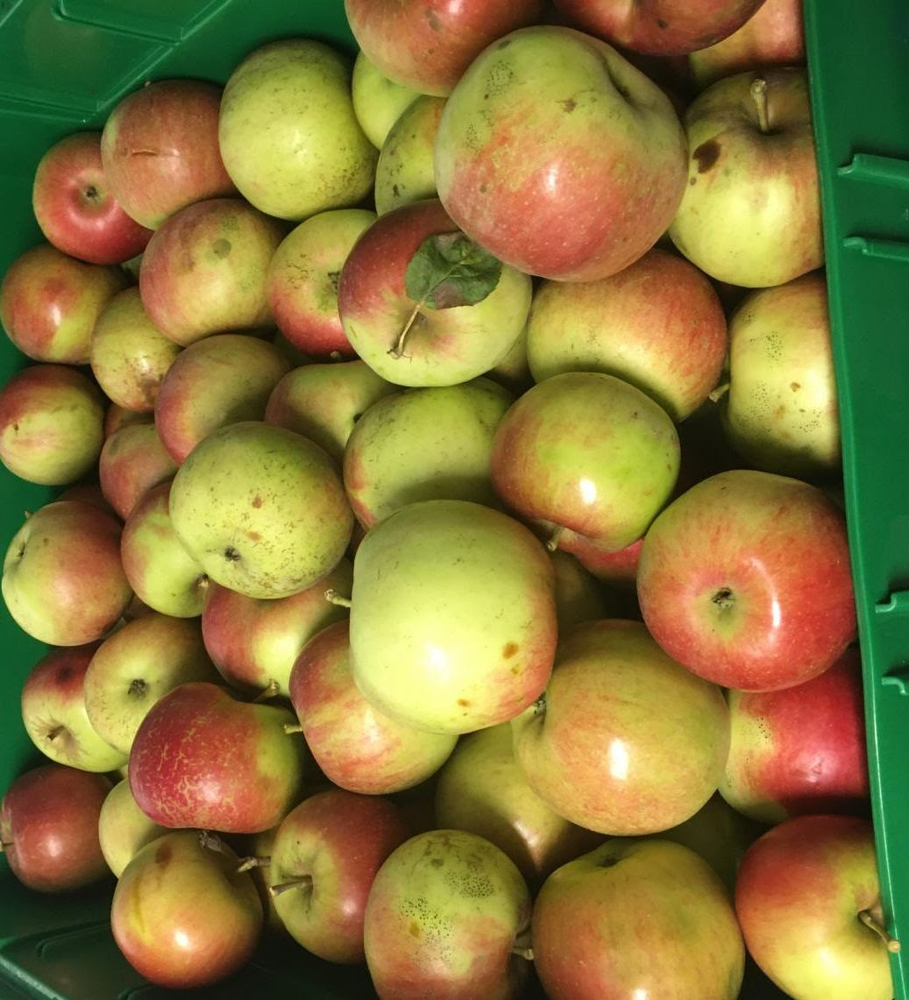 Veggie Days are now offered year-round. Every Thursday from 10 am – 2 pm or while supplies last, clients can choose fresh produce, at no cost. Veggie Days are about increasing access to healthy food, and doesn't "count" as a monthly food pantry visit. That means donations like these beautiful, fresh, local apples we just received from our friend Sue are vital to sustain the program. Gardens may be slowing down now but many trees are full of fruit. Do you have an overabundant crop? You can donate fresh produce at our loading dock Mon – Fri 8:30 am – 5:00 pm.

---
HERE TO HELP
Please note that the Center will be closed this coming Monday, October 12th in observance of Columbus Day/Indigenous Peoples' Day.
Grab-n-Go Breakfast Mon-Fri, 7:30 – 8:30 a.m. (Marcus Wheatland Blvd entrance)
Food 2 Friends delivery for homebound seniors
Mobile Food Pantry visits to low-income housing communities
Preschool for registered preschool students. Openings currently available for 3 year olds. Contact Tanya by email or by phone: (401) 846-4828 x117
After School program for registered students
Daily Bread: Mon-Fri at the Marcus Wheatland Blvd entrance
On-site food pantry: Monday, Wednesday, and Friday from 10 a.m. to 2 p.m. and Wednesday evenings from 4 p.m. to 6 p.m. First Saturday of each month from 10 a.m. to 12 p.m.
Veggie Days weekly vegetable distribution outside, Thursdays 10 a.m. to 2 p.m. or while supplies last. ,Now year-round!
LivFit Cooking & Nutrition class Tuesday & Thursday at 5 p.m. Class is socially distanced and masks are required. Call or text Kristin to attend: (401) 368-7614
Grab 'n Go lunches: Tues, Oct. 20th from 11:30 a.m. to 1 p.m. Free! Presented in collaboration with McGrath's Clambakes. Menu TBD. Eating on-site not permitted
Free flu shot clinic: Tues, Oct. 27th from 10 a.m. to 11:30 a.m. Adults 18+ only. Please bring your health insurance card if you are insured, but no one will be turned away. RSVP required: email or call Gianna: (401) 846-4828 x121
**NEW** Shape Up! Fitness class with Debra: Held every Wednesday at 8:30 a.m. Free. This full-body workout aims to improve balance, bone health, flexibility, and strength of participants in a safe, welcoming, and fun environment. RSVP with Mel by email or phone: (401) 846-4828 x124
Stepping Stones mentoring program: Start your journey to food security and overcome the obstacles that might stand in your way with the help of Client Support Specialist, Dezarae. This one-on-one mentoring program is open to any Newport County resident willing to meet (virtually or in-person) twice per month for at least six months, aged 18+, who is struggling with food insecurity. Contact Dezarae via email or call (401) 846-4828 x118
Dolly Parton's Imagination Library, presented by the Bazarsky Family Foundation in partnership with the MLK Community Center, puts books into the hands and hearts of children across the world. They partner with local communities to mail a hand-selected, age-appropriate, high-quality book each month to registered children from birth to age five, completely free of cost & regardless of family income. More info
Senior farmers market coupon booklets are available to pickup at the MLK. While supplies last, Rhode Island residents seniors ages 60+ who meet the income requirements can pick up one booklet per season. ,Coupons expire Oct. 31st
Holiday Help: Registration is open! Contact Dezarae by email or by phone: (401) 846-4828 x118 or register online. Due to limits on gathering, no drop-in registrations permitted this year
Donations: Donations of non-perishable food, fresh produce, household items, and personal care items are accepted at our loading dock Mon-Fri 8:30 a.m. – 5:00 p.m. Please ring the bell upon arrival. Masks required to donate. A list of our urgent needs available here
Dr. Martin Luther King, Jr. Community Center
(401) 846-4828
No temenos la capacidad de traducir cada entrada del blog a español porque usamos una herramienta de traducción en el internet. Por favor, disculpe cualquier error gramática. Por favor, llame al Centro si tiene alguna pregunta.
ACTUALIZACIONES DEL MLK COMMUNITY CENTER Viernes, 9 de octubre de 2020
---
AYUDA DE VACACIONES 2020: UN TIPO DIFERENTE DE FELIZ
El Taller de Papá Noel suele ser un espectáculo de 2 días con cientos de clientes dentro y fuera del Centro, y cientos de voluntarios para ayudar. Por supuesto, las cosas como siempre no son posibles en 2020. Con tantas cosas canceladas este año, este es un tipo diferente de alegría. El Centro Comunitario Dr. Martin Luther King, Jr. todavía está comprometido a asegurar que haya comida en las mesas navideñas, regalos debajo del árbol, y que aquellos que quieran ayudar a que las fiestas sean más brillantes puedan hacerlo. Despensa de comida de Acción de Gracias: *Nuestra despensa de alimentos para el Día de Acción de Gracias se verá prácticamente igual, solo que se extenderá durante un período de tiempo más largo para reducir la cantidad de personas que hay en el Centro a la vez. Los clientes todavía tendrán una fecha y hora para entrar y "comprar" en la despensa de alimentos de Acción de Gracias. Cada familia recibe un pavo más todos los productos e ingredientes frescos para preparar una comida tradicional navideña.
Despensa de comida navideña: *Nuestra despensa de alimentos navideña también se verá prácticamente igual, también distribuida durante un período de tiempo más largo. Taller de Santa: *En un esfuerzo por reducir la cantidad de artículos que se manipulan y el tiempo que se dedica a las compras en el Centro, los niños desde el nacimiento hasta los 12 años recibirán 1 juguete o juego, además de al menos una tarjeta de regalo (dependiendo de la generosidad de la comunidad). Los niños de 13 a 17 años recibirán dos tarjetas de regalo, en incrementos de $ 25. *Dado que Santa's Workshop depende más de las tarjetas de regalo, alentamos a nuestros seguidores a realizar campañas de recolección de tarjetas de regalo (en incrementos de $ 25) en lugar de la típica recolección de juguetes. Las unidades de tarjetas de regalo son sin contacto para los donantes, menos estrés y menos contacto. Incluya los recibos de regalo con las donaciones de tarjetas de regalo. *La fecha límite para donar juguetes y tarjetas de regalo de Santa's Workshop es el 30 de noviembre. Esta fecha límite anterior es para acomodar la necesaria difusión del Taller de Santa y porque estamos trabajando con personal y voluntarios limitados.
Para toda nuestra programación de Ayuda para las Fiestas, este año contaremos con un número limitado de voluntarios y personal. Esto es para reducir la cantidad de personas que entran y salen del Centro, por la seguridad de nuestros clientes, nuestro personal y nuestros voluntarios. Sabemos que las fiestas navideñas son un momento favorito para retribuir a muchos de nosotros, y estamos muy agradecidos por su voluntariado en los últimos años. Esperamos dar la bienvenida a una flota completa de voluntarios en los próximos años, así que por favor, manténgase en contacto. ¡Sin embargo, hay otras formas de participar este año! Cómo puedes ayudar: *Taller de Papá Noel: ¡Organice una colecta de tarjetas de regalo para el Taller de Papá Noel! Anime a sus amigos, familiares, compañeros de trabajo y vecinos a contribuir con tarjetas de regalo en incrementos de $ 25. *Acción de Gracias: Las donaciones en efectivo siguen siendo nuestra mayor necesidad para el Día de Acción de Gracias, que nos ayuda a sufragar los costos de compra. Despensa navideña: Para nuestra despensa navideña, las tarjetas de regalo Stop & Shop en incrementos de $ 10 o $ 20 son las más necesarias, ya que los clientes reciben tarjetas de regalo del supermercado para comprar su proteína de comida navideña preferida. *Las donaciones se pueden dejar en nuestro muelle de carga de lunes a viernes de 8:30 a.m. a 5 p.m. (para la despensa de Santa's Workshop & Holiday: fecha límite el 30 de noviembre). *Las donaciones en efectivo para cualquiera de nuestros programas Holiday Help son muy necesarias y muy apreciadas. Simplemente ,visite nuestro sitio web, haga clic en "Donar" y seleccione el programa de ayuda para las fiestas en el que desea contribuir del menú desplegable Opcional. O envíe los cheques por correo al Centro: 20 Dr. Marcus Wheatland Blvd, Newport, RI 02840. Agradecemos sinceramente a todos nuestros seguidores por garantizar que esta temporada navideña especialmente difícil sea alegre y brillante para todos nuestros vecinos. Si tiene alguna pregunta sobre la programación de Holiday Help y cómo funcionará, comuníquese con Nancy Harten al (401) 846-4828 o envíe un correo electrónico a ,nharten@mlkccenter.org.
---
CONOCE A MIRASIA Presentamos a nuestro nuevo coordinador de despensa móvil de alimentos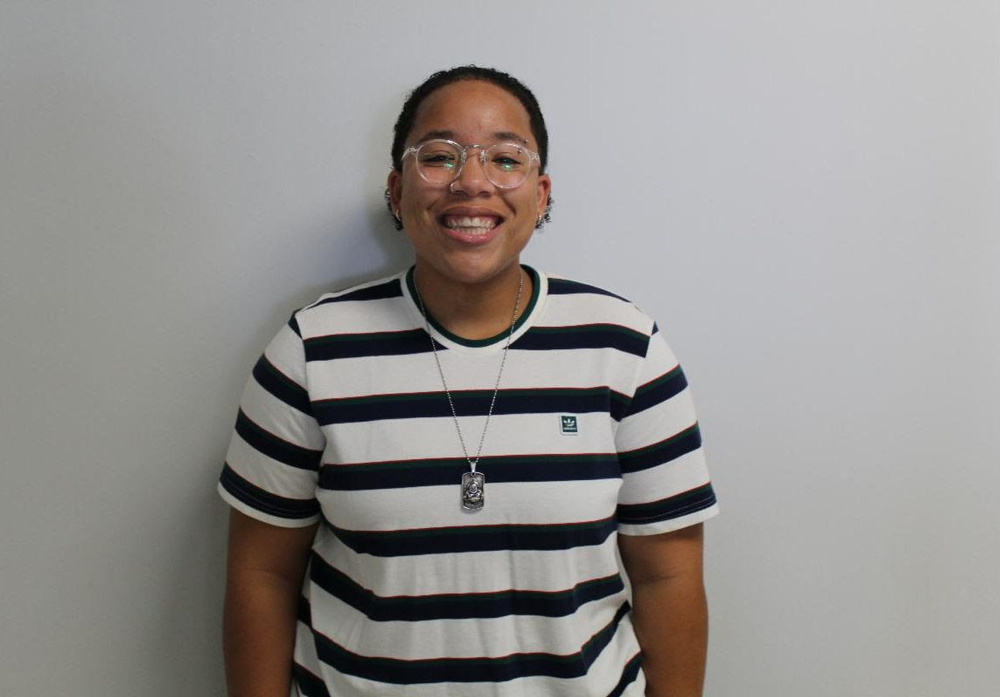 ¡Únase a nosotros para dar la bienvenida a la nueva Coordinadora Móvil de Despensa de Alimentos del Centro Comunitario MLK, Mirasia Cassese! (Pronombres: ella / ella / ella)
Todo nuestro personal está muy conectado con la misión del Centro: muchos difuminan las líneas entre partidarios, empleados, donantes y campeones generales de nuestra misión. Pero es realmente especial cuando alguien con otros vínculos con el Centro se convierte en miembro del personal, como Mirasia.
Nacida y criada en Newport, Mirasia asistió a Salve Regina para su licenciatura en trabajo social. Continuó a Rhode Island College, donde obtuvo su maestría en el programa avanzado de trabajo social y se graduó en 2020.
Mirasia se ofreció como voluntaria en el Centro desde que estaba en la escuela secundaria. "Ha sido un sueño y una meta mía pasar de voluntaria a miembro del personal de MLK, así que, literalmente, estoy viviendo el sueño", comentó. "Soy una persona de color y una persona de identidad LGBTQ, por lo que ayudar a las comunidades marginadas es algo muy querido para mí", agregó Mirasia.
Estamos encantados de tener a Mirasia en nuestro equipo. Cuando la veas fuera de casa para Mobile Food Pantry, ¡dale una cálida bienvenida socialmente distanciada!
---
PATROCINADOR DE DESPENSA DE ALIMENTOS MÓVIL United Healthcare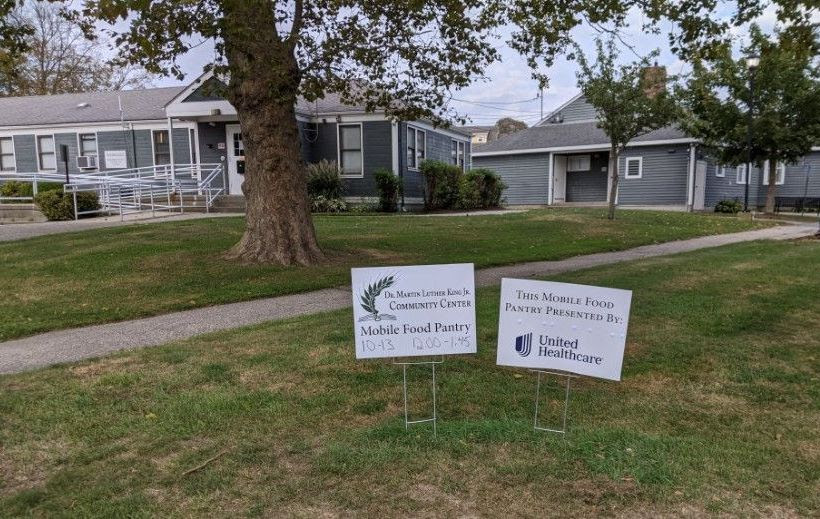 UnitedHealthcare es nuestro generoso patrocinador de la despensa móvil de alimentos de este martes 13 de octubre en Parkholm Senior Center a partir de las 12 p.m. – 1:45 p.m. Gracias al apoyo de UnitedHealthcare, el Centro Comunitario de MLK puede llevar alimentos no perecederos, productos frescos, leche, carne y huevos a las comunidades del condado de Newport, donde el transporte suele ser una barrera.
Haga ,clic aquí para patrocinar una despensa de alimentos móvil.
"Estamos increíblemente agradecidos por los servicios brindados a nuestra comunidad por la despensa móvil de alimentos del MLK Center. Estos servicios son críticos todo el tiempo, pero especialmente en los últimos meses, ya que la pandemia de COVID-19 ha significado estrés e incertidumbre adicionales para muchos cuando se trata ,UnitedHealthcare se complace en apoyar los esfuerzos del MLK Center para entregar alimentos a quienes más los necesitan ", dijo Jennifer Barros, Gerente de Medicare y Medicaid en UnitedHealthcare.
---
¿CÓMO COMBATIR LAS MANZANAS?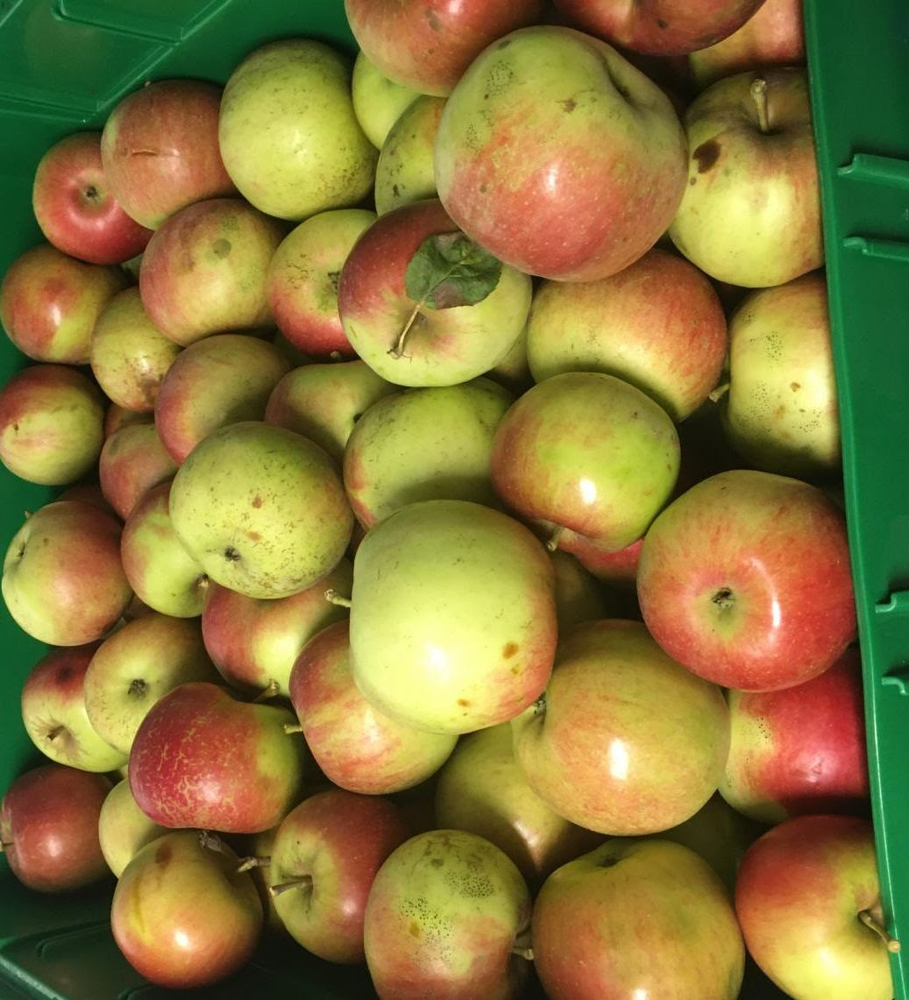 Los Veggie Days ahora se ofrecen durante todo el año. Todos los jueves de 10 am a 2 pm o hasta agotar existencias, los clientes pueden elegir productos frescos, sin costo alguno. Los Veggie Days tratan de aumentar el acceso a alimentos saludables y no "cuentan" como una visita mensual a la despensa de alimentos. Eso significa que donaciones como estas hermosas manzanas locales frescas que acabamos de recibir de nuestra amiga Sue son vitales para sostener el programa. Es posible que los jardines se estén desacelerando ahora, pero muchos árboles están llenos de frutas. ¿Tiene una cosecha sobreabundante? Puede donar productos frescos en nuestro muelle de carga de lunes a viernes de 8:30 am a 5:00 pm.

---
AQUÍ PARA AYUDAR Tenga en cuenta que el Centro estará cerrado el próximo lunes 12 de octubre en conmemoración del Día de la Raza / Día de los Pueblos Indígenas.
Desayuno para llevar de lunes a viernes, de 7:30 a 8:30 a.m. (entrada de Marcus Wheatland Blvd)
Entrega de Food 2 Friends para personas mayores confinadas en el hogar
,Visitas móviles de despensa de alimentos a comunidades de viviendas de bajos ingresos
Preescolar para estudiantes de preescolar registrados. Aperturas actualmente disponibles para niños de 3 años. Comuníquese con ,Tanya por correo electrónico o por teléfono: (401) 846-4828 x117
Programa extracurricular para estudiantes registrados
Pan diario: de lunes a viernes en la entrada de Marcus Wheatland Blvd
Despensa de alimentos en el lugar: lunes, miércoles y viernes de 10 a.m. a 2 p.m. y miércoles por la noche a partir de las 4 p.m. a las 6 p.m. Primer sábado de cada mes de 10 a.m. a 12 p.m. Despensa de alimentos en el lugar: lunes, miércoles y viernes de 10 a.m. a 2 p.m. y miércoles por la noche a partir de las 4 p.m. a las 6 p.m. Primer sábado de cada mes de 10 a.m. a 12 p.m.
,Veggie Days distribución semanal de verduras al aire libre, jueves de 10 a.m. a 2 p.m. o hasta agotar existencias. ¡Ahora todo el año!
,Clase de cocina y nutrición LivFit los martes y jueves a las 5 p.m. La clase está socialmente distanciada y se requieren máscaras. Llame o envíe un mensaje de texto a Kristin para asistir: (401) 368-7614
,Almuerzos Grab 'n Go: martes 20 de octubre de 11:30 a.m. a 1 p.m. ¡Gratis! Presentado en colaboración con McGrath's Clambakes. Menú TBD. No se permite comer en el lugar
,Clínica gratuita de vacunación contra la gripe: martes 27 de octubre de 10 a.m. a 11:30 a.m. Solo para adultos mayores de 18 años. Traiga su tarjeta de seguro médico si está asegurado, pero nadie será rechazado. Se requiere RSVP: ,envíe un correo electrónico o llame a Gianna: (401) 846-4828 x121
** NUEVO ** ¡,Ponte en forma! Clase de fitness con Debra: todos los miércoles a las 8:30 a.m. Gratis. Este entrenamiento de cuerpo completo tiene como objetivo mejorar el equilibrio, la salud ósea, la flexibilidad y la fuerza de los participantes en un entorno seguro, acogedor y divertido. RSVP con Mel por correo ,electrónico o teléfono: (401) 846-4828 x124
Programa de mentores Stepping Stones: comience su viaje hacia la seguridad alimentaria y supere los obstáculos que puedan interponerse en su camino con la ayuda del especialista en atención al cliente, Dezarae. Este programa de tutoría individual está abierto a cualquier residente del condado de Newport que desee reunirse (virtualmente o en persona) dos veces al mes durante al menos seis meses, mayores de 18 años, que esté luchando contra la inseguridad alimentaria. Póngase en contacto con Dezarae por correo ,electrónico o llame al (401) 846-4828 x118
,La Biblioteca de imaginación de Dolly Parton, presentada por la Fundación de la Familia Bazarsky en asociación con el Centro Comunitario MLK, pone libros en las manos y corazones de niños de todo el mundo. Se asocian con las comunidades locales para enviar por correo un libro de alta calidad, seleccionado a mano y apropiado para la edad cada mes a los niños registrados desde el nacimiento hasta los cinco años, completamente gratis e independientemente de los ingresos familiares. ,Más información
Los folletos de cupones del mercado de agricultores mayores están disponibles para recoger en MLK. Hasta agotar existencias, los residentes de Rhode Island, personas mayores de 60 años o más que cumplan con los requisitos de ingresos, pueden recoger un folleto por temporada. Los cupones vencen el 31 de octubre
Ayuda de vacaciones: ¡La inscripción está abierta! Comuníquese con Dezarae ,por correo electrónico o por teléfono: (401) 846-4828 x118 ,o regístrese en línea. Debido a los límites de recolección, no se permiten registros directos este año.
Donaciones: Se aceptan donaciones de alimentos no perecederos, productos frescos, artículos para el hogar y artículos de cuidado personal en nuestro muelle de carga de lunes a viernes de 8:30 a.m. a 5:00 p.m. Por favor toque el timbre a su llegada. Se requieren máscaras para donar. Una lista de nuestras necesidades urgentes ,,disponible aquí
Centro Comunitario Dr. Martin Luther King, Jr. (401) 846-4828 anovick@MLKCCenter.org www.MLKCCenter.org