UPDATES FROM THE MLK COMMUNITY CENTER Friday, October 2nd, 2020
---
STEPPING STONES PROGRAM HELPS CLIENTS REACH THEIR GOALS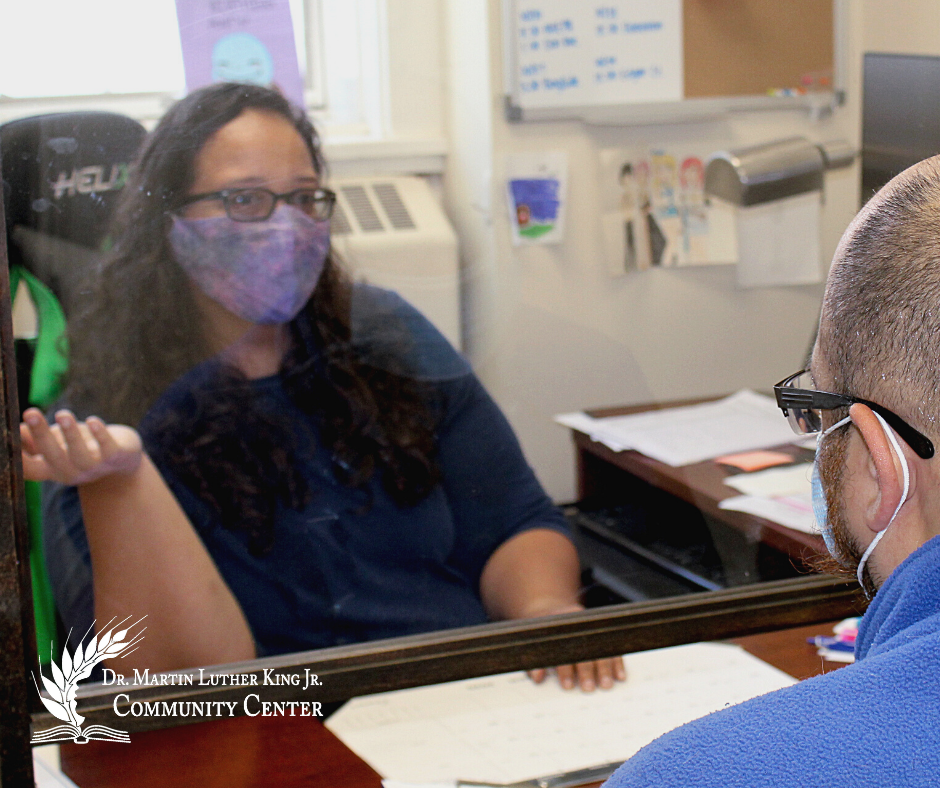 What does it take to be more food-secure?
The MLK Community Center's Stepping Stones program strives to help clients answer that question, and move from needing hunger assistance to increased food security and better health for them and their families. A Growing Communities initiative made possible by generous support from the RI Community Food Bank, Citizens Bank, and Local Support Initiatives Corporation, Stepping Stones participants receive case management services and connections to supportive resources needed to begin moving towards a more empowered and healthier life.
This program is designed to help clients reach their goals – whatever they may be – to ultimately reach a place of food security. Since goals are client-driven, they vary and range from: budgeting for food purchases and healthy meal options to finding a job, going back to school, saving for a car, and more. Dezarae, our Client Support Specialist, works with program participants to break down the larger goal into smaller, more manageable steps, providing resources and guidance along the way. [Dezarae and client are shown separated by a transparent partition to prevent the possible transmission of COVID-19.]
To join Stepping Stones, candidates must be a Newport County resident over the age of 18, a client of MLK Hunger Services programs, and must commit to meeting with our Client Support Specialist (in-person, by phone, or online) twice a month for at least six months. For more information, contact Dezarae via email or call (401) 846-4828 x118.
---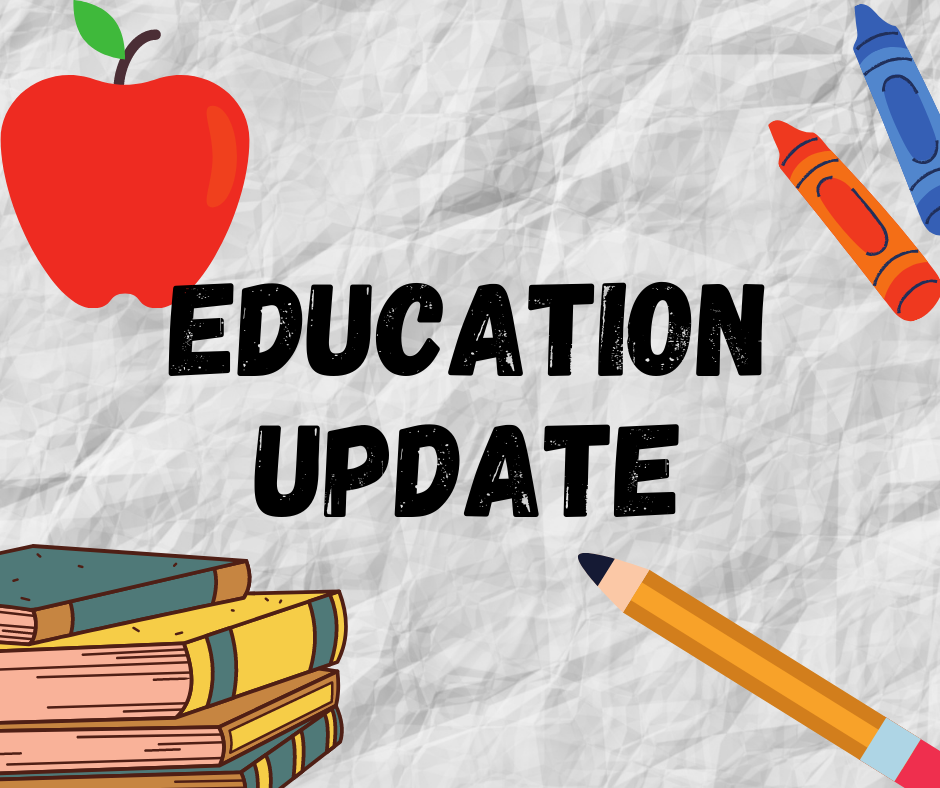 NEWPORT STUDENTS RETURN TO IN-PERSON LEARNING: AFTER SCHOOL OFFERED DAILY
We continue to adapt to the changing needs of our community. Our students returned to in-person learning this week. We've pivoted from our Distance Learning Academy to our After School program. The program runs from 1:45 p.m. to 6 p.m. each weekday. The additional hour of program time each day accommodates the schools' early dismissal times. We will subsidize this additional time so families do not have to pay additional tuition.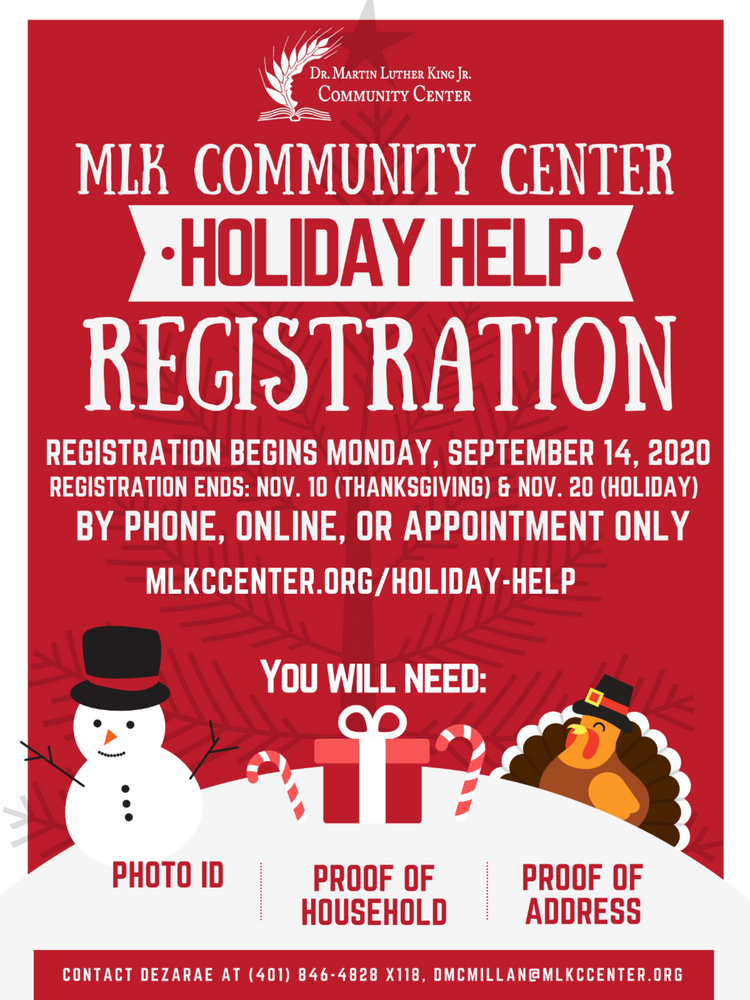 HOLIDAY HELP SIGN-UPS: NOW AT MOBILE FOOD PANTRIES THROUGHOUT OCTOBER
We are committed to reducing access barriers for our clients whenever possible. As transportation is often a struggle for many of the most vulnerable in Newport County, Holiday Help sign-ups are now being offered at every Mobile Food Pantry, throughout the month of October. There, clients can do their monthly food pantry shop, plus sign up for Thanksgiving Food Pantry, Holiday Food Pantry and/or Santa's Workshop – all without needing transportation to the Center. Mobile Food Pantry schedule available here.
---
KEEPER OF THE DREAM
The event may be virtual, but our honorees' impact is vital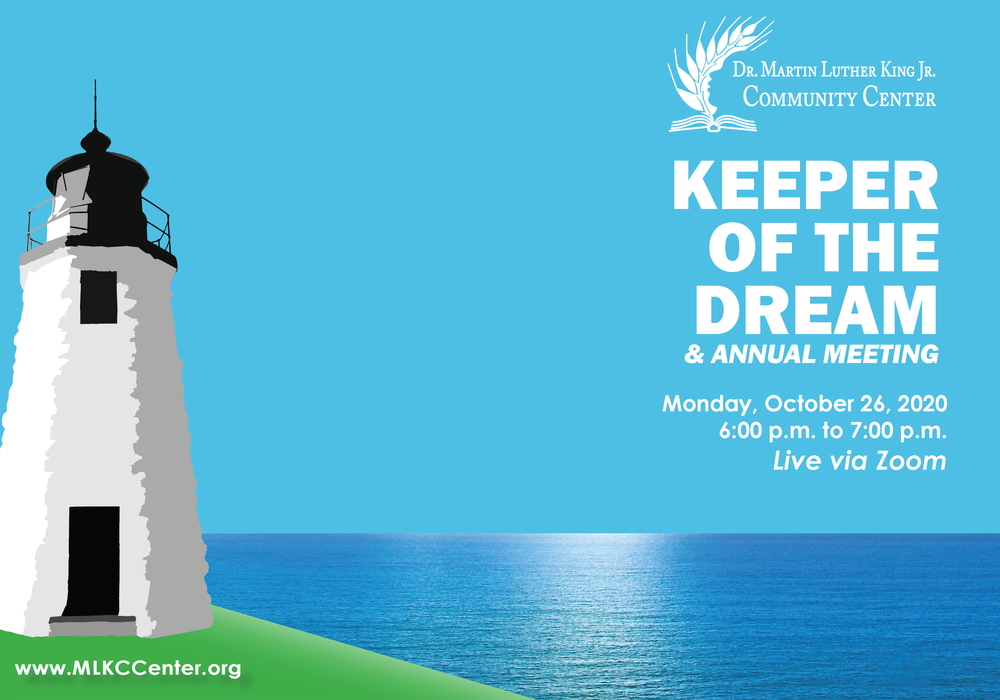 Registration is now open for this year's Keeper of the Dream awards & Annual Meeting, held virtually via Zoom, on Monday, October 26th from 6 p.m. to 7 p.m.! We'll report on the Center's successes and challenges in 2019 and celebrate an incredible group of people. The Keeper of the Dream awards are bestowed on a person, couple, or group whose outstanding commitment and contribution to the Dr. Martin Luther King, Jr. Community Center embodies the ideals of Dr. King.
Keepers of the Dream
Nancy and Doug Horsey
​
Keeper of the Dream – Community Partner
​
Volunteers of the Year
Betsy Blair and Jim Van Winkle
Given the restrictions on gathering due to COVID-19, this event will take place via Zoom video conferencing. So, cozy up with a glass of wine and join us (remotely!) as we celebrate these extraordinary community champions. RSVP on our website and you will receive a link to the private Zoom meeting before the event.
---
SHAPE UP! THIS WEDNESDAY, OCTOBER 7th

Don't miss the return of free fitness programming to the Center! Shape Up! with Debra will be held every Wednesday at 8:30, starting October 7th. Space is limited to allow for social distancing, and RSVP required: contact Mel via email or call (401) 846-4828 x124.
---
NEWPORT COUNTY: WE'RE ALL CONNECTED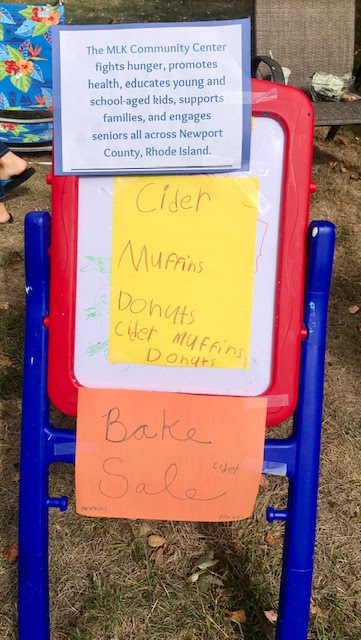 Two of our youngest friends did something great for their community this past weekend. Seven year old Ben and three year old Jack (and their parents Liz and Matt) held a neighborhood bake sale to benefit the MLK. The boys sold fall treats of cider, muffins, and donuts from their front lawn (sign shown at right). When asked why he decided to do this, Ben replied, "I just wanted to do something nice for someone who is less fortunate than me."
We're so grateful to this family and to people like them across our community who make the choice to give to those who need help. How did we find out about this? It's a classic local chain of connection: Judy, a former board member, spoke with Susan last weekend at their church, and Susan shared the story about Ben and Jack who live across the street from her.
That's the thing about Newport County.
We're all connected in some way,
and we take care of our own.

---
HERE TO HELP
Grab-n-Go Breakfast Mon-Fri, 7:30 – 8:30 a.m. (Marcus Wheatland Blvd entrance)
Food 2 Friends delivery for homebound seniors
Mobile Food Pantry visits to low-income housing communities
Preschool for registered preschool students. Openings currently available for 3 year olds. Contact Tanya by email or by phone: (401) 846-4828 x117
After School program for registered students
Daily Bread: Mon-Fri at the Marcus Wheatland Blvd entrance
On-site food pantry: Monday, Wednesday, and Friday from 10 a.m. to 2 p.m. and Wednesday evenings from 4 p.m. to 6 p.m. First Saturday of each month from 10 a.m. to 12 p.m.
Veggie Days weekly vegetable distribution outside, Thursdays 10 a.m. to 2 p.m. or while supplies last. ,Now year-round!
LivFit Cooking & Nutrition class Tuesday & Thursday at 5 p.m. Class is socially distanced and masks are required. Call or text Kristin to attend: (401) 368-7614
Grab 'n Go lunches: Tues, Oct. 6th and Tues, Oct. 20th from 11:30 a.m. to 1 p.m. Free! Presented in collaboration with McGrath's Clambakes. Menu TBD. Eating on-site not permitted
Free flu shot clinic: Tues, Oct. 27th from 10 a.m. to 11:30 a.m. Adults 18+ only. Please bring your health insurance card if you are insured, but no one will be turned away. RSVP required: email or call Gianna: (401) 846-4828 x121
**NEW** Shape Up! Fitness class with Debra: begins Weds, Oct. 7th & will continue every Wednesday thereafter at 8:30 a.m. Free. This full-body workout aims to improve balance, bone health, flexibility, and strength of participants in a safe, welcoming, and fun environment. RSVP with Mel by email or phone: (401) 846-4828 x124
Stepping Stones mentoring program: Start your journey to food security and overcome the obstacles that might stand in your way with the help of Client Support Specialist, Dezarae. This one-on-one mentoring program is open to any Newport County resident willing to meet (virtually or in-person) twice per month for at least six months, aged 18+, who is struggling with food insecurity. Contact Dezarae via email or call (401) 846-4828 x118
Dolly Parton's Imagination Library, presented by the Bazarsky Family Foundation in partnership with the MLK Community Center, puts books into the hands and hearts of children across the world. They partner with local communities to mail a hand-selected, age-appropriate, high-quality book each month to registered children from birth to age five, completely free of cost & regardless of family income. More info
Senior farmers market coupon booklets are available to pickup at the MLK. While supplies last, Rhode Island residents seniors ages 60+ who meet the income requirements can pick up one booklet per season. Coupons expire Oct. 31st
Holiday Help: Registration is open! Contact Dezarae by email or by phone: (401) 846-4828 x118 or register online. Due to limits on gathering, no drop-in registrations permitted this year
Donations: Donations of non-perishable food, fresh produce, household items, and personal care items are accepted at our loading dock Mon-Fri 8:30 a.m. – 5:00 p.m. Please ring the bell upon arrival. Masks required to donate. A list of our urgent needs available here
Dr. Martin Luther King, Jr. Community Center
(401) 846-4828
No temenos la capacidad de traducir cada entrada del blog a español porque usamos una herramienta de traducción en el internet. Por favor, disculpe cualquier error gramática. Por favor, llame al Centro si tiene alguna pregunta.
El programa Stepping Stones ayuda a los clientes a alcanzar sus objetivos, a tener más seguridad alimentaria
ACTUALIZACIONES DEL MLK COMMUNITY CENTER Viernes 2 de octubre de 2020
EL PROGRAMA STEPPING STONES AYUDA A LOS CLIENTES A ALCANZAR SUS OBJETIVOS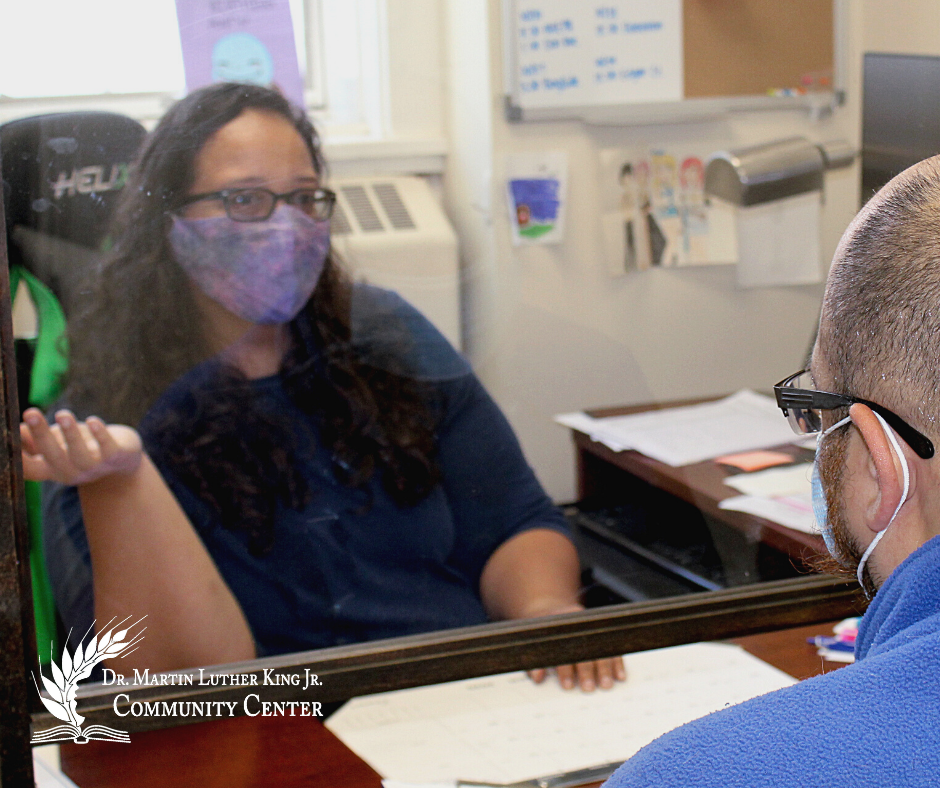 ¿Qué se necesita para tener más seguridad alimentaria? El programa Stepping Stones del MLK Community Center se esfuerza por ayudar a los clientes a responder esa pregunta y pasar de necesitar asistencia para el hambre a una mayor seguridad alimentaria y una mejor salud para ellos y sus familias. Una iniciativa de Comunidades en crecimiento que fue posible gracias al generoso apoyo del Banco de alimentos de la comunidad de RI, el Banco de ciudadanos y la Corporación de iniciativas de apoyo local.Los participantes de Stepping Stones reciben servicios de administración de casos y conexiones con los recursos de apoyo necesarios para comenzar a avanzar hacia una vida más empoderada y saludable. Este programa está diseñado para ayudar a los clientes a alcanzar sus objetivos, sean los que sean, para finalmente llegar a un lugar de seguridad alimentaria. Dado que los objetivos son impulsados ​​por el cliente, varían y van desde: presupuestar la compra de alimentos y opciones de comidas saludables hasta encontrar un trabajo, volver a la escuela, ahorrar para un automóvil y más. Dezarae, nuestro especialista en atención al cliente, trabaja con los participantes del programa para dividir el objetivo más grande en pasos más pequeños y manejables, proporcionando recursos y orientación a lo largo del camino. [Dezarae y el cliente se muestran separados por una partición transparente para evitar la posible transmisión de COVID-19.] Para unirse a Stepping Stones, los candidatos deben ser un residente del condado de Newport mayor de 18 años, un cliente de los programas de MLK Hunger Services y deben comprometerse a reunirse con nuestro especialista en atención al cliente (en persona, por teléfono o en línea) dos veces al mes. durante al menos seis meses. Para obtener más información, comuníquese con Dezarae por correo ,electrónico o llame al (401) 846-4828 x118.
---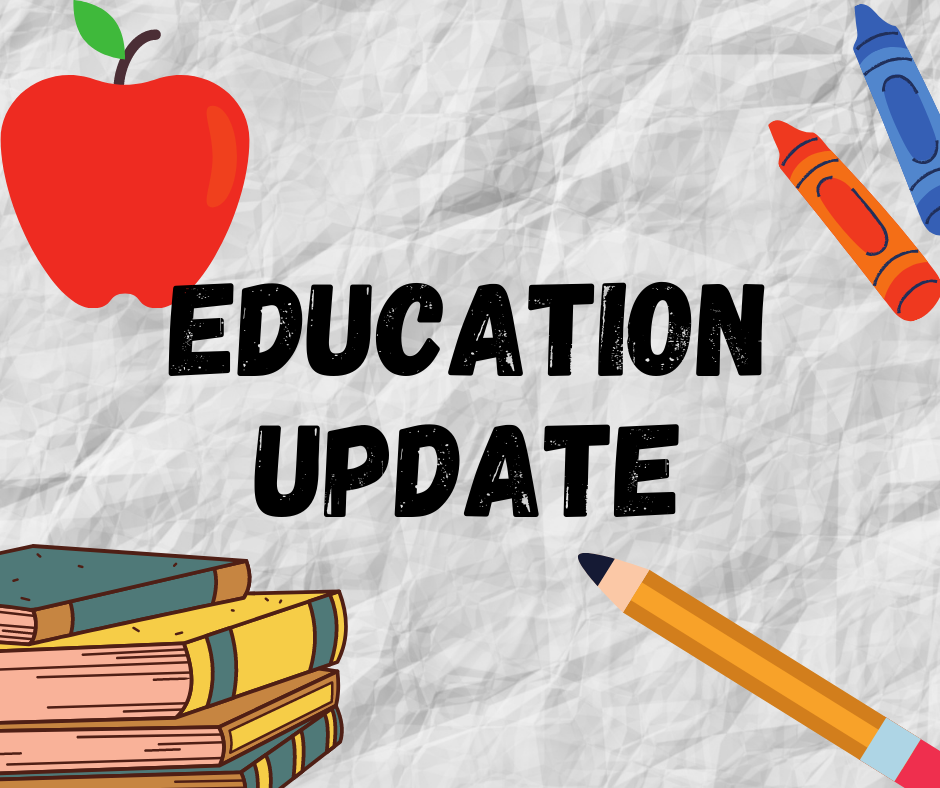 LOS ESTUDIANTES DE NEWPORT REGRESAN AL APRENDIZAJE EN PERSONA: DESPUÉS DE LA ESCUELA SE OFRECE DIARIAMENTE Seguimos adaptándonos a las necesidades cambiantes de nuestra comunidad. Nuestros estudiantes regresaron al aprendizaje en persona esta semana. Pasamos de nuestra Academia de aprendizaje a distancia a nuestro programa después de clases. El programa se desarrolla a partir de la 1:45 p.m. a las 6 p.m. cada día de la semana. La hora adicional de tiempo del programa cada día se adapta a los horarios de salida temprana de las escuelas. Subvencionaremos este tiempo adicional para que las familias no tengan que pagar matrícula adicional.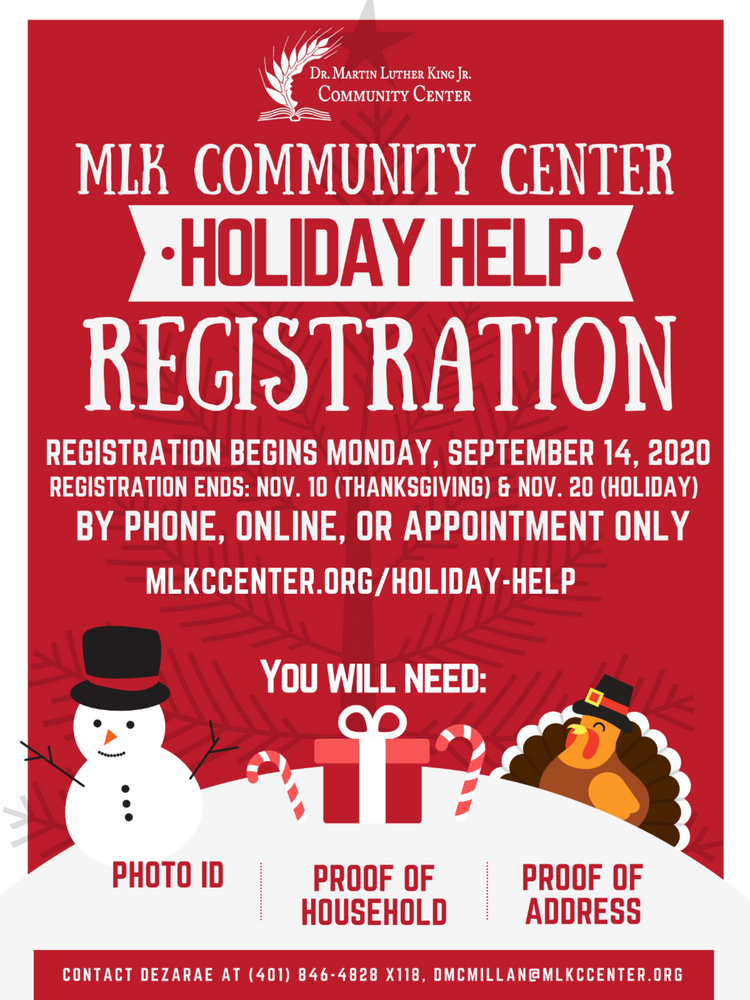 INSCRIPCIONES DE AYUDA PARA LAS VACACIONES: AHORA EN LAS DESPENSAS DE ALIMENTOS MÓVILES DURANTE OCTUBRE Estamos comprometidos a reducir las barreras de acceso para nuestros clientes siempre que sea posible. Dado que el transporte es a menudo una lucha para muchos de los más vulnerables en el condado de Newport, ahora se ofrecen inscripciones de Holiday Help en cada Mobile Food Pantry, durante todo el mes de octubre. Allí, los clientes pueden hacer sus compras mensuales en la despensa de alimentos, además de inscribirse en la despensa de alimentos de Acción de Gracias, la despensa de alimentos navideña y / o el taller de Papá Noel, todo sin necesidad de transporte al centro. ,El horario de la despensa móvil de alimentos está disponible aquí.
---
GUARDIÁN DEL SUEÑO El evento puede ser virtual, pero el impacto de nuestros homenajeados es vital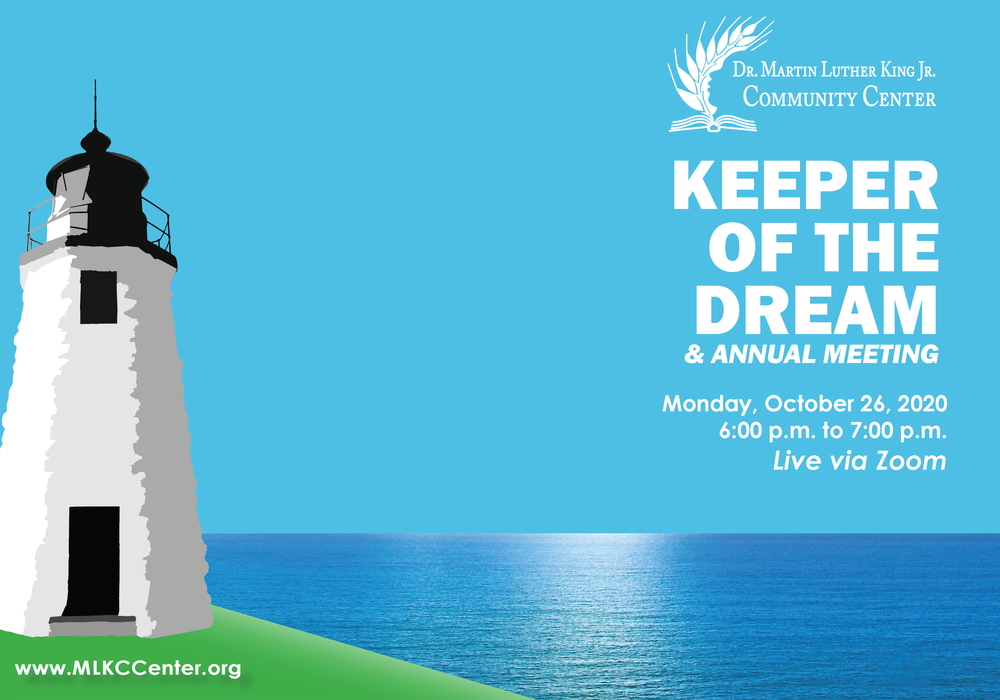 Las inscripciones ya están abiertas para los premios Keeper of the Dream y la reunión anual de este año, que se celebrará virtualmente a través de Zoom, el lunes 26 de octubre a partir de las 6 p.m. a las 7 p.m.! Informaremos sobre los éxitos y desafíos del Centro en 2019 y celebraremos a un grupo increíble de personas. Los premios Keeper of the Dream se otorgan a una persona, pareja o grupo cuyo destacado compromiso y contribución al Centro Comunitario Dr. Martin Luther King, Jr. personifica los ideales del Dr. King.
Guardianes del Sueño Nancy y Doug Horsey Guardián del sueño – Socio comunitario ,Granja comunitaria de Jamestown Voluntarios del año
Betsy Blair y Jim Van Winkle
Dadas las restricciones de reunión debido a COVID-19, este evento se llevará a cabo a través de videoconferencias de Zoom. Así que, acomódese con una copa de vino y únase a nosotros (¡de forma remota!) Mientras celebramos a estos extraordinarios campeones de la comunidad. ,Confirme su asistencia en nuestro sitio web y recibirá un enlace a la reunión privada de Zoom antes del evento.
---
¡PONERSE EN FORMA! ESTE MIÉRCOLES 7 DE OCTUBRE

¡No se pierda el regreso de la programación gratuita de fitness al Centro! ,,¡Ponerse en forma! with Debra se llevará a cabo todos los miércoles a las 8:30, a partir del 7 de octubre. El espacio es limitado para permitir el distanciamiento social, y se requiere confirmar su asistencia: comuníquese con Mel por correo electrónico o llame al (401) 846-4828 x124.
---
CONDADO DE NEWPORT: TODOS ESTAMOS CONECTADOS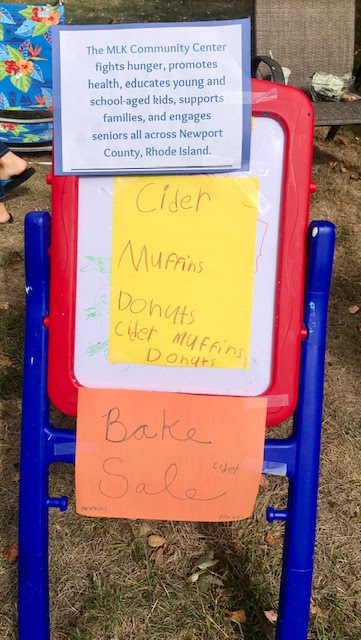 Dos de nuestros amigos más jóvenes hicieron algo grandioso por su comunidad el fin de semana pasado. Ben de siete años y Jack de tres años (y sus padres Liz y Matt) llevaron a cabo una venta de pasteles en el vecindario para beneficiar al MLK. Los niños vendieron golosinas de otoño de sidra, muffins y donas en el jardín delantero (el letrero se muestra a la derecha). Cuando se le preguntó por qué decidió hacer esto, Ben respondió: "Solo quería hacer algo bueno por alguien que es menos afortunado que yo". Estamos muy agradecidos con esta familia y con personas como ellos en nuestra comunidad que toman la decisión de ayudar a quienes necesitan ayuda. ¿Cómo nos enteramos de esto? Es una cadena de conexión local clásica: Judy, una ex miembro de la junta, habló con Susan el fin de semana pasado en su iglesia, y Susan compartió la historia sobre Ben y Jack, que viven frente a ella.
Eso es lo que pasa con el condado de Newport. Todos estamos conectados de alguna manera y nos ocupamos de los nuestros.
,Apoye al condado de Newport, apoye al MLK
---
AQUÍ PARA AYUDAR *Desayuno para llevar de lunes a viernes, de 7:30 a 8:30 a.m. (entrada de Marcus Wheatland Blvd) *Entrega de Food 2 Friends para personas mayores confinadas en el hogar *,Visitas móviles de despensa de alimentos a comunidades de viviendas de bajos ingresos *Preescolar para estudiantes de preescolar registrados *Pan diario: de lunes a viernes en la entrada de Marcus Wheatland Blvd *Despensa de alimentos en el lugar: lunes, miércoles y viernes de 10 a.m. a 2 p.m. y miércoles por la noche a partir de las 4 p.m. a las 6 p.m. Primer sábado de cada mes de 10 a.m. a 12 p.m. *Veggie Days distribución semanal de verduras al aire libre, jueves de 10 a.m. a 2 p.m. o hasta agotar existencias *,Clase de cocina y nutrición LivFit los martes y jueves a las 5 p.m. La clase está socialmente distanciada y se requieren máscaras. Llame o envíe un mensaje de texto a Kristin para asistir: (401) 368-7614 *,Almuerzos Grab 'n Go: martes 15 y 29 de septiembre, de 11:30 a.m. a 1 p.m. ¡Gratis! Presentado en colaboración con McGrath's Clambakes. Menú TBD. No se permite comer en el lugar *,La Biblioteca de imaginación de Dolly Parton, presentada por la Fundación de la Familia Bazarsky en asociación con el Centro Comunitario MLK, pone libros en las manos y corazones de niños de todo el mundo. Se asocian con las comunidades locales para enviar por correo un libro de alta calidad, seleccionado a mano y apropiado para la edad cada mes a los niños registrados desde el nacimiento hasta los cinco años, completamente gratis e independientemente de los ingresos familiares. ,Más información *Los folletos de cupones del mercado de agricultores mayores están disponibles para recoger en MLK. Hasta agotar existencias, los residentes de Rhode Island, personas mayores de 60 años o más que cumplen con los requisitos de ingresos, pueden recoger un folleto por temporada *El registro de ayuda para los días festivos comienza el lunes 14 de septiembre por teléfono o solo con cita previa. Comuníquese con Dezarae ,por correo electrónico o por teléfono: (401) 846-4828 x118. Debido a los límites en la recolección, no se permitirán inscripciones este año. *Donaciones: Se aceptan donaciones de alimentos no perecederos, productos frescos, artículos para el hogar y artículos de cuidado personal en nuestro muelle de carga de lunes a viernes de 8:30 a.m. a 5:00 p.m. Por favor toque el timbre a su llegada. Se requieren máscaras para donar. Una lista de nuestras necesidades urgentes ,disponible aqui.
---
Centro Comunitario Dr. Martin Luther King, Jr. (401) 846-4828 ,anovick@MLKCCenter.org ,www.MLKCCenter.org