UPDATES FROM THE MLK COMMUNITY CENTER
Friday, July 17th, 2020
---
SPECIAL DELIVERY
Imagination Library books begin to arrive at their new homes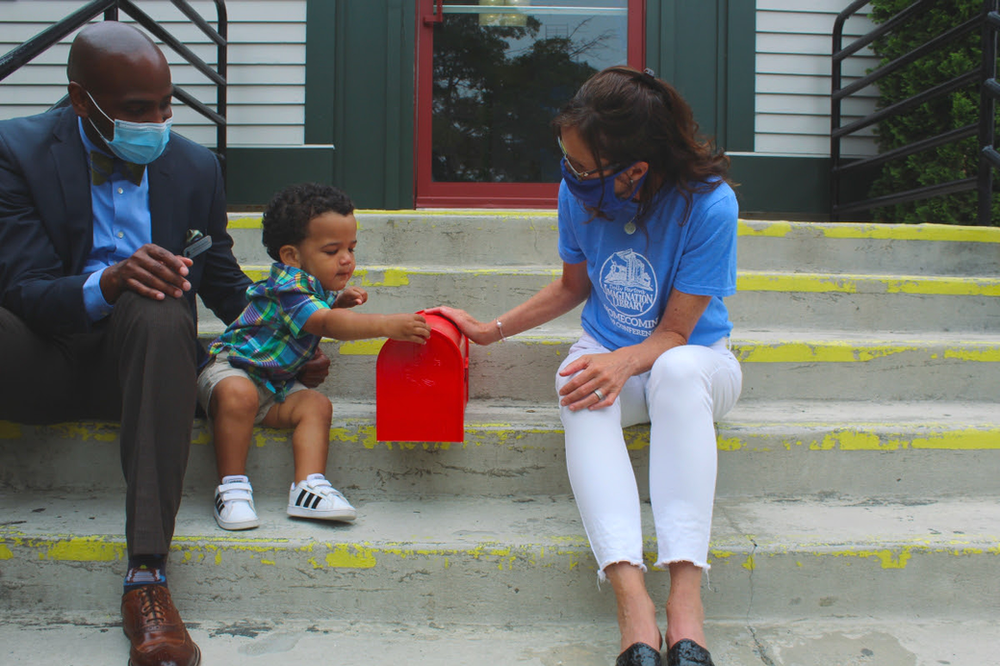 Pictured: Hudson opens the Imagination Library mailbox to discover what's inside…
LK what's in the mailbox! Last week, a group of young learners received their first special delivery books of their very own. Hudson, age 2, is our first Newport County resident enrolled in Dolly Parton's Imagination Library, presented by the Bazarsky Family Foundation, in collaboration with the MLK Community Center.
The processing time to receive the child's first book is 8 to 10 weeks, so Hudson's first book came last week — and he was so excited! Here he is reading "The Little Engine that Could" with his dad, mom, and MLK Community Center Imagination Library Program Coordinator Judy Hall (center).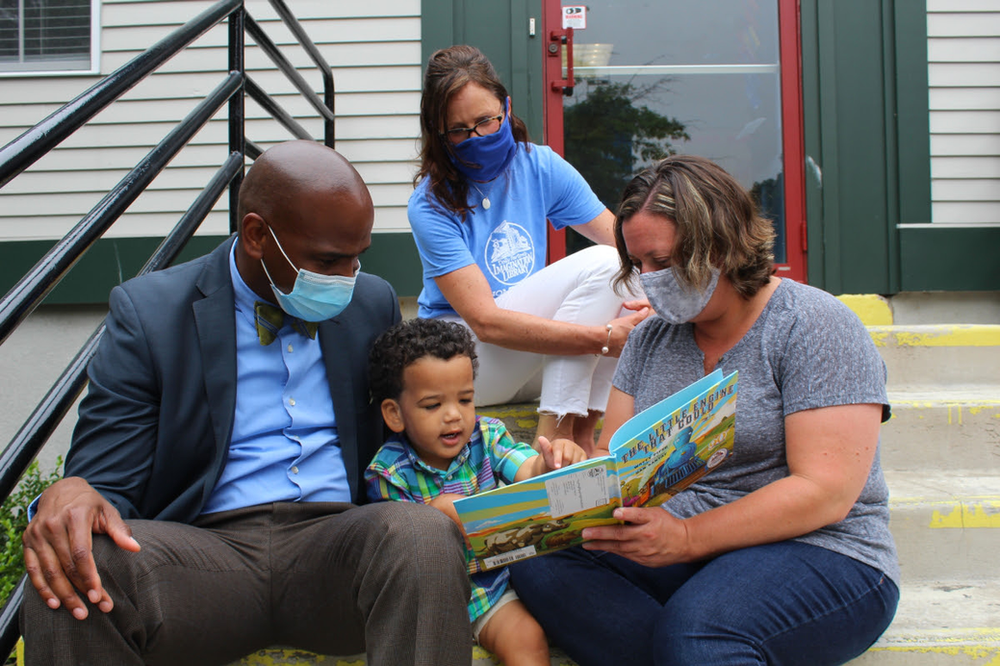 Kids from birth to their 5th birthday who reside in Newport County receive a FREE book in the mail each month through Imagination Library, regardless of family income. For more information, ,visit the Imagination Library page on our website.
Above: Hudson reads "The Little Engine that Could" with his dad (Freddie), mom (Bethany), and MLK Community Center Imagination Library Program Coordinator Judy Hall (center).
Judy is happy to help families enroll, or answer any questions that you may have: ,,imaginationlibrary@MLKCCenter.org or call (401) 924-4252.
---
YOU CAN HELP DRIVE OUT HUNGER IN NEWPORT COUNTY
Sponsor a Mobile Food Pantry visit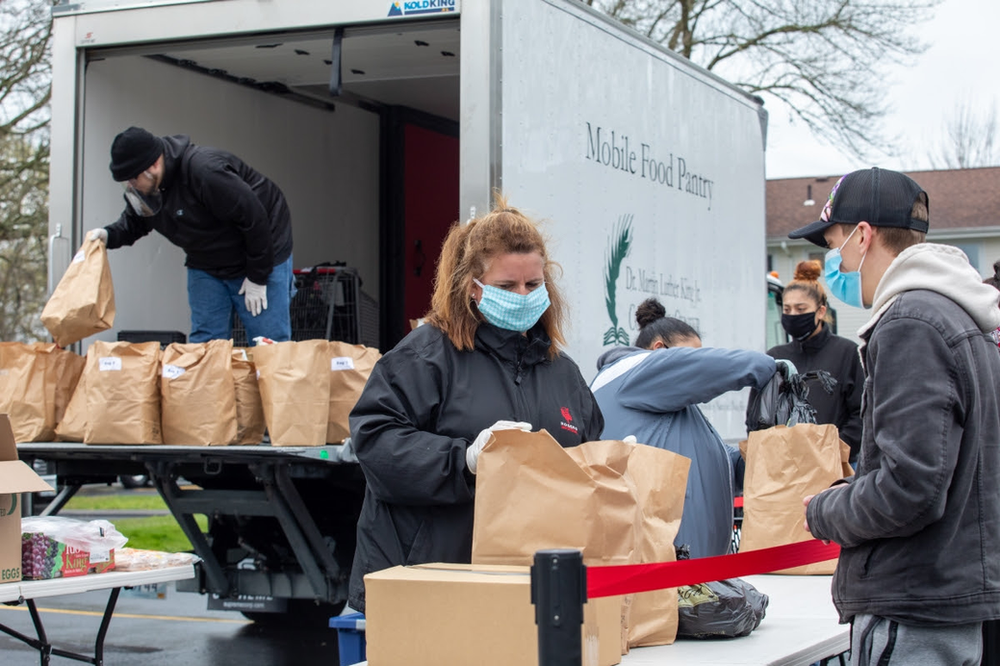 We're now offering an exciting new sponsorship opportunity, for individuals and businesses alike: Sponsor a Mobile Food Pantry visit!
Piloted in 2018, the Mobile Food Pantry makes regular visits to low income neighborhoods in Newport, Middletown, Portsmouth, Jamestown, and Tiverton. The refrigerated truck brings the MLK's pantry to those who cannot visit the Center, often due to lack of transportation.
When you sponsor a Mobile Food Pantry visit, you help your Newport County neighbors in need, and you receive valuable community recognition: your logo displayed on signs at the Mobile Food Pantry site, on our social media, and in this newsletter, and more.
LEARN MORE
---
HERE TO HELP As a reminder, we remain open to provide:
· Grab-n-Go Breakfast every weekday, 7:30 – 8:30 (MOVED to Marcus Wheatland Blvd. entrance) · Food 2 Friends delivery for homebound seniors · ,Mobile Food Pantry visits to low-income housing communities · Preschool for registered preschool students · Daily Bread: Available outside the Marcus Wheatland Blvd entrance weekdays from 10 am – 4 pm. · A modified on-site food pantry Monday, Wednesday, Friday from 10 a.m. to 2 p.m. (Distribution of pre-bagged groceries has returned to our main entrance: Marcus Wheatland Blvd.) Changes coming August 3rd, see below! · Veggie Days weekly vegetable distribution outside, Thursdays 10 a.m. to 2 p.m. or while supplies last · Summer Camp for registered summer campers We've reduced the time between pantry visits from once a month to every 14 days because we know this is a particularly difficult time for everyone.
The "next normal" is coming to the Food Pantry We're getting ready to bid farewell to prebagged groceries. Beginning Monday, August 3rd, the food pantry will reopen for Client Choice grocery selection. The pantry will be open Mondays, Wednesdays, and Fridays from 10 am – 2 pm and Wednesdays from 4 pm – 6 pm. (Once monthly Saturday pantry hours resume September 5th.) Two clients at a time will enter the Pantry and shop. To be as safe as possible, clients must wear a mask at all times, shop at a brisk pace, and bring their own bags. An ID must be presented to use the pantry. No more than 2 clients will be allowed in the Center at a time. Because Client Choice is returning and food pantry shops will be more substantial, the time between food pantry visits will change from every 14 days back to every calendar month, beginning August 3rd.
---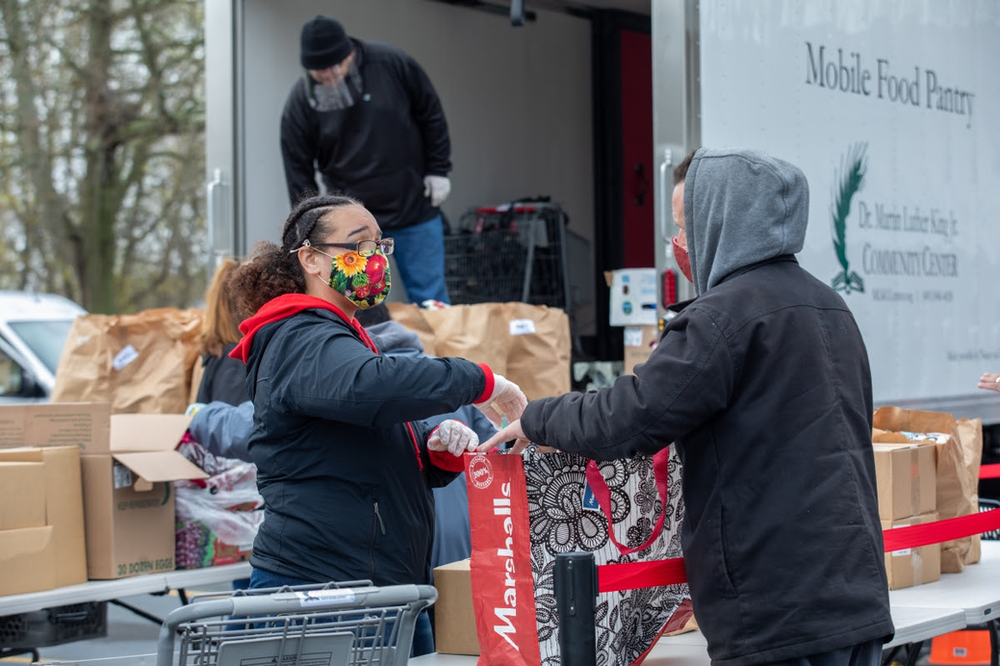 Pictured: During the height of the pandemic, MLK staff member Mushiana helps a Mobile Food Pantry client with their groceries.