UPDATES FROM THE MLK COMMUNITY CENTER Friday, October 30th, 2020
---
OUR PARTNERS ARE THE PICK OF THE PATCH: ,Newport Restoration Foundation donates pumpkins to our education programs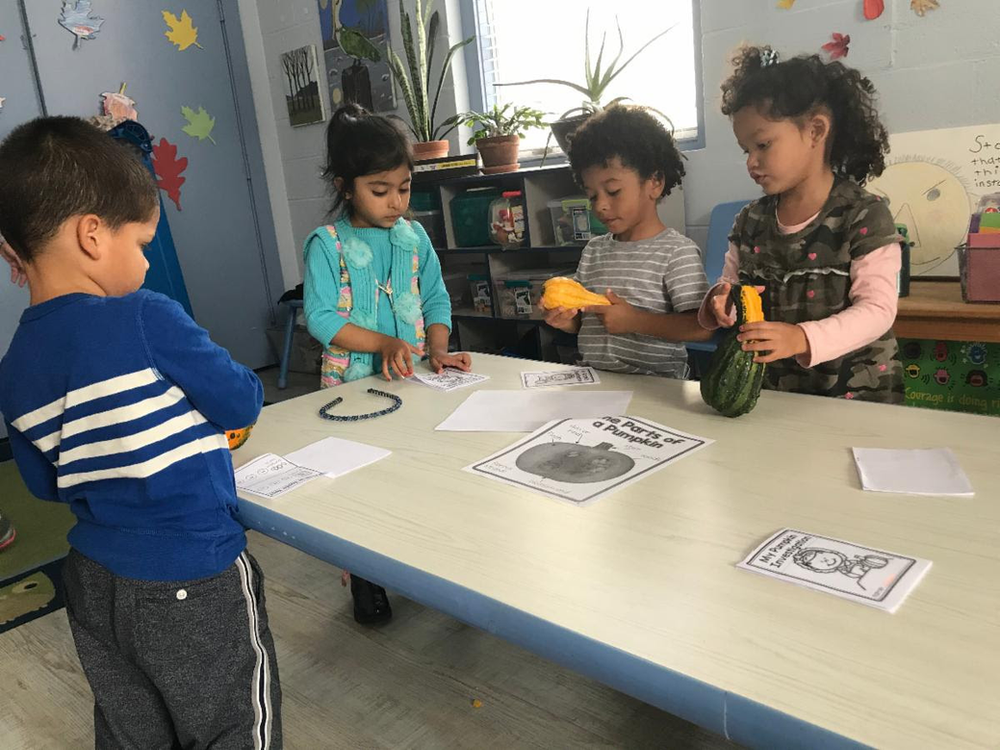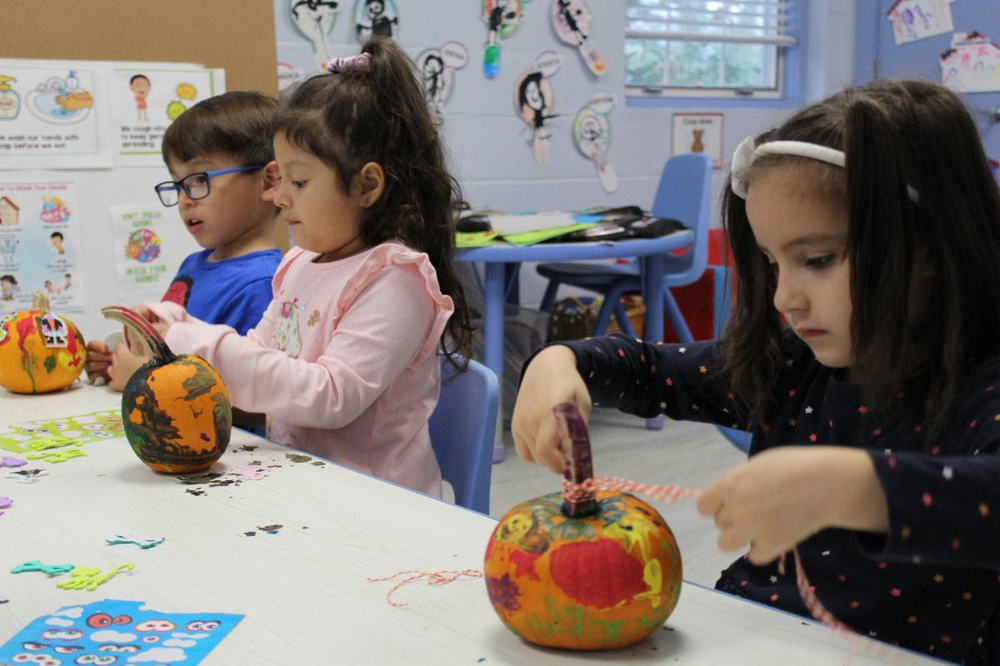 We are so fortunate to have amazing community partners who share the same values as us. Prescott Farm, an 18th-century vegetable herb garden and property of the Newport Restoration Foundation grew a gorgeous pumpkin patch this year, with the goal of donating their bounty to the MLK. They grew enough pumpkins to donate to the education programs at the Center, with more to spare!
Many visitors to Prescott Farm watched the pumpkins grow and came back to see them when they were ripe. "It was a great learning experience for all and a good draw to the property for the local families," said Susan Estabrook, who has overseen the URI Master Gardener program at Prescott Farm for years. "We grew over two hundred pumpkins that amounted to over 500 lbs!"
Students in our education programs used the pumpkins not only to decorate, but to explore. Our Preschool students participated in "Pumpkin science" as a part of their STEM curriculum. Students had the opportunity to explore the parts of a pumpkin, measure the size and shape, feel the fibrous insides, and made nutritious roasted pumpkin seeds. They observed the pumpkins, comparing them to other New England fall vegetables, and learned about what happens during fall in New England. Then, of course, they were able to decorate their take-home pumpkins with paint and/or stickers, flexing their creativity muscles.
We so appreciate this partnership with Newport Restoration Foundation, in collaboration with the URI Master Gardener program. Thank you for providing these enriching (and nutritious!) curriculum tools for our students this week!
Wishing everyone a very safe and happy Halloween!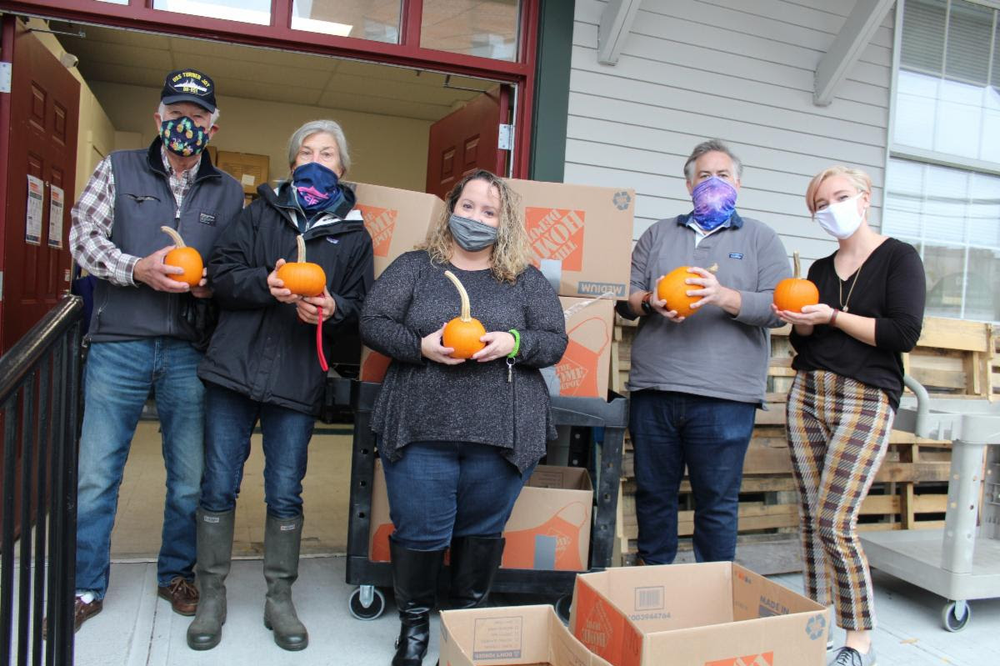 ---
ICYMI: KEEPER OF THE DREAM RECAP
Keepers of the Dream honored this past Monday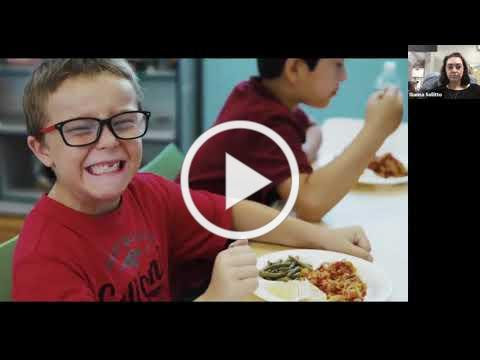 In case you missed it… we honored our Keeper of the Dream award recipients at a virtual award ceremony this past Monday evening. Watch the entire stream via our YouTube channel.
Introducing our honorees…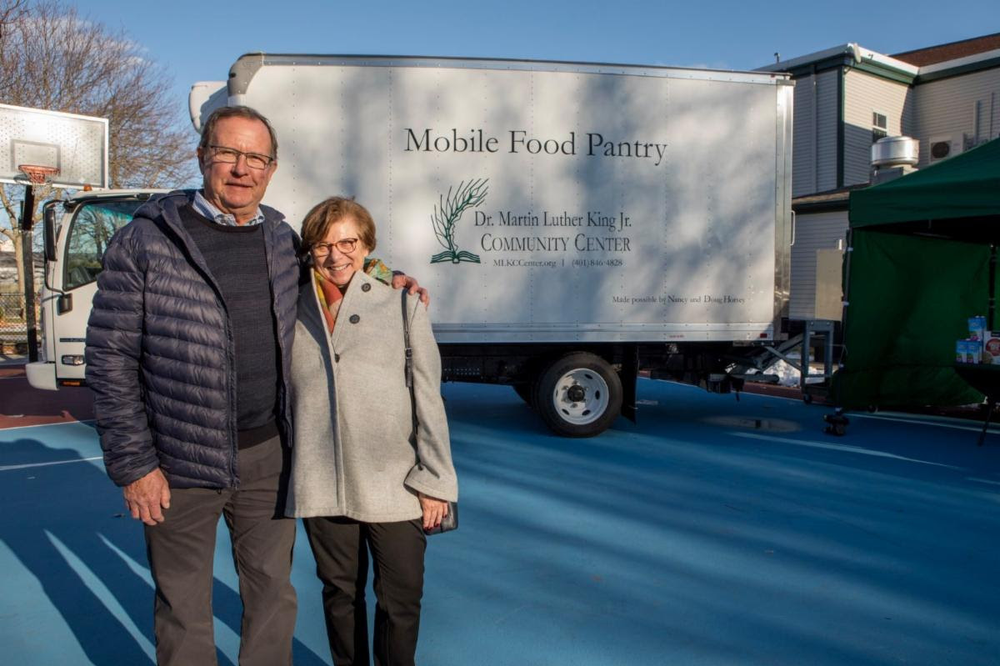 Keepers of the Dream: Nancy and Doug Horsey
For five years, Nancy and Doug have been champions for the MLK. Their generosity and counsel have been transformational.
Whenever we ask, the Horseys answer the call. When we needed matching funds to inspire our community to donate, they have given to spark that inspiration. When we decided to pilot an innovative new program, they helped think through the challenges of creating the Mobile Food Pantry. After a year of research and implementation, we were ready to make the major purchase of a vehicle to bring varied and healthy foods and needed personal care and household items out into Newport County. The Horseys underwrote the major capital purchase of the new Mobile Food Pantry truck.
Nancy has given many hours volunteering in the Food Pantry and Mobile Food Pantry, escorting clients through these programs with dignity, respect, and kindness, and they have been generous with wisdom and counsel on a range of challenges. Quite simply, they are essential to us.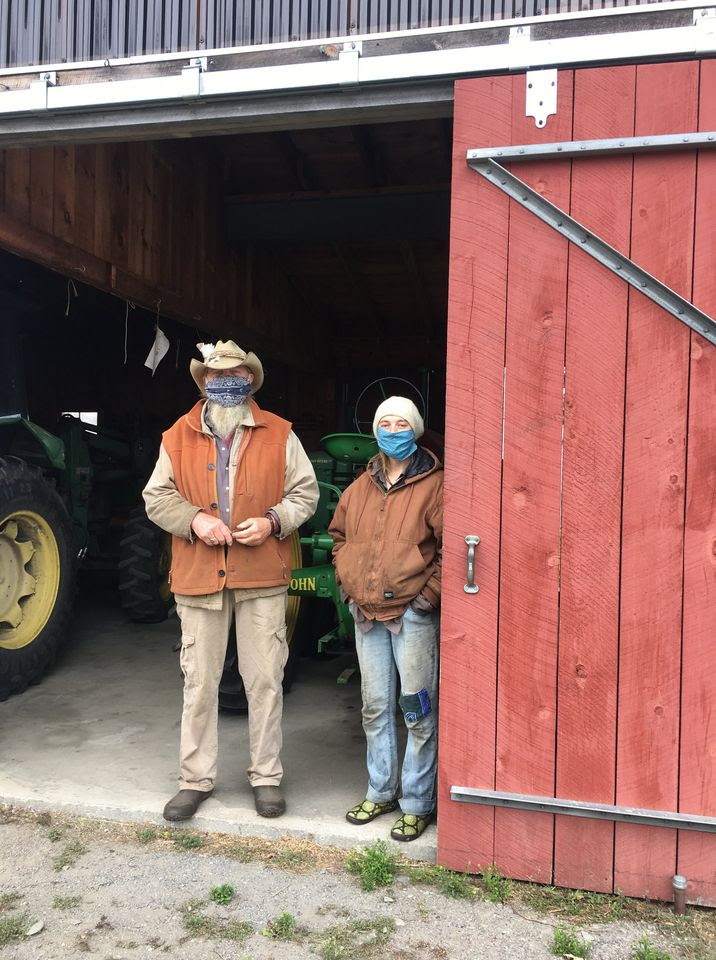 Keeper of the Dream – Community Partner: Jamestown Community Farm
One of the most important truths that the Center holds dear is that all people want – and have a right to – healthy food.
Because of the steadfast support of Jamestown Community Farm (JCF), the MLK has been able to provide fresh, local produce and eggs to people across Newport County for decades. JCF has donated since before our digital record-keeping began in 2005. Since then, over 14,000 pounds of just-picked sustainably farmed vegetables have arrived in the back of Bob's truck, often still warm from the sun. (Pictured above: Bob Sutton, farm manager and Sterling Dintersmith, intern.)
Jamestown Community Farm grows mostly organic produce and runs almost exclusively on solar power. They capture run-off water to irrigate crops, using no onsite water. They are a 501(c)(3) non-profit organization with no paid staff except one intern: they otherwise rely exclusively on volunteer support. In addition to donating crops to the MLK Community Center, the McAuleyHouse in Providence, and the Jonnycake Center in Westerly. JCF also sells produce one weekend morning to the community at very low cost. They also worked with the Jamestown Baptist Church to establish a voucher system so local residents in need can receive fresh produce at the weekend farmstand.
Their impact goes far beyond donating veggies. They are stewards of their land, and represent a vision for a more sustainable, generous, caring future. Quite simply, they are essential to our shared community, and especially to the MLK.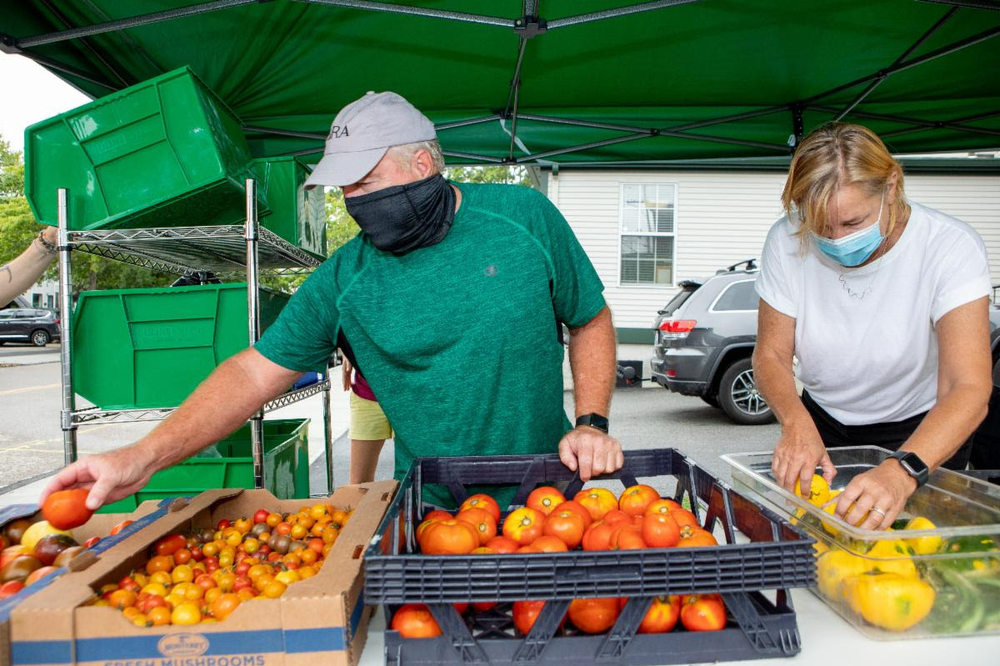 Keepers of the Dream – Volunteers of the Year: Betsy Blair & Jim Van Winkle
It's hard to believe that Betsy Blair and Jim van Winkle got involved with the MLK just a few short years ago, after they relocated to Newport, Rhode Island from Texas. They almost immediately became champions for their new community, immersing themselves in selfless service at the MLK. Whenever we ask, whatever we ask, they are there for the Center. They are the first people we think of when we are in need: "Call Bets and J-V-Dub!" is a common refrain.
They have volunteered almost countless hours to benefit the Center, across nearly every program we offer. Because of Betsy and Jim, we now glean the Saturday Farmer's Market for unsold produce after day's end, produce that is then distributed in our Food Pantry and at Veggie Days. They have escorted hundreds of clients through the Food Pantry with dignity and respect, and made dozens of runs to pick up donations and purchases. Additionally, they have given incredibly generously to ensure we can sustain critical programs and inspire others to give. They have brought family members into our Volunteer Family. They offer wisdom, energy, commitment, and a positive attitude that improves each program they touch.
---
ZUMBA RETURNS TO THE MLK COMMUNITY CENTER
Please join us Thursday mornings at 8:30 a.m.

We're proud to announce that an all-time favorite MLK program is returning to the Center: free Zumba classes! Join us Thursday mornings at 8:30 a.m. for [socially-distanced] Zumba, suitable for all skill levels.
Space is very limited and RSVP & masks required for this socially-distanced event: email or call Mel to reserve your spot. (401) 846-4828 x103. Spread the word!
---
CHOWDER CUP GIVEAWAY
Next Wednesday, November 4th

Stop by the MLK Center this coming Wednesday, Nov. 4th from 4 p.m. to 6 p.m. for a delicious free cup of the Newport Chowder Company's award-winning seafood chowder! Newport Chowder Company is donating the chowder and bringing its brand-new Chowder Cart to introduce the cart while supporting the MLK. Masks & social distancing required. Eating not permitted on-site. Facebook event
---

---
HERE TO HELP
Grab-n-Go Breakfast Mon-Fri, 7:30 – 8:30 a.m. (Marcus Wheatland Blvd entrance)
Food 2 Friends delivery for homebound seniors. Contact Ed for more info
Mobile Food Pantry visits to low-income housing communities
Preschool for registered preschool students. Openings currently available for 3 year olds. Contact Tanya by email or by phone: (401) 846-4828 x117
After School program for registered students
Daily Bread: Mon-Fri at the Marcus Wheatland Blvd entrance
On-site food pantry: Monday, Wednesday, and Friday from 10 a.m. to 2 p.m. and Wednesday evenings from 4 p.m. to 6 p.m. First Saturday of each month from 10 a.m. to 12 p.m.
Veggie Days weekly vegetable distribution outside, Thursdays 10 a.m. to 2 p.m. or while supplies last. ,Now year-round! Veggie Days will be 10 a.m. – 1 p.m. beginning November 1st
LivFit Cooking & Nutrition class Tuesday & Thursday at 5 p.m. Class is socially distanced and masks are required. Call or text Kristin to attend: (401) 368-7614
Grab 'n Go lunches: Tues. Nov. 3rd, & Tues. Nov. 17th from 11:30 a.m. to 1 p.m. Free! Presented in collaboration with McGrath's Clambakes. Menu TBD. Eating on-site not permitted
Chowder Cup Giveaway: Weds, Nov. 4th from 4 – 6 p.m. stop by the Center for a free cup of award-winning chowder, presented by the Newport Chowder Company!
**NEW** Shape Up! Fitness class with Debra: Held every Wednesday at 8:30 a.m. Free. This full-body workout aims to improve balance, bone health, flexibility, and strength of participants in a safe, welcoming, and fun environment. RSVP with Mel by email or phone: (401) 846-4828 x124
**WELCOME BACK** The Lunch & Learn series for older adults returns to the Center beginning on Tues. Oct. 27th at 12 p.m. Other dates TBA. This Lunch & Learn's activity will be bingo, and lasagna, salad, & dessert will be served. RSVP with Mel by email or phone: (401) 846-4828 x124
Stepping Stones mentoring program: Start your journey to food security and overcome the obstacles that might stand in your way with the help of Client Support Specialist, Dezarae. This one-on-one mentoring program is open to any Newport County resident willing to meet (virtually or in-person) twice per month for at least six months, aged 18+, who is struggling with food insecurity. Contact Dezarae via email or call (401) 846-4828 x118
Dolly Parton's Imagination Library, presented by the Bazarsky Family Foundation in partnership with the MLK Community Center, puts books into the hands and hearts of children across the world. They partner with local communities to mail a hand-selected, age-appropriate, high-quality book each month to registered children from birth to age five, completely free of cost & regardless of family income. More info
Senior farmers market coupon booklets are available to pickup at the MLK. While supplies last, Rhode Island residents seniors ages 60+ who meet the income requirements can pick up one booklet per season. ,Reminder: coupons expire Oct. 31st, 2020
Holiday Help: Registration is open! Contact Dezarae by email or by phone: (401) 846-4828 x118 or register online. Due to limits on gathering, no drop-in registrations permitted this year. Thanksgiving registration deadline: Nov. 10th. Holiday pantry & Santa's Workshop deadline: Nov 20th
Donations: Donations of non-perishable food, fresh produce, household items, and personal care items are accepted at our loading dock Mon-Fri 8:30 a.m. – 5:00 p.m. Please ring the bell upon arrival. Masks required to donate. A list of our urgent needs available here
Dr. Martin Luther King, Jr. Community Center
(401) 846-4828
---
No temenos la capacidad de traducir cada entrada del blog a español porque usamos una herramienta de traducción en el internet. Por favor, disculpe cualquier error gramática. Por favor, llame al Centro si tiene alguna pregunta.
ACTUALIZACIONES DEL MLK COMMUNITY CENTER Viernes 30 de Octubre de 2020
---
NUESTROS SOCIOS SON LA ELECCIÓN DEL PARCHE: Newport Restoration Foundation dona calabazas a nuestros programas educativos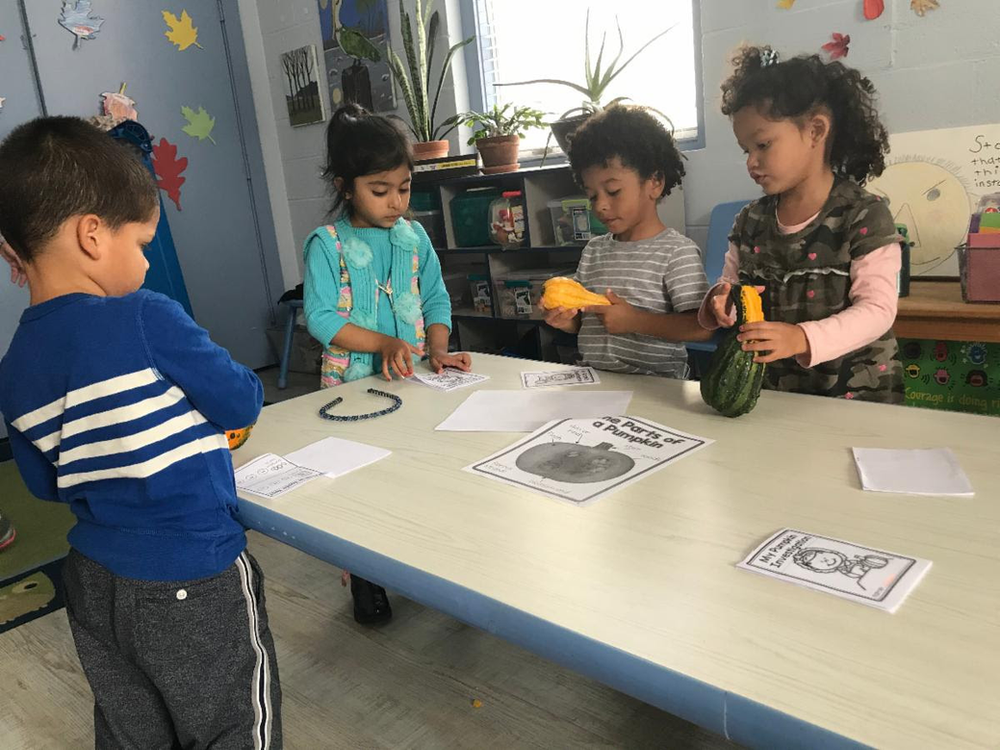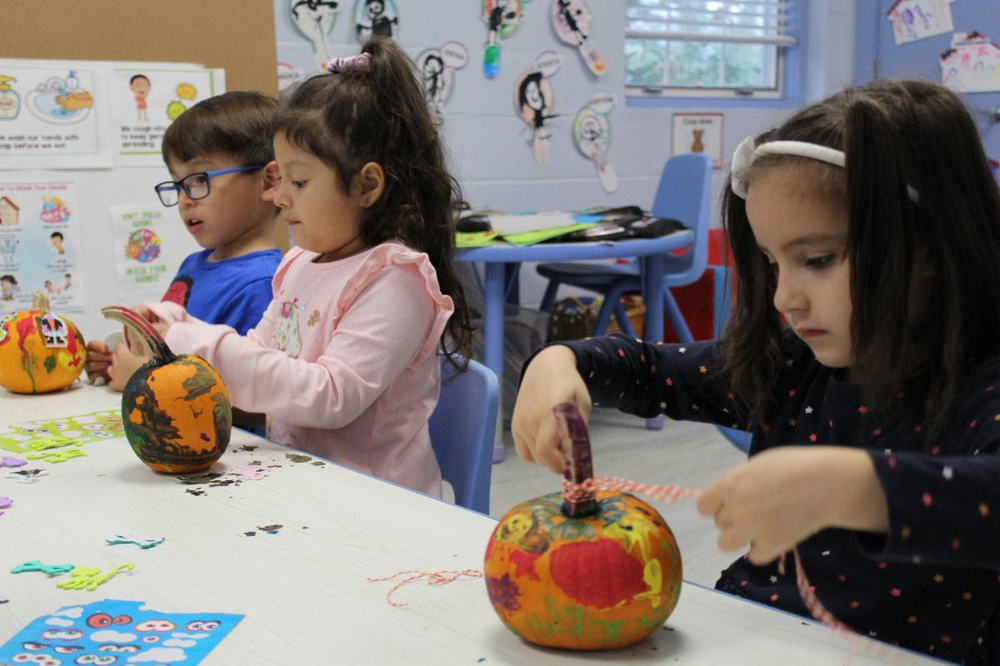 Somos muy afortunados de tener socios comunitarios increíbles que comparten los mismos valores que nosotros. Prescott Farm, un huerto de hortalizas del siglo XVIII y propiedad del Newport Restoration Foundation cultivó un hermoso huerto de calabazas este año, con el objetivo de donar su recompensa al MLK. Cultivaron suficientes calabazas para donarlas a los programas educativos del Centro, ¡y sobraron más! Muchos visitantes de Prescott Farm vieron crecer las calabazas y regresaron para verlas cuando estaban maduras. "Fue una gran experiencia de aprendizaje para todos y un buen atractivo para la propiedad para las familias locales", dijo Susan Estabrook, quien ha supervisado la URI Master Gardener programa en Prescott Farm durante años. "¡Cultivamos más de doscientas calabazas que ascendieron a más de 500 libras!" Los estudiantes de nuestros programas educativos utilizaron las calabazas no solo para decorar, sino también para explorar. Nuestros estudiantes de preescolar participaron en la "ciencia de la calabaza" como parte de su plan de estudios STEM. Los estudiantes tuvieron la oportunidad de explorar las partes de una calabaza, medir el tamaño y la forma, sentir el interior fibroso e hicieron nutritivas semillas de calabaza tostadas. Observaron las calabazas, las compararon con otras verduras de otoño de Nueva Inglaterra y aprendieron sobre lo que sucede durante el otoño en Nueva Inglaterra. Luego, por supuesto, pudieron decorar sus calabazas para llevar a casa con pintura y / o pegatinas, flexionando sus músculos creativos. Apreciamos mucho esta asociación con Newport Restoration Foundation, en colaboración con el URI Master Gardener programa. ¡Gracias por proporcionar estas herramientas de currículo enriquecedoras (y nutritivas) para nuestros estudiantes esta semana! ¡Les deseo a todos un feliz y muy seguro Halloween!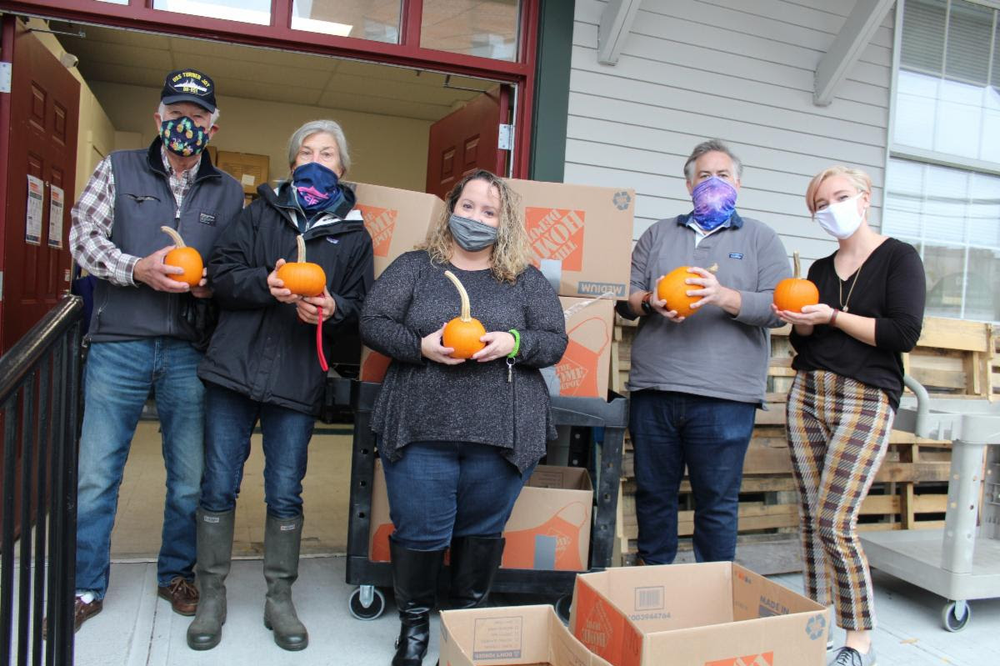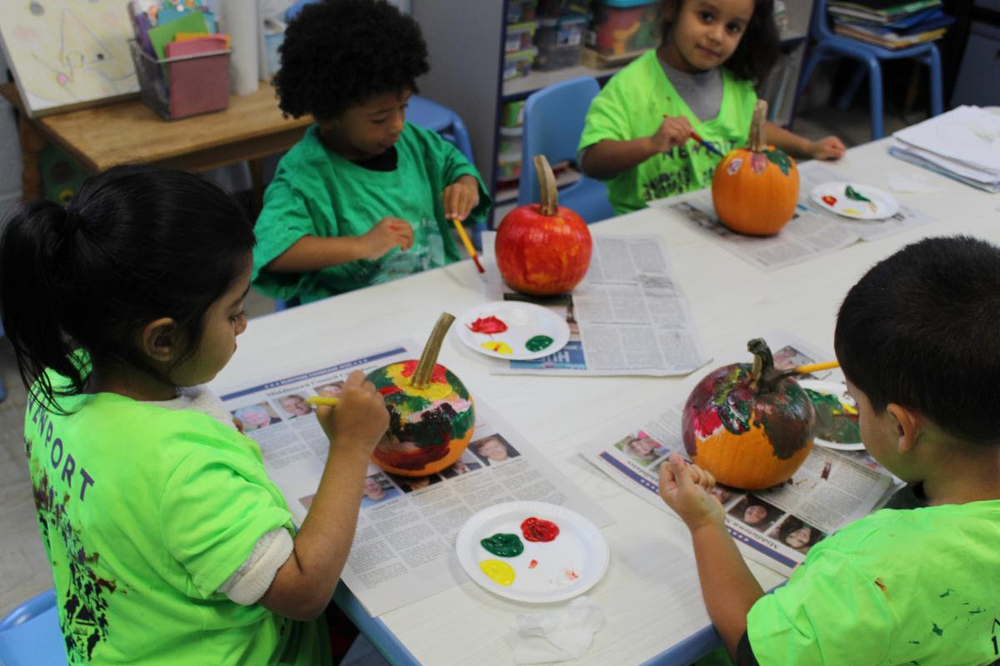 ---
ICYMI: GUARDIÁN DEL SUEÑO RESUMEN Keepers of the Dream honrados este pasado lunes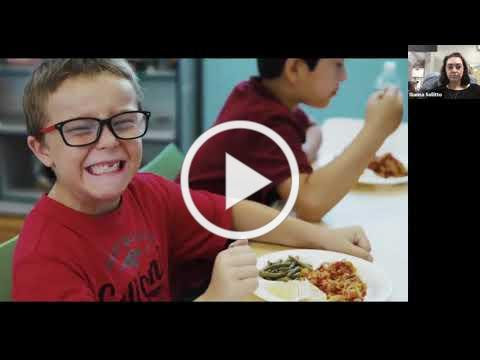 En caso de que se lo haya perdido … honramos a nuestros ganadores del premio Keeper of the Dream en una ceremonia virtual de premios el pasado lunes por la noche. Mira la transmisión completa a través de nuestro YouTube channel.
Presentando a nuestros homenajeados …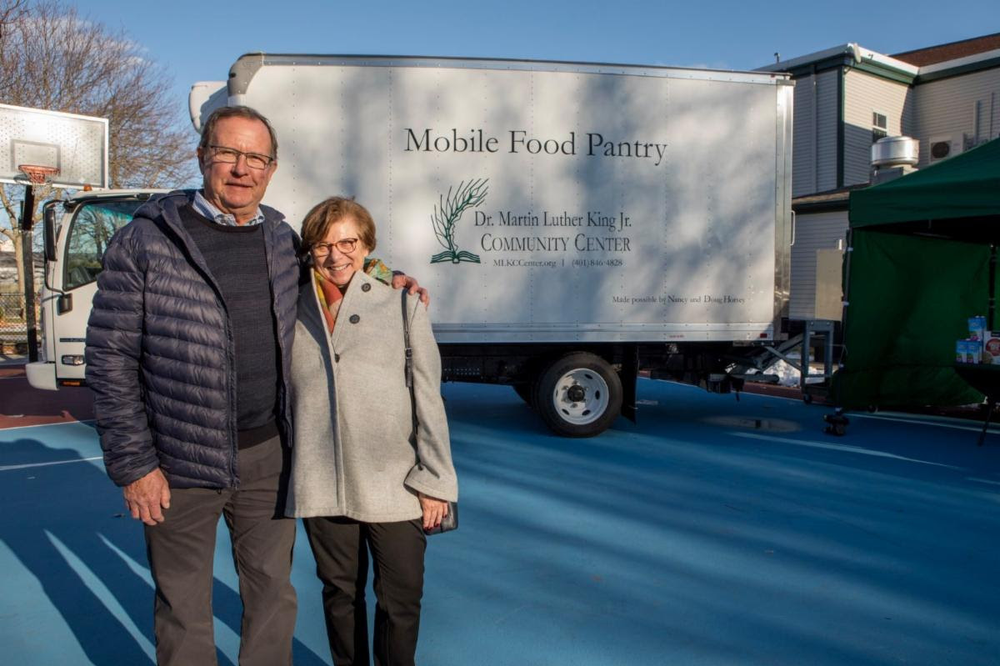 Guardianes del sueño: Nancy y Doug Horsey Durante cinco años, Nancy y Doug han sido campeones de MLK. Su generosidad y consejo han sido transformadores. Siempre que preguntamos, los Horseys responden a la llamada. Cuando necesitábamos fondos de contrapartida para inspirar a nuestra comunidad a donar, ellos han dado para encender esa inspiración. Cuando decidimos poner a prueba un programa nuevo e innovador, ayudaron a pensar en los desafíos de crear la despensa móvil de alimentos. Después de un año de investigación e implementación, estábamos listos para realizar la compra importante de un vehículo para llevar alimentos variados y saludables y artículos necesarios para el cuidado personal y el hogar en el condado de Newport. Los Horseys financiaron la importante compra de capital del nuevo camión Mobile Food Pantry. Nancy ha trabajado como voluntaria durante muchas horas en Food Pantry y Mobile Food Pantry, acompañando a los clientes a través de estos programas con dignidad, respeto y amabilidad, y han sido generosos con sabiduría y consejos en una variedad de desafíos. Sencillamente, son esenciales para nosotros.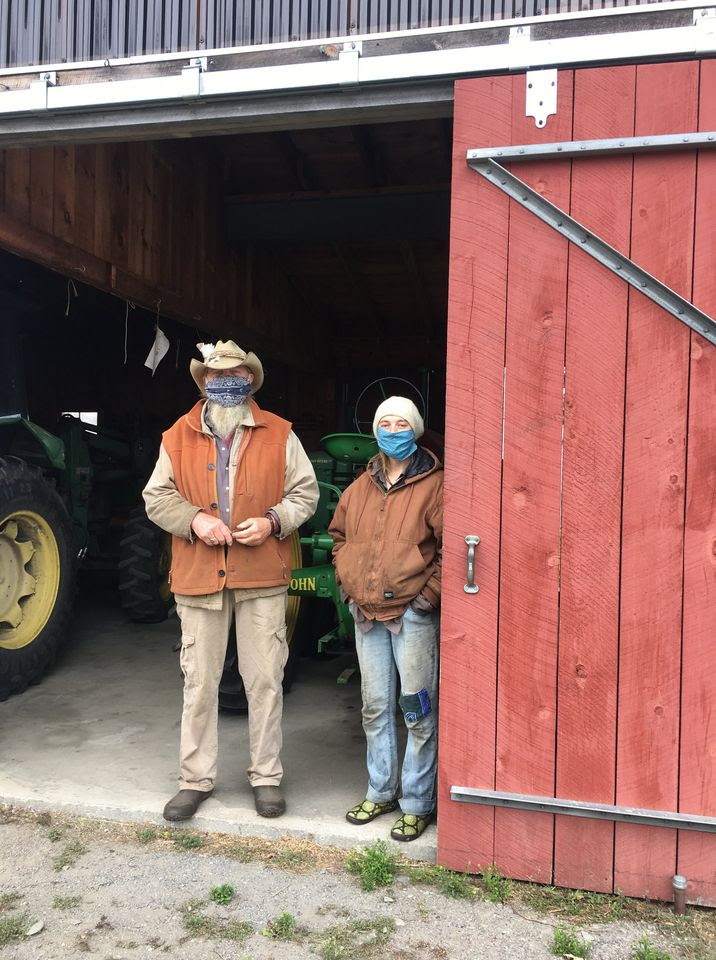 Guardiana del sueño – Socio de la comunidad: Jamestown Community Farm
Una de las verdades más importantes que el Centro valora es que todas las personas quieren – y tienen derecho a – alimentos saludables. Debido al firme apoyo de Jamestown Community Farm (JCF), MLK ha sido capaz de proporcionar huevos y productos frescos locales a las personas en todo el condado de Newport durante décadas. JCF ha donado desde antes de que comenzara nuestro registro digital en 2005. Desde entonces, más de 14,000 libras de vegetales cultivados de manera sostenible recién recolectados han llegado a la parte trasera del camión de Bob, a menudo aún calientes por el sol. (En la foto de arriba: Bob Sutton, gerente de la granja y Sterling Dintersmith, pasante).
Jamestown Community Farm cultiva principalmente productos orgánicos y funciona casi exclusivamente con energía solar. Capturan el agua de escorrentía para regar los cultivos, sin utilizar agua en el lugar. Son una organización sin fines de lucro 501 (c) (3) sin personal remunerado excepto un pasante: de lo contrario, dependen exclusivamente del apoyo voluntario. Además de donar cultivos al MLK Community Center, McAuleyHouse en Providence y Jonnycake Center en Westerly. JCF también vende productos a la comunidad una mañana de fin de semana a muy bajo costo. También trabajaron con la Iglesia Bautista de Jamestown para establecer un sistema de vales para que los residentes locales necesitados puedan recibir productos frescos en la granja de fin de semana. Su impacto va mucho más allá de la donación de verduras. Son administradores de su tierra y representan una visión para un futuro más sostenible, generoso y solidario. Simplemente, son esenciales para nuestra comunidad compartida, y especialmente para MLK.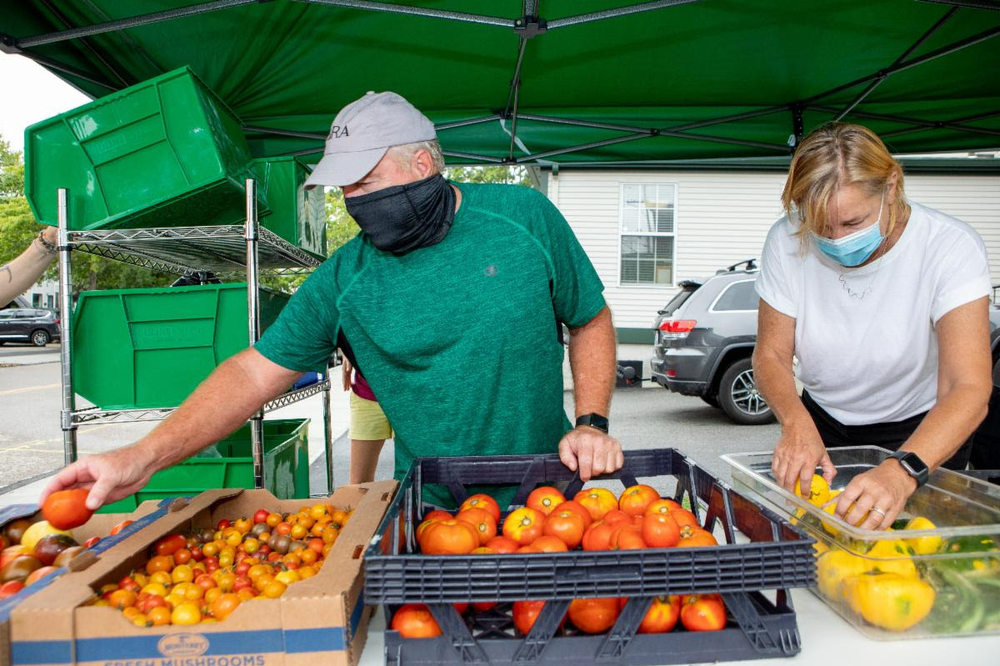 Guardianes del sueño – Voluntarios del año: Betsy Blair y Jim Van Winkle Es difícil creer que Betsy Blair y Jim van Winkle se involucraron con MLK hace unos pocos años, después de mudarse a Newport, Rhode Island desde Texas. Casi de inmediato se convirtieron en campeones de su nueva comunidad, sumergiéndose en un servicio desinteresado en el MLK. Siempre que pedimos, lo que sea que pidamos, están ahí para el Centro. Son las primeras personas en las que pensamos cuando lo necesitamos: "¡Llama a Bets y J-V-Dub!" es un estribillo común. Se han ofrecido como voluntarios casi innumerables horas para beneficiar al Centro, en casi todos los programas que ofrecemos. Gracias a Betsy y Jim, ahora recolectamos el mercado de agricultores de los sábados en busca de productos no vendidos después del final del día, productos que luego se distribuyen en nuestra despensa de alimentos y en Veggie Days. Han acompañado a cientos de clientes a través de la despensa de alimentos con dignidad y respeto, y han realizado docenas de carreras para recoger donaciones y compras. Además, han donado de manera increíblemente generosa para garantizar que podamos mantener programas críticos e inspirar a otros a donar. Han traído miembros de la familia a nuestra Familia Voluntaria. Ofrecen sabiduría, energía, compromiso y una actitud positiva que mejora cada programa que tocan.
---
ZUMBA REGRESA AL CENTRO COMUNITARIO DE MLK Únase a nosotros los jueves por la mañana a las 8:30 a.m.

Nos enorgullece anunciar que un programa MLK favorito de todos los tiempos regresa al Centro: gratis Zumba classes! Únase a nosotros los jueves por la mañana a las 8:30 a.m. para Zumba [socialmente distanciado], adecuado para todos los niveles. El espacio es muy limitado y se requiere RSVP y máscaras para este evento socialmente distanciado: email o llama a Mel para reservar tu lugar. (401) 846-4828 x103. Spread the word!
---
REGALO DE COPA DE CHOWDER El próximo miércoles 4 de noviembre

Pase por el MLK Center el próximo miércoles 4 de noviembre a partir de las 4 p.m. a las 6 p.m. ¡para una deliciosa taza gratis de la galardonada sopa de mariscos de Newport Chowder Company! Newport Chowder Company está donando la sopa y trayendo su nuevo Carrito de sopa para presentar el carrito mientras apoya al MLK. Se requieren máscaras y distanciamiento social. No se permite comer en el lugar. Facebook event
---
,Apoye al condado de Newport, apoye a MLK.
---
AQUÍ PARA AYUDAR Tenga en cuenta que el Centro estará cerrado el próximo lunes 12 de octubre en conmemoración del Día de la Raza / Día de los Pueblos Indígenas.
Desayuno para llevar de lunes a viernes, de 7:30 a 8:30 a.m. (entrada de Marcus Wheatland Blvd)
Entrega de Food 2 Friends para personas mayores confinadas en el hogar
,Visitas móviles de despensa de alimentos a comunidades de viviendas de bajos ingresos
Preescolar para estudiantes de preescolar registrados. Aperturas actualmente disponibles para niños de 3 años. Comuníquese con ,Tanya por correo electrónico o por teléfono: (401) 846-4828 x117
Programa extracurricular para estudiantes registrados
Pan diario: de lunes a viernes en la entrada de Marcus Wheatland Blvd
Despensa de alimentos en el lugar: lunes, miércoles y viernes de 10 a.m. a 2 p.m. y miércoles por la noche a partir de las 4 p.m. a las 6 p.m. Primer sábado de cada mes de 10 a.m. a 12 p.m. Despensa de alimentos en el lugar: lunes, miércoles y viernes de 10 a.m. a 2 p.m. y miércoles por la noche a partir de las 4 p.m. a las 6 p.m. Primer sábado de cada mes de 10 a.m. a 12 p.m.
,Veggie Days distribución semanal de verduras al aire libre, jueves de 10 a.m. a 2 p.m. o hasta agotar existencias. ¡Ahora todo el año!
,Clase de cocina y nutrición LivFit los martes y jueves a las 5 p.m. La clase está socialmente distanciada y se requieren máscaras. Llame o envíe un mensaje de texto a Kristin para asistir: (401) 368-7614
,Almuerzos Grab 'n Go: martes 20 de octubre de 11:30 a.m. a 1 p.m. ¡Gratis! Presentado en colaboración con McGrath's Clambakes. Menú TBD. No se permite comer en el lugar
Sorteo de la copa de sopa: miércoles, 4 de noviembre de 4 a 6 p.m. ¡Pase por el Centro para disfrutar de una taza gratis de sopa de pescado galardonada, presentada por Newport Chowder Company!
** NUEVO ** ¡,Ponte en forma! Clase de fitness con Debra: todos los miércoles a las 8:30 a.m. Gratis. Este entrenamiento de cuerpo completo tiene como objetivo mejorar el equilibrio, la salud ósea, la flexibilidad y la fuerza de los participantes en un entorno seguro, acogedor y divertido. RSVP con Mel por correo ,electrónico o teléfono: (401) 846-4828 x124
** BIENVENIDO DE NUEVO ** La serie ,Lunch & Learn para adultos mayores regresa al Centro a partir del martes. 27 de octubre a las 12 p.m. Otras fechas por confirmar. Esta actividad de Lunch & Learn será bingo y se servirá lasaña, ensalada y postre. RSVP con Mel por correo ,electrónico o teléfono: (401) 846-4828 x124
Programa de mentores Stepping Stones: comience su viaje hacia la seguridad alimentaria y supere los obstáculos que puedan interponerse en su camino con la ayuda del especialista en atención al cliente, Dezarae. Este programa de tutoría individual está abierto a cualquier residente del condado de Newport que desee reunirse (virtualmente o en persona) dos veces al mes durante al menos seis meses, mayores de 18 años, que esté luchando contra la inseguridad alimentaria. Póngase en contacto con Dezarae por correo ,electrónico o llame al (401) 846-4828 x118
,La Biblioteca de imaginación de Dolly Parton, presentada por la Fundación de la Familia Bazarsky en asociación con el Centro Comunitario MLK, pone libros en las manos y corazones de niños de todo el mundo. Se asocian con las comunidades locales para enviar por correo un libro de alta calidad, seleccionado a mano y apropiado para la edad cada mes a los niños registrados desde el nacimiento hasta los cinco años, completamente gratis e independientemente de los ingresos familiares. ,Más información
Los folletos de cupones del mercado de agricultores mayores están disponibles para recoger en MLK. Hasta agotar existencias, los residentes de Rhode Island, personas mayores de 60 años o más que cumplan con los requisitos de ingresos, pueden recoger un folleto por temporada. Los cupones vencen el 31 de octubre
Ayuda de vacaciones: ¡La inscripción está abierta! Comuníquese con Dezarae ,por correo electrónico o por teléfono: (401) 846-4828 x118 ,o regístrese en línea. Debido a los límites de recolección, no se permiten registros directos este año.
Donaciones: Se aceptan donaciones de alimentos no perecederos, productos frescos, artículos para el hogar y artículos de cuidado personal en nuestro muelle de carga de lunes a viernes de 8:30 a.m. a 5:00 p.m. Por favor toque el timbre a su llegada. Se requieren máscaras para donar. Una lista de nuestras necesidades urgentes ,,disponible aquí
Centro Comunitario Dr. Martin Luther King, Jr. (401) 846-4828 anovick@MLKCCenter.org www.MLKCCenter.org