UPDATES FROM THE MLK COMMUNITY CENTER Friday, November 6th, 2020
---
COUNTDOWN TO THE HOLIDAYS
Can you believe it? The holiday season is almost upon us.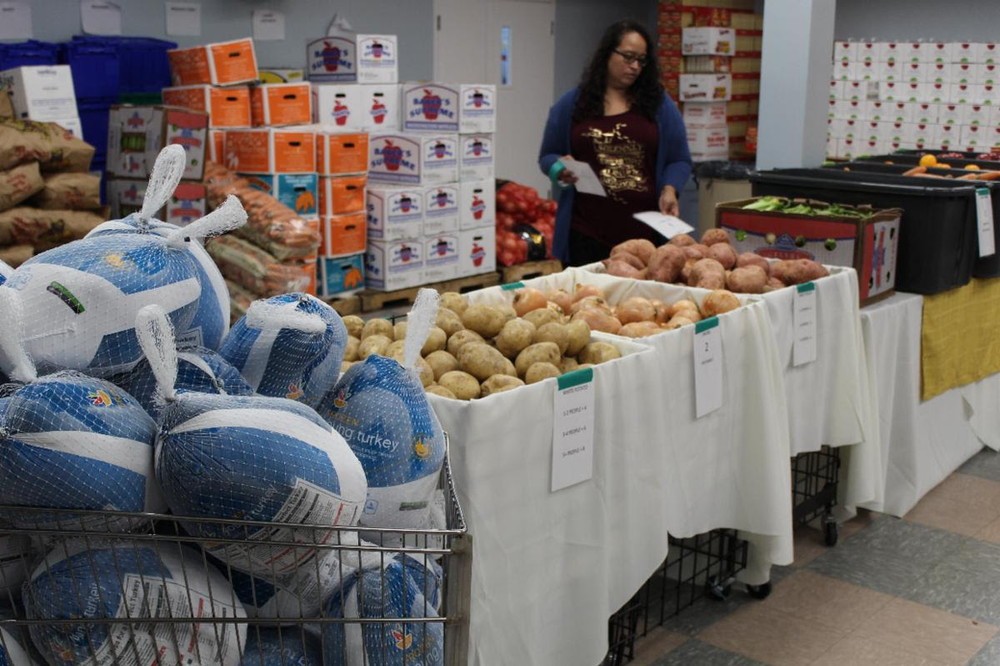 5 days left to register for Thanksgiving food pantry 13 days until Thanksgiving food distribution begins 15 days left to register for Holiday food pantry & Santa's Workshop 21 days until Thanksgiving day
2020 has been a long and stressful year for everyone. It's hard to think about the coming holidays, but we're committed to offering our holiday programs again this year, despite modifications caused by the COVID-19 pandemic. If you need help for the very first time this year, we have you covered. And, if you want to make a difference this holiday season, your support goes directly to Newport County families.
Need Holiday Help?
As a reminder, the last day to register for our Thanksgiving food distribution is this coming Tuesday, November 10th! Please visit our website to register (you will need to provide your photo ID, proof of household, and proof of address), or contact Dezarae for an in-person or phone appointment ASAP: email or call (401) 846-4828 x118.
At the same time, you can register for our Holiday food distribution and/or Santa's Workshop, as the deadline to register is also right around the corner (Friday, November 20th). That can all be done on our website, too, or when you speak with Dezarae.
Want to Give Holiday Help?
Given how early this year's holiday food distributions are and how early Santa's Workshop is, we need donations much earlier: by November 30th. Our most needed items are: retail gift cards in $25 increments (for Santa's Workshop) and Stop & Shop or Shaw's supermarket gift cards (in $10 or $20 increments, for Holiday food pantry). A detailed list of donation needs is available here.
Cash donations for Holiday Help sustain these programs. Just visit our website, hit "Donate," and select the Holiday Help program you wish to contribute to from the Optional drop-down menu. Or, mail checks to the Center: 20 Dr. Marcus Wheatland Blvd, Newport, RI 02840. Thank you.
Learn More or Register for Holiday Help
---
ELECTION 2020 AT THE MLK
This past Tuesday was Election Day at the MLK, too! Our older Preschoolers learned about the importance of voting and cast their ballots for President (for a day).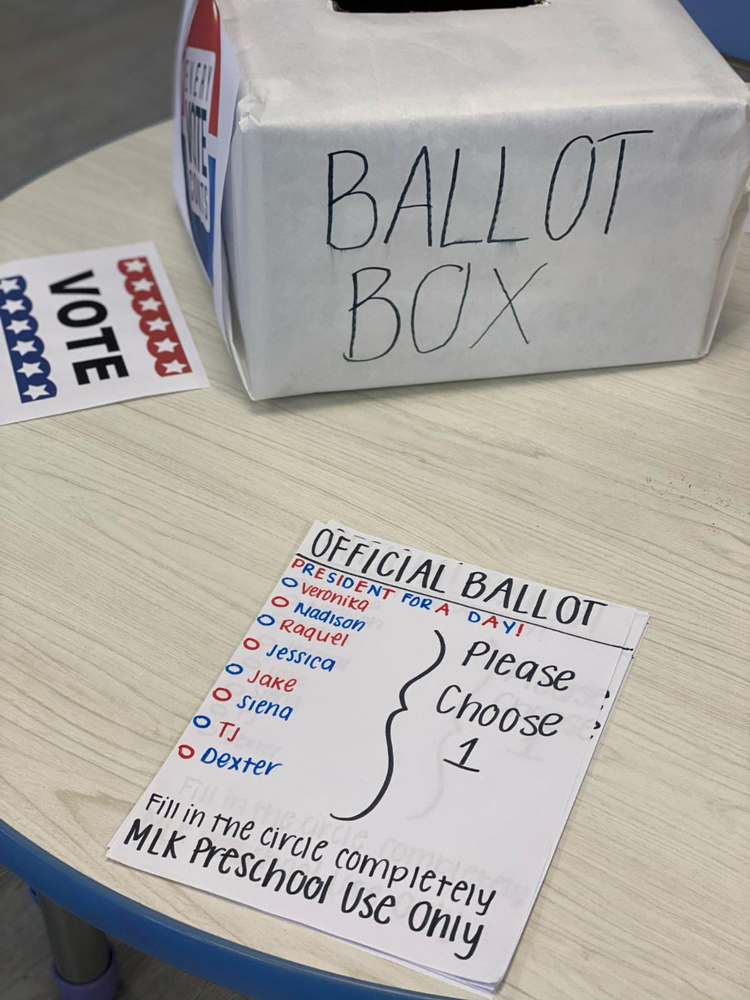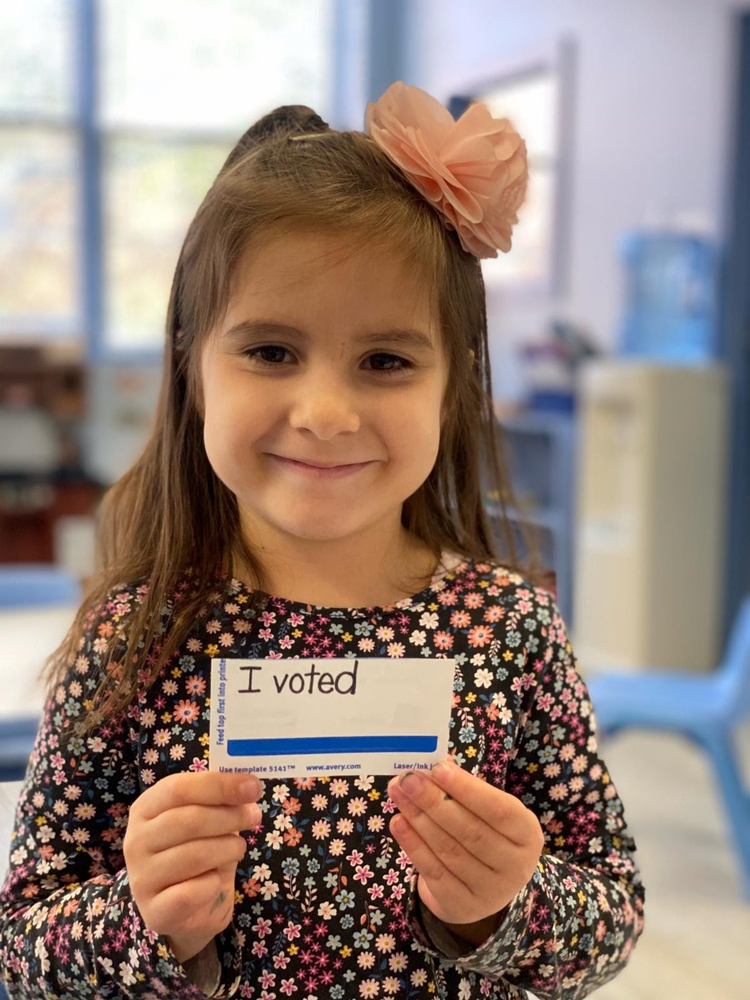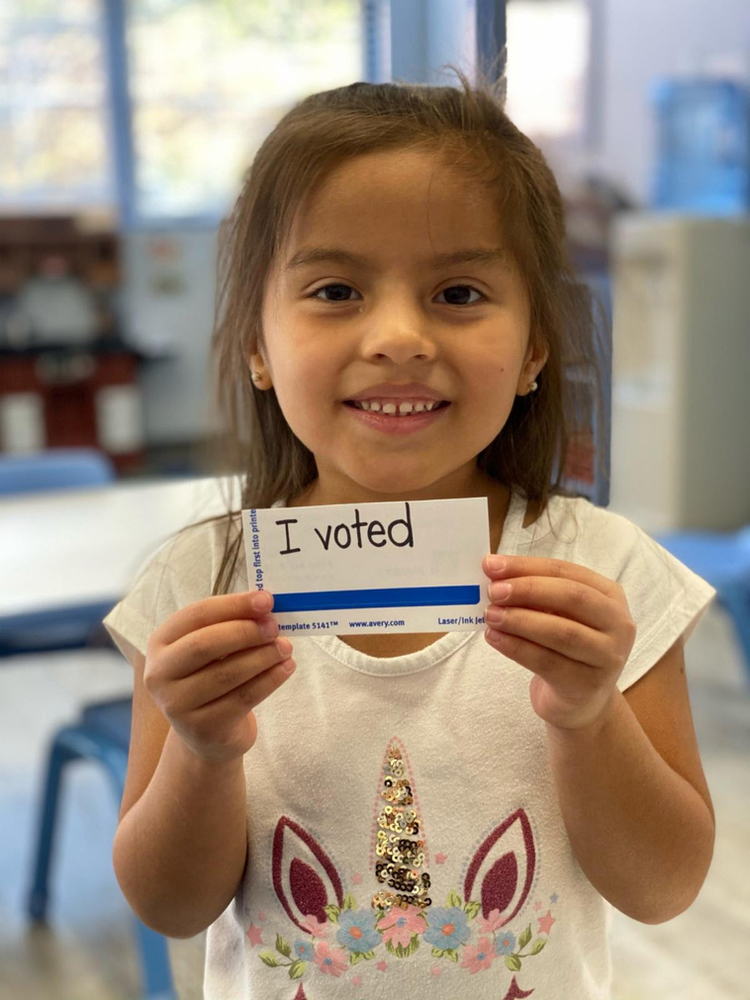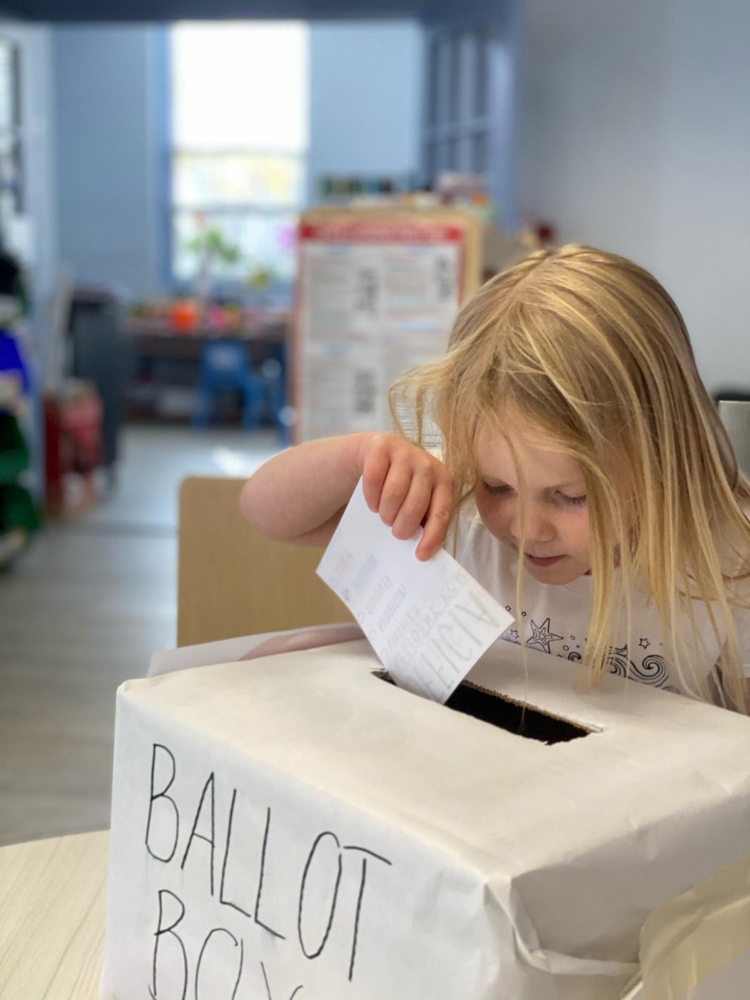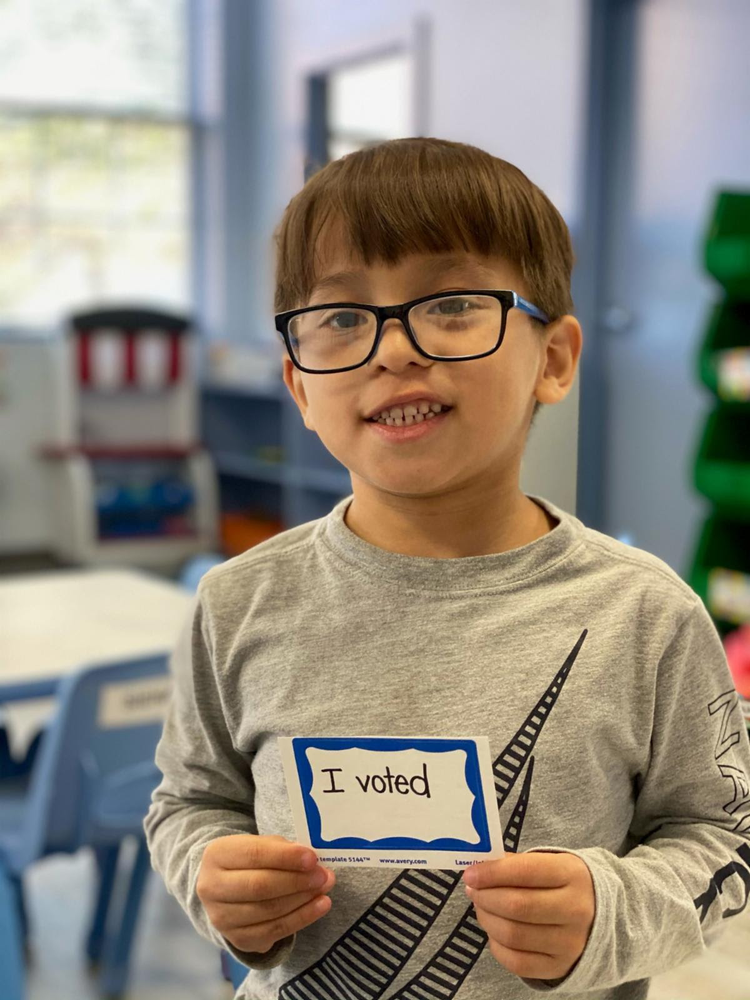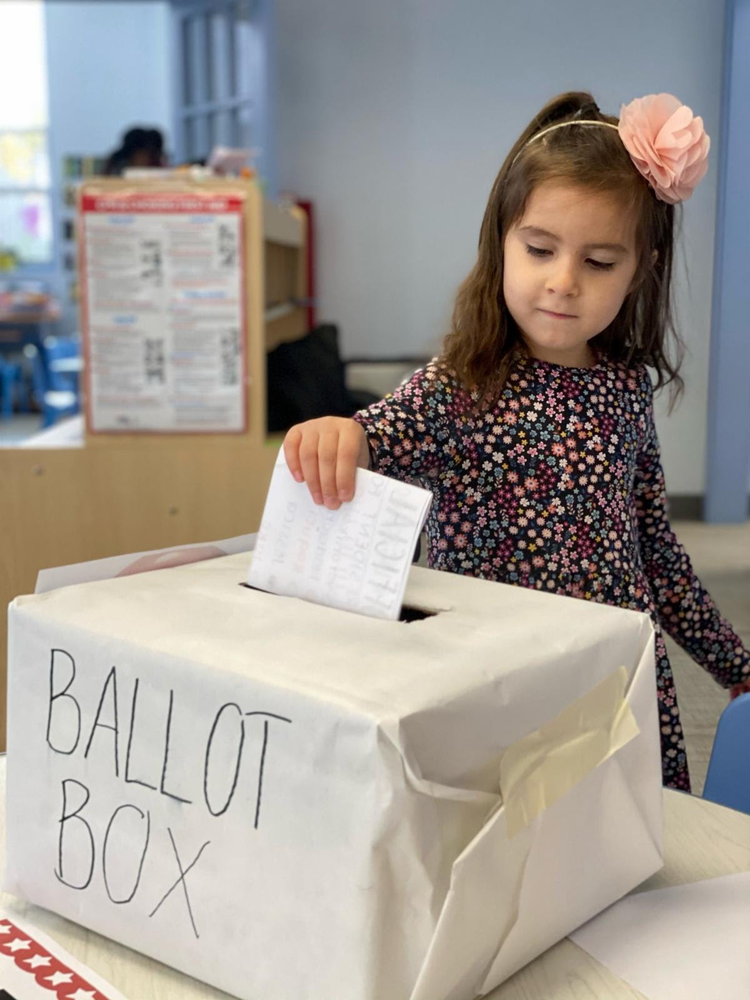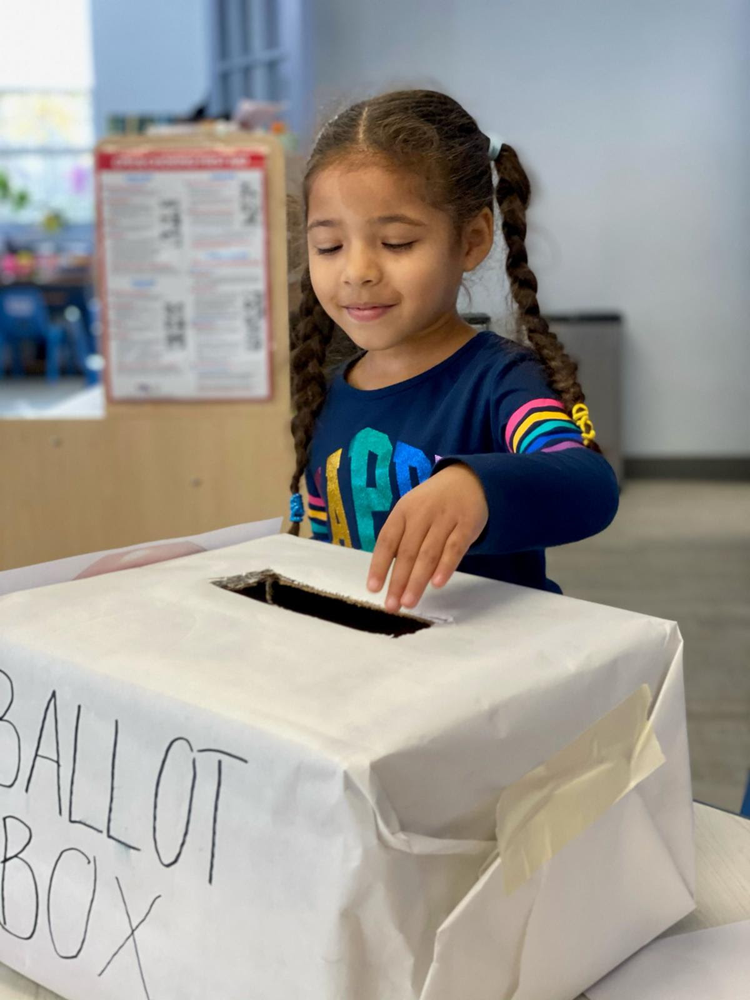 ---
"FREDERICK DOUGLASS IN NEWPORT" presented by Dr. John Rice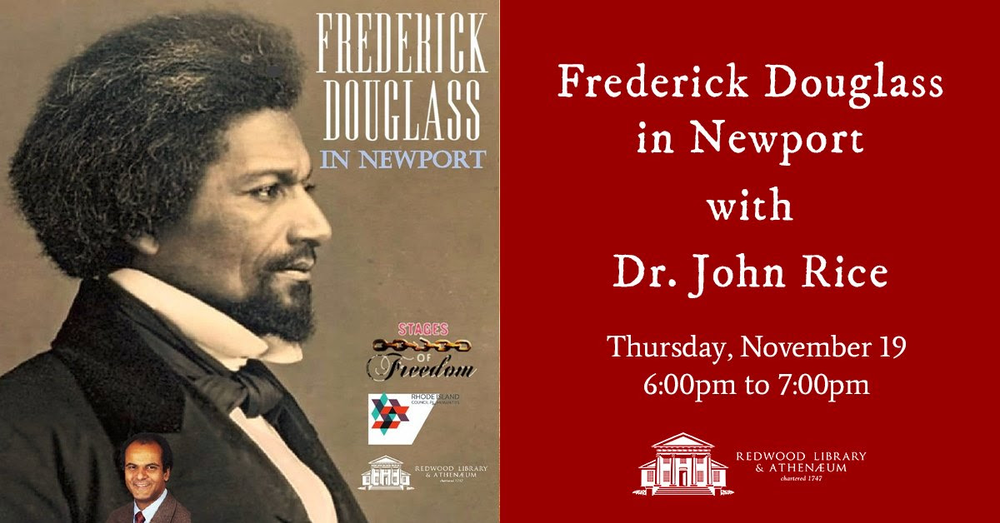 Register at crowdcast.io/e/frederick-douglass-in-newport/register for this free educational online event, coming up on Tuesday, November 19th.
Frederick Douglass arrived in Newport as a fugitive slave as early as 1838. Time and again, he would return to Newport from his home in New Bedford and stay with the Rices at 23 Thomas Street, a station on the Underground Railroad, while giving lectures throughout Rhode Island. John Rice shares the thrilling story of his family's special friendship with Douglass, reveals a recently discovered letter from him, and connects us to the unique legacy of an African American family living in the same house for more than 200 years. He will also explore Douglass' association with the nation's premier Black caterer and civil rights activist, Newport's George T. Downing.
John Rice, the great great grandson of Newport's Isaac Rice, is an Engineering Professor Emeritus at the University of Massachusetts Dartmouth.
This virtual lecture is presented virtually by the Redwood Library & Athenaeum in partnership with Stages of Freedom as part of a three-day event, "Frederick Douglass in Rhode Island," funded by the Rhode Island Council for the Humanities. For more information, please visit www.stagesoffreedom.org/frederick-douglass.
---
GRAB 'N GO COMMUNITY DINNER

Stop by the MLK Community Center on Monday, November 9th from 4:00 p.m. to 4:45 p.m. for a delicious grab 'n go dinner in collaboration with McGrath Clambakes and Catering. This meal is COMPLETELY FREE OF CHARGE. Menu TBD but is sure to be delicious! Facebook event
Attendees are reminded to please social distance and remain 6 feet apart in line. Attendees must wear a face covering, and eating on-site is not permitted.
---
THANK YOU TO OUR FRIENDS AT UNITEDHEALTHCARE
Next Friday, November 13th's Mobile Food Pantry sponsor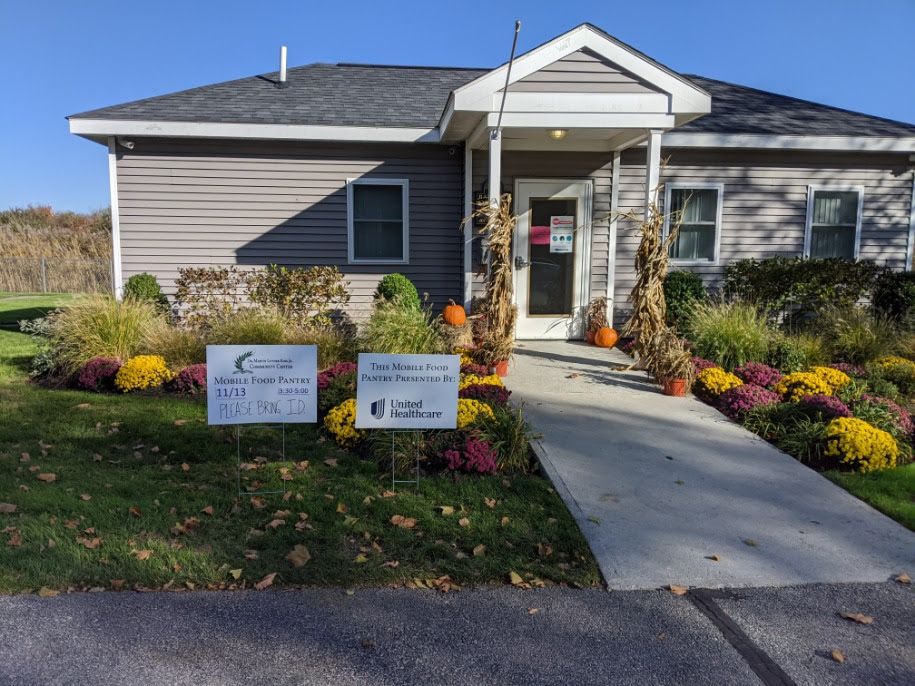 Thanks to our generous Mobile Food Pantry sponsors, the MLK's Mobile Food Pantry brings non-perishable food, fresh produce, milk, meat, and eggs into Newport County communities where transportation is often a barrier.
Our sponsor for Friday, November 13th's Mobile Food Pantry at Bayside Village in Newport (3:30 – 5:00 p.m.) is UnitedHealthcare.
UnitedHealthcare is dedicated to helping people nationwide live healthier lives by simplifying the health care experience, meeting consumer health and wellness needs, and sustaining trusted relationships with care providers. The company offers the full spectrum of health benefit programs for individuals, employers and Medicare and Medicaid beneficiaries, and contracts directly with more than 800,000 physicians and care professionals, and 6,000 hospitals and other care facilities nationwide.
Thank you for being a community champion, UnitedHealthcare!
---
,Support Newport County, Give to the MLK
---
HERE TO HELP
Grab-n-Go Breakfast Mon-Fri, 7:30 – 8:30 a.m. (Marcus Wheatland Blvd entrance)
Food 2 Friends delivery for homebound seniors. Contact Ed for more info
Mobile Food Pantry visits to low-income housing communities
Preschool for registered preschool students. Openings currently available for 3 year olds. Contact Tanya by email or by phone: (401) 846-4828 x117
After School program for registered students
Daily Bread: Mon-Fri at the Marcus Wheatland Blvd entrance
On-site food pantry: Monday, Wednesday, and Friday from 10 a.m. to 2 p.m. and Wednesday evenings from 4 p.m. to 6 p.m. First Saturday of each month from 10 a.m. to 12 p.m.
Veggie Days weekly vegetable distribution outside, Thursdays 10 a.m. to 2 p.m. or while supplies last. ,Now year-round! Veggie Days will be 10 a.m. – 1 p.m. beginning November 1st
LivFit Cooking & Nutrition class Tuesday & Thursday at 5 p.m. Class is socially distanced and masks are required. Call or text Kristin to attend: (401) 368-7614
Grab 'n Go lunches: Tues. Nov. 3rd, & Tues. Nov. 17th from 11:30 a.m. to 1 p.m. Free! Presented in collaboration with McGrath's Clambakes. Menu TBD. Eating on-site not permitted
Grab 'n Go Community dinner: Monday, November 9th from 4 p.m. – 4:45 p.m., enjoy a free delicious grab 'n go dinner, presented in collaboration with McGrath's Clambakes. Menu TBD. Eating on-site not permitted.
Shape Up! Fitness class with Debra: Held every Wednesday at 8:30 a.m. Free. This full-body workout aims to improve balance, bone health, flexibility, and strength of participants in a safe, welcoming, and fun environment. RSVP with Mel by email or phone: (401) 846-4828 x124
Zumba Fitness class: Join us Thursday mornings at 8:30 a.m. for [socially-distanced] Zumba, suitable for all skill levels. Space is limited & RSVP required: email or call Mel to reserve your spot. (401) 846-4828 x124.
Stepping Stones mentoring program: Start your journey to food security and overcome the obstacles that might stand in your way with the help of Client Support Specialist, Dezarae. This one-on-one mentoring program is open to any Newport County resident willing to meet (virtually or in-person) twice per month for at least six months, aged 18+, who is struggling with food insecurity. Contact Dezarae via email or call (401) 846-4828 x118
Dolly Parton's Imagination Library, presented by the Bazarsky Family Foundation in partnership with the MLK Community Center, puts books into the hands and hearts of children across the world. They partner with local communities to mail a hand-selected, age-appropriate, high-quality book each month to registered children from birth to age five, completely free of cost & regardless of family income. More info
Holiday Help: Registration is open! Contact Dezarae by email or by phone: (401) 846-4828 x118 or register online. Due to limits on gathering, no drop-in registrations permitted this year. Thanksgiving registration deadline: Nov. 10th. Holiday pantry & Santa's Workshop deadline: Nov 20th
Donations: Donations of non-perishable food, fresh produce, household items, and personal care items are accepted at our loading dock Mon-Fri 8:30 a.m. – 5:00 p.m. Please ring the bell upon arrival. Masks required to donate. A list of our urgent needs available here
Dr. Martin Luther King, Jr. Community Center
(401) 846-4828
No temenos la capacidad de traducir cada entrada del blog a español porque usamos una herramienta de traducción en el internet. Por favor, disculpe cualquier error gramática. Por favor, llame al Centro si tiene alguna pregunta.
---
ACTUALIZACIONES DEL MLK COMMUNITY CENTER Viernes 6 de noviembre de 2020
---
CUENTA REGRESIVA PARA LAS FIESTAS ¿Puedes creerlo? La temporada navideña está casi sobre nosotros.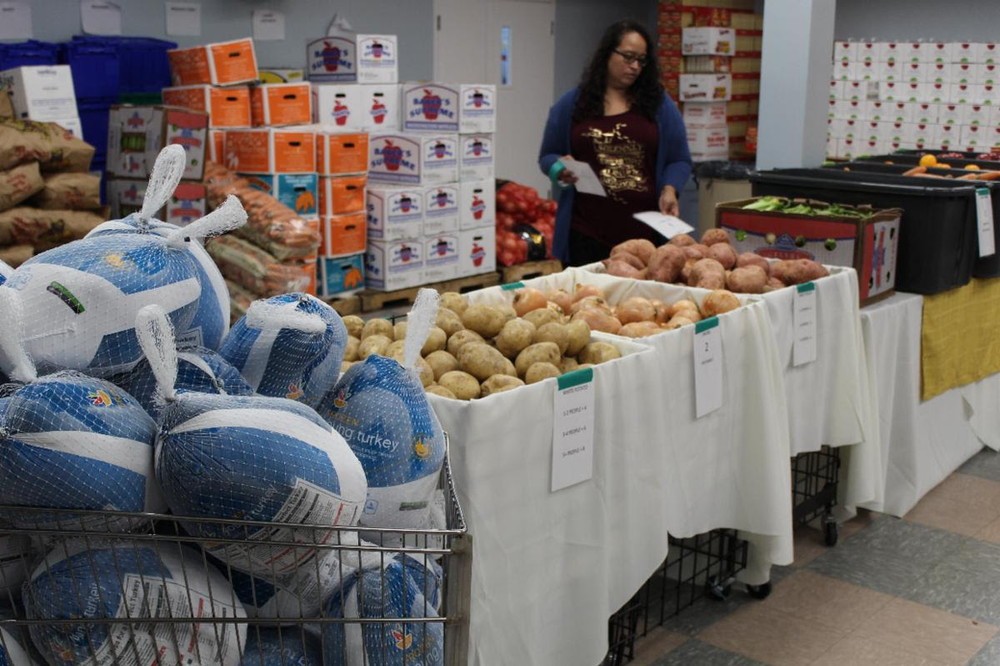 Quedan 5 días para registrarse en la despensa de alimentos de Acción de Gracias 13 días hasta que comience la distribución de alimentos de Acción de Gracias Quedan 15 días para registrarse en la despensa de alimentos navideña y el taller de Santa 21 días hasta el día de Acción de Gracias
2020 ha sido un año largo y estresante para todos. Es difícil pensar en las próximas vacaciones, pero estamos comprometidos a ofrecer nuestros programas de vacaciones nuevamente este año, a pesar de las modificaciones causadas por la pandemia de COVID-19. Si necesita ayuda por primera vez este año, lo tenemos cubierto. Y, si desea marcar la diferencia en esta temporada navideña, su apoyo va directamente a las familias del condado de Newport. ¿Necesitas ayuda para las fiestas? Como recordatorio, el último día para registrarse para nuestra distribución de alimentos de Acción de Gracias es el próximo martes 10 de noviembre. Por favor ,,visite nuestro sitio web para registrarse (deberá proporcionar su identificación con foto, comprobante de domicilio y comprobante de domicilio), o comuníquese con Dezarae para una cita en persona o por teléfono lo antes posible: envíe un correo ,electrónico o llame al (401) 846-4828 x118. Al mismo tiempo, puede registrarse para nuestra distribución de comida navideña y / o el Taller de Santa, ya que la fecha límite para registrarse también está a la vuelta de la esquina (viernes 20 de noviembre). Todo eso también se puede hacer en nuestro sitio web, o cuando hable con Dezarae. ¿Quiere brindar ayuda para las fiestas? Dado lo temprano que son las distribuciones de alimentos para las fiestas de este año y lo temprano que es el Taller de Santa, necesitamos donaciones mucho antes: antes del 30 de noviembre. Nuestros artículos más necesarios son: tarjetas de regalo minoristas en incrementos de $ 25 (para el taller de Santa) y tarjetas de regalo Stop & Shop o Shaw's (en incrementos de $ 10 o $ 20, para la despensa de alimentos navideña). ,Una lista detallada de las necesidades de donación está disponible aquí. Las donaciones en efectivo para Holiday Help mantienen estos programas. Sólo ,Visite nuestro sitio web, haga clic en "Donar" y seleccione el programa de ayuda para las fiestas en el que desea contribuir desde el menú desplegable Opcional. O envíe los cheques por correo al Centro: 20 Dr. Marcus Wheatland Blvd, Newport, RI 02840. Gracias. ,Obtenga más información o regístrese para recibir ayuda durante las fiestas
---
ELECCIÓN 2020 EN EL MLK ¡El martes pasado también fue el día de las elecciones en el MLK! Nuestros niños en edad preescolar mayores aprendieron sobre la importancia de votar y emitir sus votos para presidente (por un día).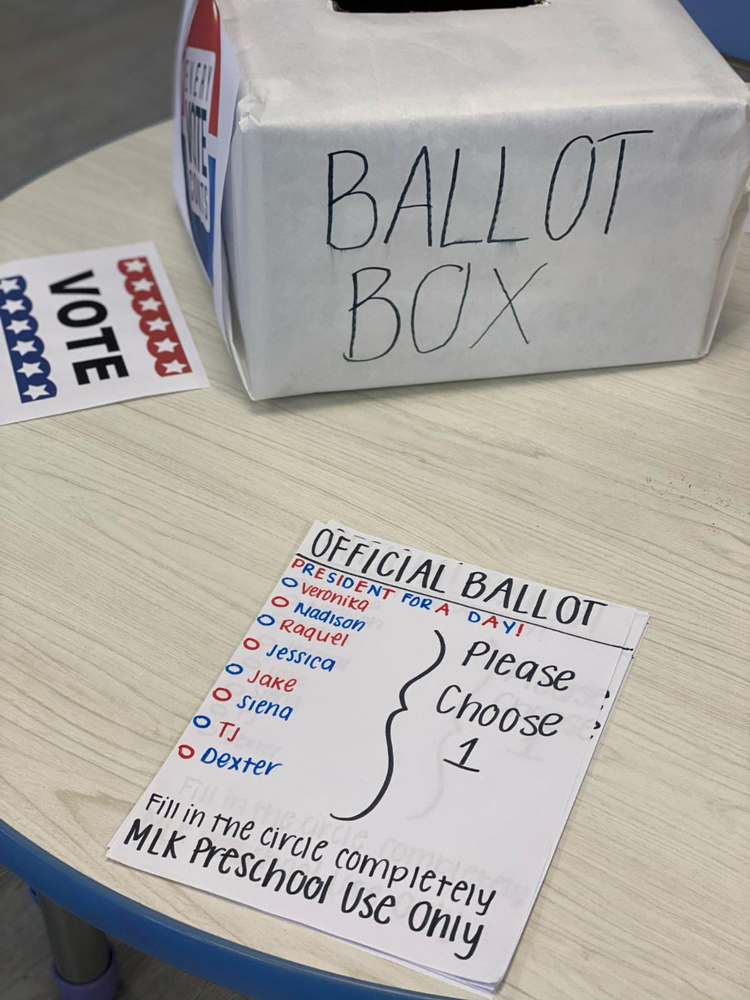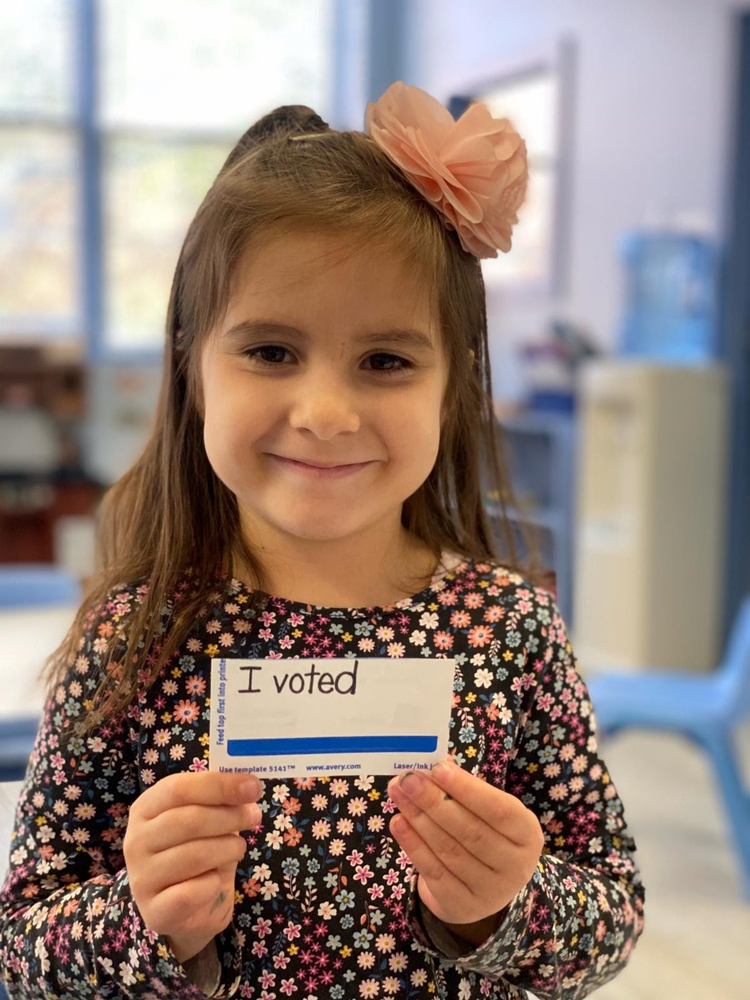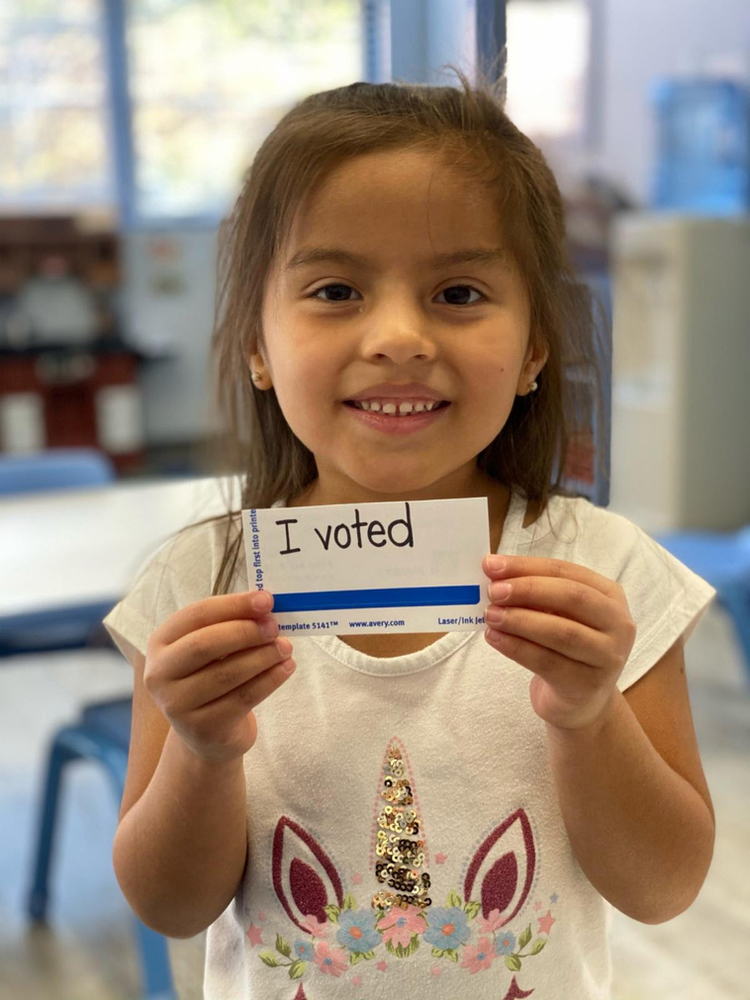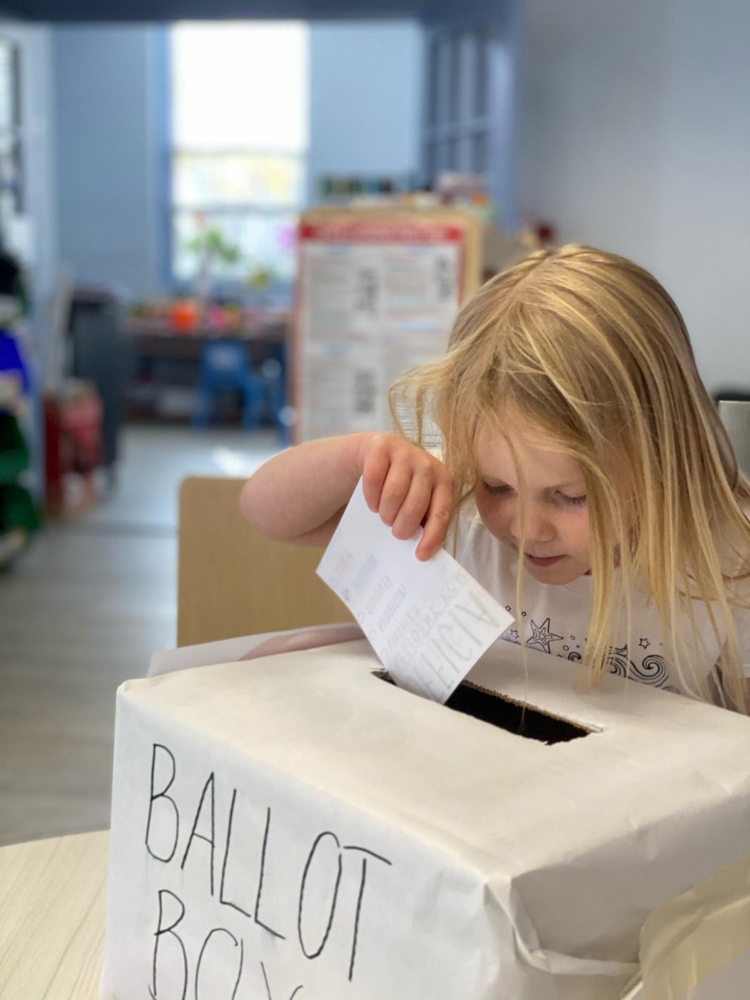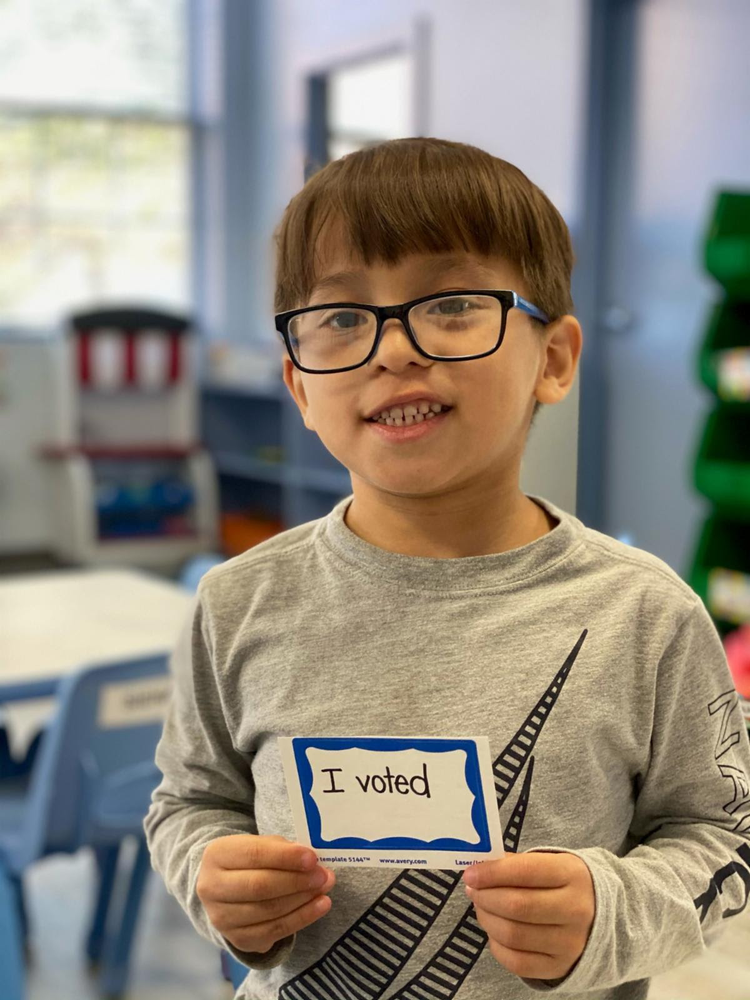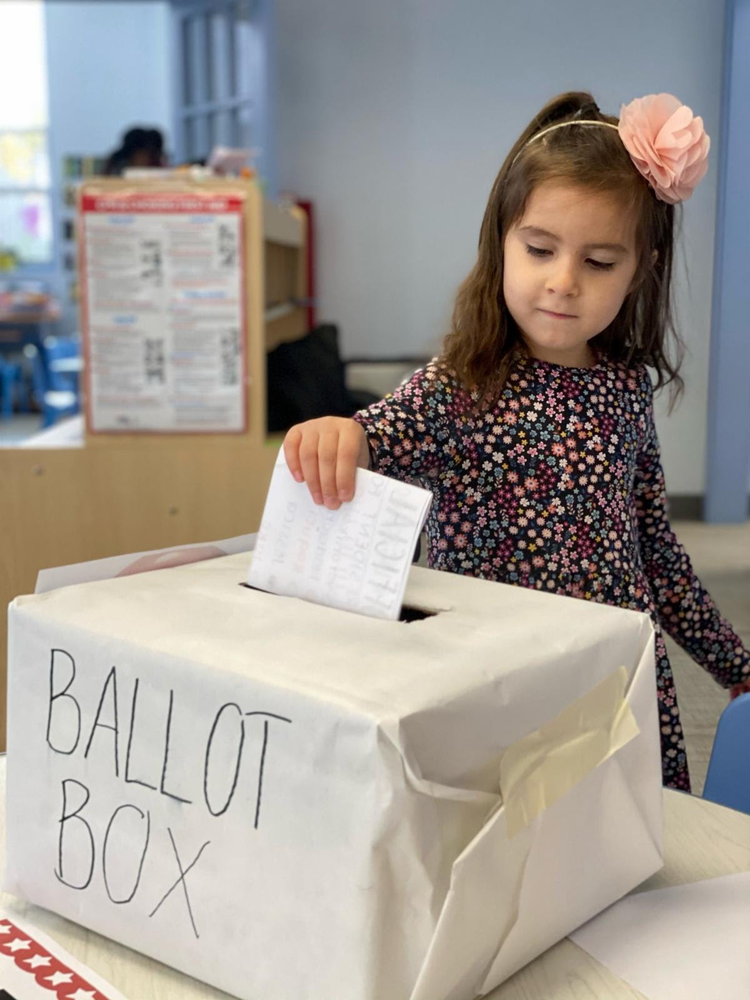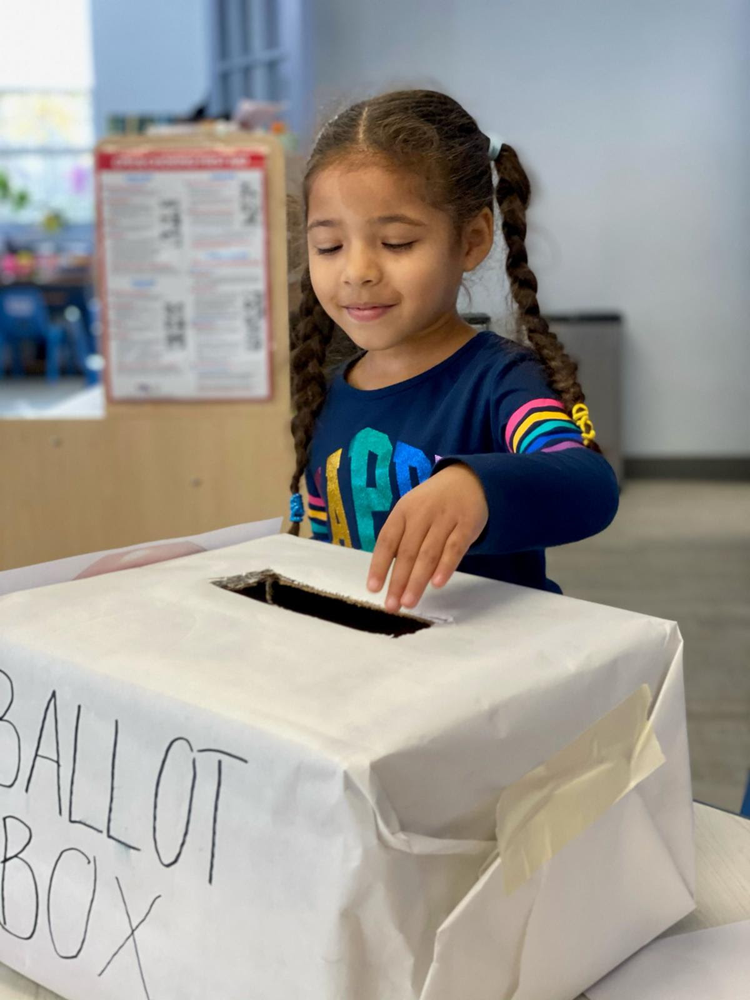 ---
"FREDERICK DOUGLASS EN NEWPORT" presentado por el Dr. John Rice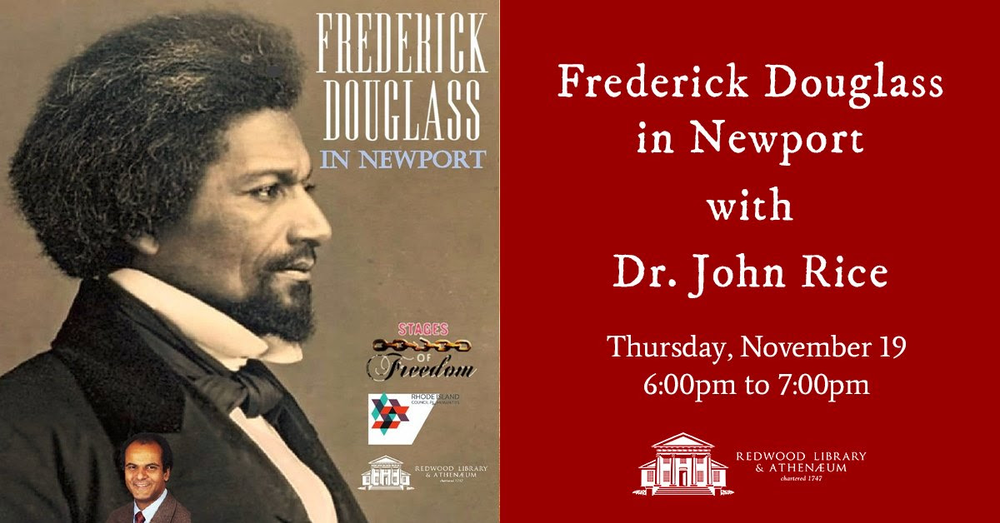 Regístrese en ,crowdcast.io/e/frederick-douglass-in-newport/register para este evento educativo gratuito en línea, que se realizará el martes 19 de noviembre. Frederick Douglass llegó a Newport como esclavo fugitivo ya en 1838. Una y otra vez, regresaba a Newport desde su casa en New Bedford y se quedaba con los Rices en 23 Thomas Street, una estación en el ferrocarril subterráneo, mientras daba conferencias en todo momento. Rhode Island. John Rice comparte la emocionante historia de la amistad especial de su familia con Douglass, revela una carta suya recientemente descubierta y nos conecta con el legado único de una familia afroamericana que vive en la misma casa durante más de 200 años. También explorará la asociación de Douglass con el principal proveedor de catering negro y activista de derechos civiles de la nación, George T. Downing de Newport. John Rice, bisnieto de Isaac Rice, de Newport, es profesor emérito de ingeniería en la Universidad de Massachusetts Dartmouth. Esta conferencia virtual es presentada virtualmente por el ,Redwood Library & Athenaeum en asociación con Stages of Freedom como parte de un evento de tres días, "Frederick Douglass en Rhode Island", financiado por el Consejo de Humanidades de Rhode Island. Para mayor información por favor visite ,www.stagesoffreedom.org/frederick-douglass.
---
CENA COMUNITARIA GRAB 'N GO

Pase por el Centro Comunitario MLK el lunes 9 de noviembre a partir de las 4:00 p.m. a 4:45 p.m. para una deliciosa cena para llevar en colaboración con McGrath Clambakes and Catering. Esta comida es COMPLETAMENTE GRATUITA. Menú TBD, ¡pero seguro que estará delicioso! Facebook event
Se recuerda a los asistentes que deben mantener la distancia social y permanecer a 6 pies de distancia en la fila. Los asistentes deben cubrirse la cara y no se permite comer en el lugar.
---
GRACIAS A NUESTROS AMIGOS DE UNITEDHEALTHCARE Patrocinador de Mobile Food Pantry del próximo viernes 13 de noviembre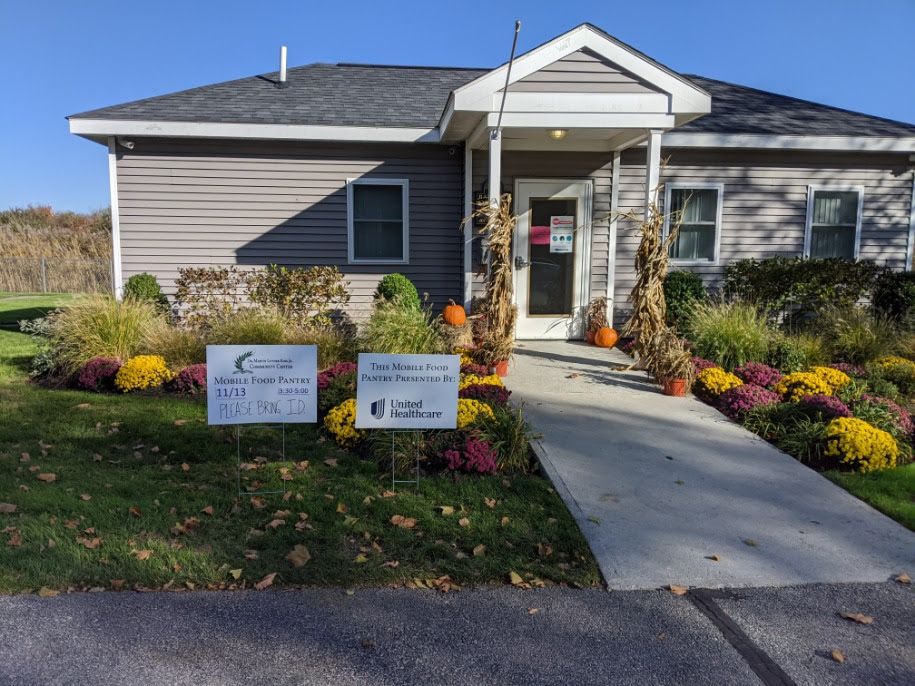 Gracias a nuestros generosos patrocinadores de Mobile Food Pantry, la Mobile Food Pantry de MLK lleva alimentos no perecederos, productos frescos, leche, carne y huevos a las comunidades del condado de Newport, donde el transporte suele ser una barrera. Nuestro patrocinador para la despensa móvil de alimentos del viernes 13 de noviembre en Bayside Village en Newport (3:30 – 5:00 p.m.) es UnitedHealthcare.
UnitedHealthcare se dedica a ayudar a las personas de todo el país a llevar una vida más saludable simplificando la experiencia de atención médica, satisfaciendo las necesidades de salud y bienestar del consumidor y manteniendo relaciones de confianza con los proveedores de atención. La compañía ofrece el espectro completo de programas de beneficios de salud para individuos, empleadores y beneficiarios de Medicare y Medicaid, y contrata directamente a más de 800,000 médicos y profesionales de la atención, y 6,000 hospitales y otras instalaciones de atención en todo el país. Gracias por ser un campeón de la comunidad, UnitedHealthcare!
---
,Support Newport County, Give to the MLK
AQUÍ PARA AYUDAR
Desayuno para llevar de lunes a viernes, de 7:30 a 8:30 a.m. (entrada de Marcus Wheatland Blvd)
Tenga en cuenta que el Centro estará cerrado el próximo lunes 12 de octubre en conmemoración del Día de la Raza / Día de los Pueblos Indígenas
Desayuno para llevar de lunes a viernes, de 7:30 a 8:30 a.m. (entrada de Marcus Wheatland Blvd)
Entrega de Food 2 Friends para personas mayores confinadas en el hogar
,Visitas móviles de despensa de alimentos a comunidades de viviendas de bajos ingresos
Preescolar para estudiantes de preescolar registrados. Aperturas actualmente disponibles para niños de 3 años. Comuníquese con ,Tanya por correo electrónico o por teléfono: (401) 846-4828 x117
Programa extracurricular para estudiantes registrados
Pan diario: de lunes a viernes en la entrada de Marcus Wheatland Blvd
Despensa de alimentos en el lugar: lunes, miércoles y viernes de 10 a.m. a 2 p.m. y miércoles por la noche a partir de las 4 p.m. a las 6 p.m. Primer sábado de cada mes de 10 a.m. a 12 p.m. Despensa de alimentos en el lugar: lunes, miércoles y viernes de 10 a.m. a 2 p.m. y miércoles por la noche a partir de las 4 p.m. a las 6 p.m. Primer sábado de cada mes de 10 a.m. a 12 p.m.
,Veggie Days distribución semanal de verduras al aire libre, jueves de 10 a.m. a 2 p.m. o hasta agotar existencias. ¡Ahora todo el año!
,Clase de cocina y nutrición LivFit los martes y jueves a las 5 p.m. La clase está socialmente distanciada y se requieren máscaras. Llame o envíe un mensaje de texto a Kristin para asistir: (401) 368-7614
,Almuerzos Grab 'n Go: martes 20 de octubre de 11:30 a.m. a 1 p.m. ¡Gratis! Presentado en colaboración con McGrath's Clambakes. Menú TBD. No se permite comer en el lugar
,Cena comunitaria Grab 'n Go: Lunes 9 de noviembre a partir de las 4 p.m. – 4:45 p.m., disfrute de una deliciosa cena para llevar gratis, presentada en colaboración con McGrath's Clambakes. Menú TBD. No se permite comer en el lugar.
Sorteo de la copa de sopa: miércoles, 4 de noviembre de 4 a 6 p.m. ¡Pase por el Centro para disfrutar de una taza gratis de sopa de pescado galardonada, presentada por Newport Chowder Company!
** NUEVO ** ¡,Ponte en forma! Clase de fitness con Debra: todos los miércoles a las 8:30 a.m. Gratis. Este entrenamiento de cuerpo completo tiene como objetivo mejorar el equilibrio, la salud ósea, la flexibilidad y la fuerza de los participantes en un entorno seguro, acogedor y divertido. RSVP con Mel por correo ,electrónico o teléfono: (401) 846-4828 x124
La ,Almuerzo y aprendizaje Vuelve al Centro la serie para adultos mayores. Únase a nosotros el martes. 10 de noviembre a las 12 p.m. Otras fechas por confirmar. Esta actividad de Lunch & Learn será trivia y se servirá estofado de pollo, ensalada y postre. RSVP con Mel por ,correo electrónico o teléfono: (401) 846-4828 x124
Programa de mentores Stepping Stones: comience su viaje hacia la seguridad alimentaria y supere los obstáculos que puedan interponerse en su camino con la ayuda del especialista en atención al cliente, Dezarae. Este programa de tutoría individual está abierto a cualquier residente del condado de Newport que desee reunirse (virtualmente o en persona) dos veces al mes durante al menos seis meses, mayores de 18 años, que esté luchando contra la inseguridad alimentaria. Póngase en contacto con Dezarae por correo ,electrónico o llame al (401) 846-4828 x118
,La Biblioteca de imaginación de Dolly Parton, presentada por la Fundación de la Familia Bazarsky en asociación con el Centro Comunitario MLK, pone libros en las manos y corazones de niños de todo el mundo. Se asocian con las comunidades locales para enviar por correo un libro de alta calidad, seleccionado a mano y apropiado para la edad cada mes a los niños registrados desde el nacimiento hasta los cinco años, completamente gratis e independientemente de los ingresos familiares. ,Más información
Los folletos de cupones del mercado de agricultores mayores están disponibles para recoger en MLK. Hasta agotar existencias, los residentes de Rhode Island, personas mayores de 60 años o más que cumplan con los requisitos de ingresos, pueden recoger un folleto por temporada. Los cupones vencen el 31 de octubre
Ayuda de vacaciones: ¡La inscripción está abierta! Comuníquese con Dezarae ,por correo electrónico o por teléfono: (401) 846-4828 x118 ,o regístrese en línea. Debido a los límites de recolección, no se permiten registros directos este año.
Donaciones: Se aceptan donaciones de alimentos no perecederos, productos frescos, artículos para el hogar y artículos de cuidado personal en nuestro muelle de carga de lunes a viernes de 8:30 a.m. a 5:00 p.m. Por favor toque el timbre a su llegada. Se requieren máscaras para donar. Una lista de nuestras necesidades urgentes ,,disponible aquí
Centro Comunitario Dr. Martin Luther King, Jr. (401) 846-4828 anovick@MLKCCenter.org www.MLKCCenter.org