UPDATES FROM THE MLK COMMUNITY CENTER
Friday, November 13th, 2020
REFLECTING ON THE PAST 8 MONTHS
We can't believe it either. Today marks 8 long months since the first pandemic shutdown and start of the MLK Community Center's ongoing response to COVID-19. March seems like so long ago. In the past 8 months, we have adapted to wearing face coverings, have mastered the "elbow bump" greeting, and well… some of us are still working on following the arrows on the floor in stores. The lucky among us were able to pivot to working from home. Many of our Newport County neighbors found themselves out of work, suddenly without childcare, and many found themselves needing help putting food on the table, some for the first time ever. Our staff sprang into action to come up with ways to continue to provide essential services, one way or another, every weekday over these past 8 months. Our in-person food pantry pivoted to a pre-bagged grocery distribution, complete with fresh produce, pantry staples, frozen meat, milk, and eggs. Our Mobile Food Pantry ramped up operations and quickly became a community mainstay, bringing all of the provisions of our on-site food pantry into communities where transportation is often a barrier — sometimes up to four or five site visits per week. And, our daily on-site breakfast program shifted to a pre-bagged breakfast distribution, complete with freshly brewed coffee, a hot breakfast several times a week, and a to-go lunch & snacks. All the while, our staff were there, serving with empathy and smiles tucked beneath their masks. We don't know when this will end, but we do know that the MLK will continue to be there, as we have been for almost 100 years. We can't begin to express the gratitude for those who have helped sustain our programs throughout all of this. We are, we have been, and we will continue to be, in this together.
---
WE'VE GOT YOU "COVERED"
New tent and heater funded by Restore RI grant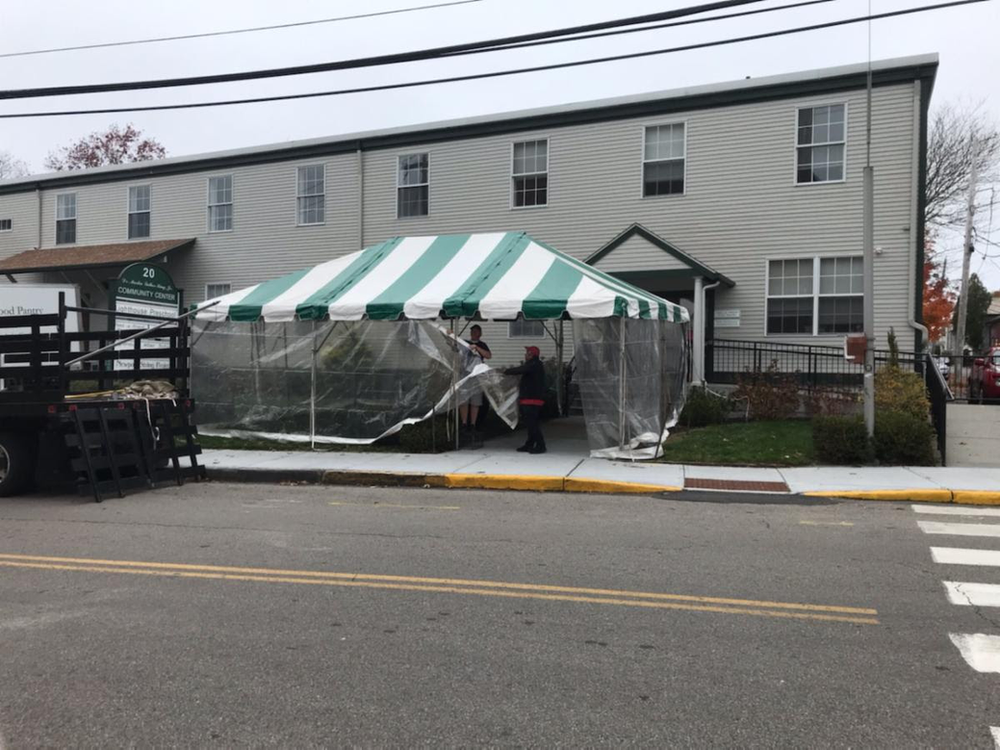 Due to COVID-19, we have reduced the number of people that can be inside the Center at a time. During the warmer months, those waiting to use the food pantry queued 6 feet apart outside beneath a temporary pop-up covering. That structure is inadequate for harsh winter weather. Thanks to a grant from Restore RI, we have erected a new weather-proof 28 foot tent, with siding to protect from wind, snow, or rain, and a portable heater to warm the space! So, need to wait 6 feet apart for food pantry? No problem – we've got you "covered."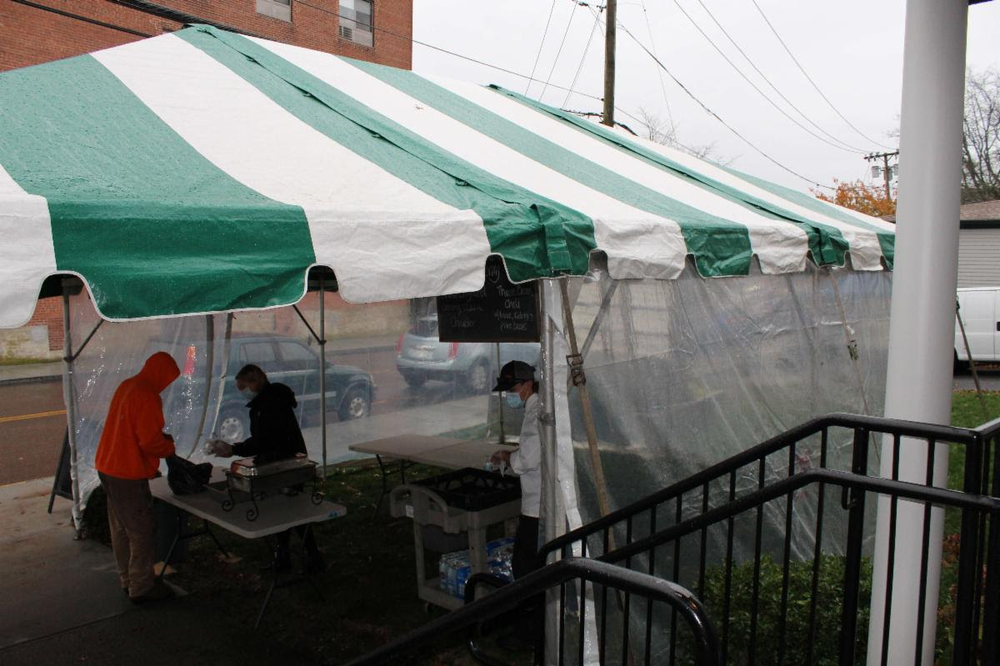 Pictured: Yesterday we held our McGrath's Grab 'n Go lunch beneath the new tent, which came in handy with the rain!
---
PANTRY PACKS RETURN
November's recipe: a healthy museli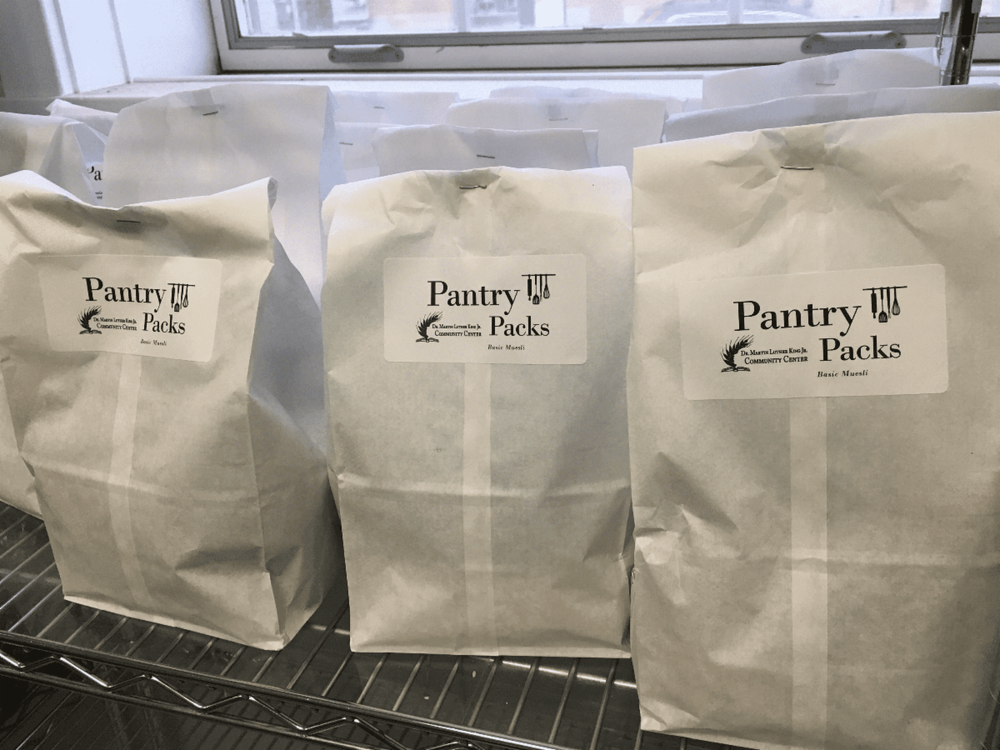 Pantry Packs have returned to our food pantry and Mobile Food Pantry! These grab-and-go bags feature all the ingredients to make a healthy recipe, often using ingredients that may be not as popular when offered on their own in the pantry. This month features all the needed ingredients and the recipe for a healthy muesli breakfast – whole grain oats, nuts, dried fruit, etc. Clients can choose a Pantry Pack as part of their monthly pantry shop.
---
STRESS RELIEF KITS FOR AFTER SCHOOL STUDENTS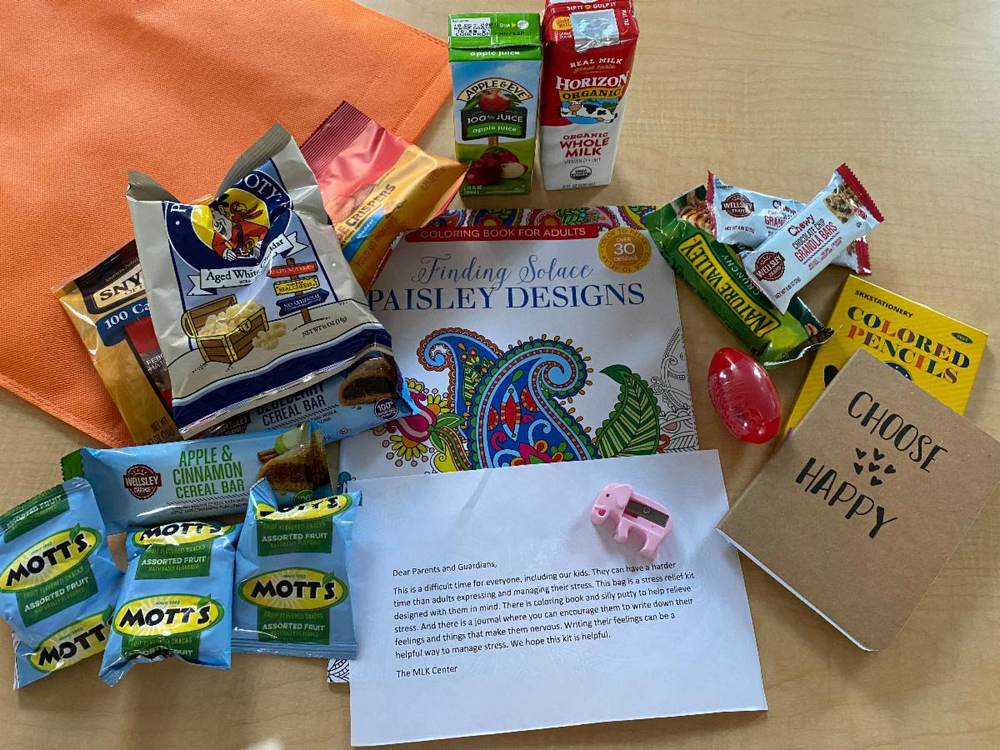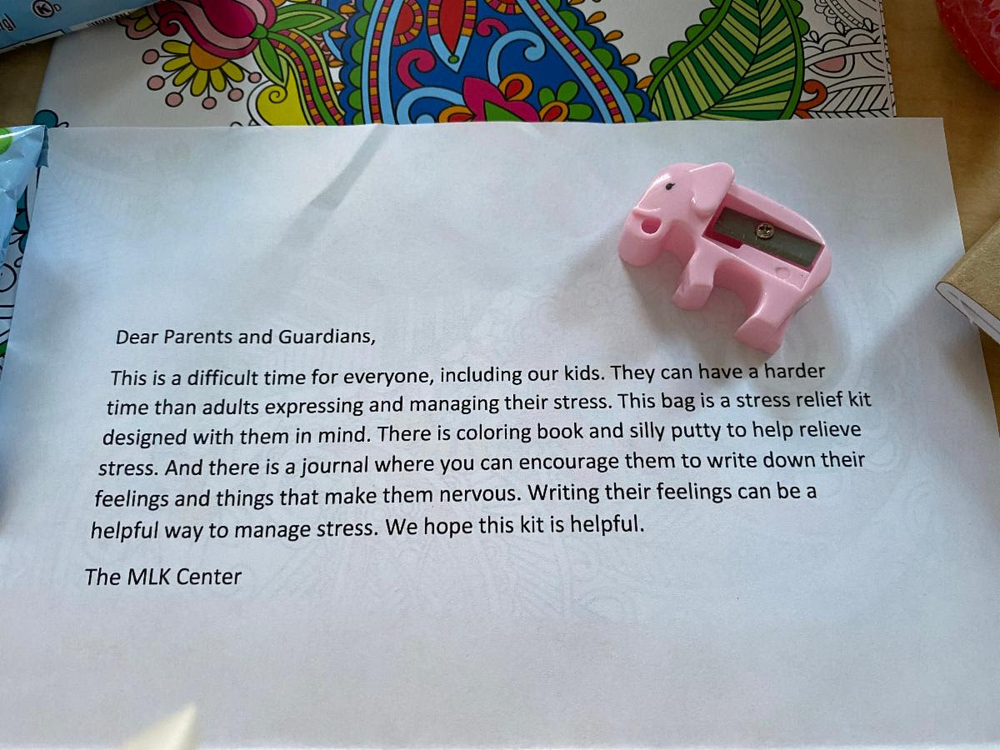 The uncertainty surrounding the pandemic is anxiety-inducing for all of us, including children. Thanks to Liz Spoden for assembling and donating these stress relief kits for our After School students as her Capstone project for her Community Health class at URI. The kits include journals, zen coloring pages, colored pencils, and silly putty to help manage difficult emotions — and treats, too.
---
HOLIDAY HELP DEADLINE EXTENDED
Given the unprecedented need for holiday help this year, we have extended the registration deadline for our Thanksgiving food distribution, but only for a few more days! Be sure to submit your registration materials ASAP, for our Thanksgiving food distribution, Holiday food distribution, and Santa's Workshop. To register, visit our website (you will need to provide your photo ID, proof of household, and proof of address), or contact Dezarae via email or call (401) 846-4828 x118.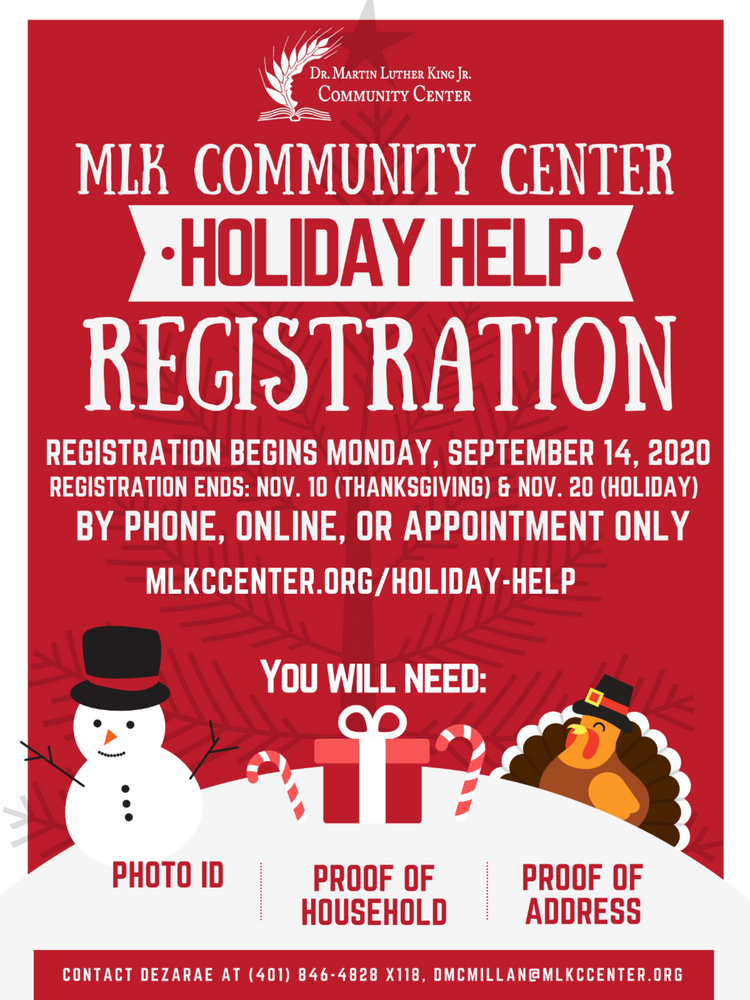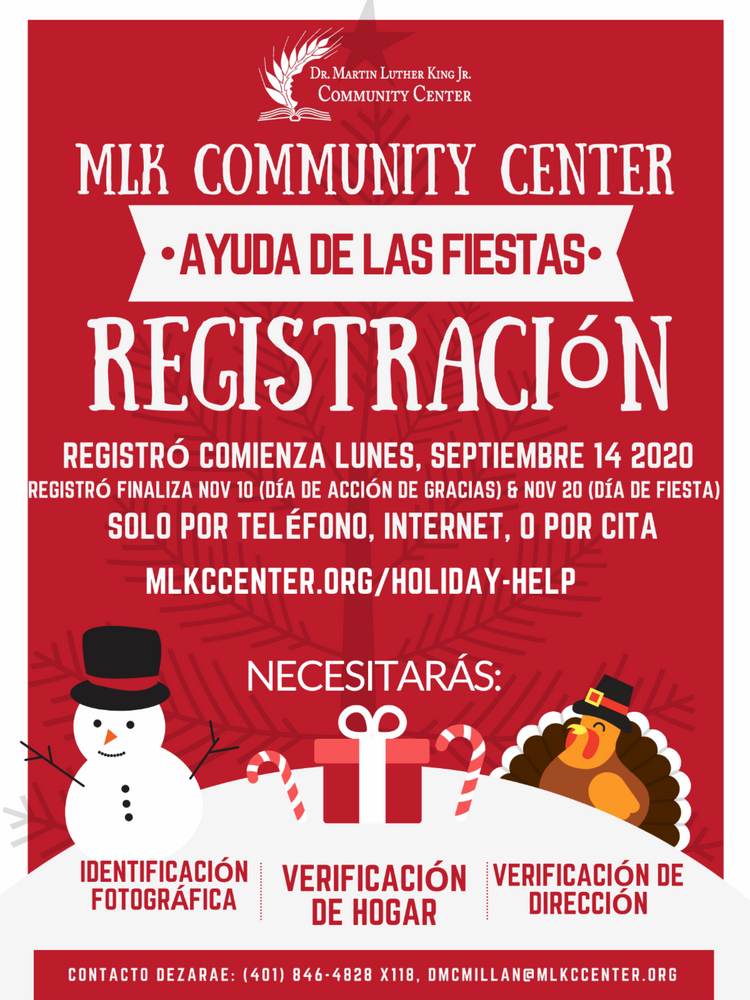 ---

---
HERE TO HELP
Grab-n-Go Breakfast Mon-Fri, 7:30 – 8:30 a.m. (Marcus Wheatland Blvd entrance)
Food 2 Friends delivery for homebound seniors. Contact Ed for more info
Mobile Food Pantry visits to low-income housing communities
Preschool for registered preschool students. Openings currently available for 3 year olds. Contact Tanya by email or by phone: (401) 846-4828 x117
After School program for registered students
Daily Bread: Mon-Fri at the Marcus Wheatland Blvd entrance
On-site food pantry: Monday, Wednesday, and Friday from 10 a.m. to 2 p.m. and Wednesday evenings from 4 p.m. to 6 p.m. First Saturday of each month from 10 a.m. to 12 p.m.
Veggie Days weekly vegetable distribution outside, Thursdays 10 a.m. to 2 p.m. or while supplies last. ,Now year-round! Veggie Days will be 10 a.m. – 1 p.m. beginning November 1st
LivFit Cooking & Nutrition class Tuesday & Thursday at 5 p.m. Class is socially distanced and masks are required. Call or text Kristin to attend: (401) 368-7614
Grab 'n Go lunches: Tues. Nov. 3rd, & Tues. Nov. 17th from 11:30 a.m. to 1 p.m. Free! Presented in collaboration with McGrath's Clambakes. Menu TBD. Eating on-site not permitted
Grab 'n Go Community dinner: Monday, November 9th from 4 p.m. – 4:45 p.m., enjoy a free delicious grab 'n go dinner, presented in collaboration with McGrath's Clambakes. Menu TBD. Eating on-site not permitted.
Shape Up! Fitness class with Debra: Held every Wednesday at 8:30 a.m. Free. This full-body workout aims to improve balance, bone health, flexibility, and strength of participants in a safe, welcoming, and fun environment. RSVP with Mel by email or phone: (401) 846-4828 x124
Zumba Fitness class: Join us Thursday mornings at 8:30 a.m. for [socially-distanced] Zumba, suitable for all skill levels. Space is limited & RSVP required: email or call Mel to reserve your spot. (401) 846-4828 x124.
Stepping Stones mentoring program: Start your journey to food security and overcome the obstacles that might stand in your way with the help of Client Support Specialist, Dezarae. This one-on-one mentoring program is open to any Newport County resident willing to meet (virtually or in-person) twice per month for at least six months, aged 18+, who is struggling with food insecurity. Contact Dezarae via email or call (401) 846-4828 x118
Dolly Parton's Imagination Library, presented by the Bazarsky Family Foundation in partnership with the MLK Community Center, puts books into the hands and hearts of children across the world. They partner with local communities to mail a hand-selected, age-appropriate, high-quality book each month to registered children from birth to age five, completely free of cost & regardless of family income. More info
Holiday Help: Registration is open! Contact Dezarae by email or by phone: (401) 846-4828 x118 or register online. Due to limits on gathering, no drop-in registrations permitted this year. Thanksgiving registration deadline: Nov. 10th. Holiday pantry & Santa's Workshop deadline: Nov 20th
Donations: Donations of non-perishable food, fresh produce, household items, and personal care items are accepted at our loading dock Mon-Fri 8:30 a.m. – 5:00 p.m. Please ring the bell upon arrival. Masks required to donate. A list of our urgent needs available here
Dr. Martin Luther King, Jr. Community Center
(401) 846-4828
No temenos la capacidad de traducir cada entrada del blog a español porque usamos una herramienta de traducción en el internet. Por favor, disculpe cualquier error gramática. Por favor, llame al Centro si tiene alguna pregunta.
---
¿Puedes creerlo? 8 meses de respuesta COVID-19
---
ACTUALIZACIONES DEL MLK COMMUNITY CENTER Viernes 13 de noviembre de 2020
---
REFLEXIONANDO SOBRE LOS ÚLTIMOS 8 MESES Tampoco podemos creerlo. Hoy se cumplen 8 largos meses desde el primer cierre pandémico y el inicio de la respuesta continua del Centro Comunitario MLK al COVID-19. Marzo parece que fue hace tanto tiempo. En los últimos 8 meses, nos hemos adaptado a usar cubiertas para la cara, hemos dominado el saludo de "golpe de codo", y bueno … algunos de nosotros todavía estamos trabajando en seguir las flechas en el piso en las tiendas. Los afortunados entre nosotros pudimos pasar a trabajar desde casa. Muchos de nuestros vecinos del condado de Newport se quedaron sin trabajo, de repente sin cuidado de niños, y muchos se encontraron necesitando ayuda para poner comida en la mesa, algunos por primera vez. Nuestro personal se puso en acción para encontrar formas de continuar brindando servicios esenciales, de una forma u otra, todos los días de la semana durante los últimos 8 meses. Nuestra despensa de alimentos en persona cambió a una distribución de comestibles preempaquetada, completa con productos frescos, alimentos básicos de la despensa, carne congelada, leche y huevos. Nuestra despensa de alimentos móvil aumentó las operaciones y se convirtió rápidamente en un pilar de la comunidad, llevando todas las provisiones de nuestra despensa de alimentos en el lugar a las comunidades donde el transporte es a menudo una barrera, a veces hasta cuatro o cinco visitas al sitio por semana. Y, nuestro programa de desayuno diario en el lugar cambió a una distribución de desayuno preempacado, completo con café recién hecho, un desayuno caliente varias veces a la semana y un almuerzo y refrigerios para llevar. Todo el tiempo, nuestro personal estuvo allí, sirviendo con empatía y sonrisas escondidas debajo de sus máscaras. No sabemos cuándo terminará esto, pero sí sabemos que el MLK seguirá estando allí, como lo hemos estado durante casi 100 años. No podemos comenzar a expresar la gratitud por aquellos que han ayudado a mantener nuestros programas a lo largo de todo esto. Estamos, hemos estado y seguiremos estando juntos en esto.
---
TE TENEMOS CUBIERTO" Nueva carpa y calentador financiado por la subvención Restore RI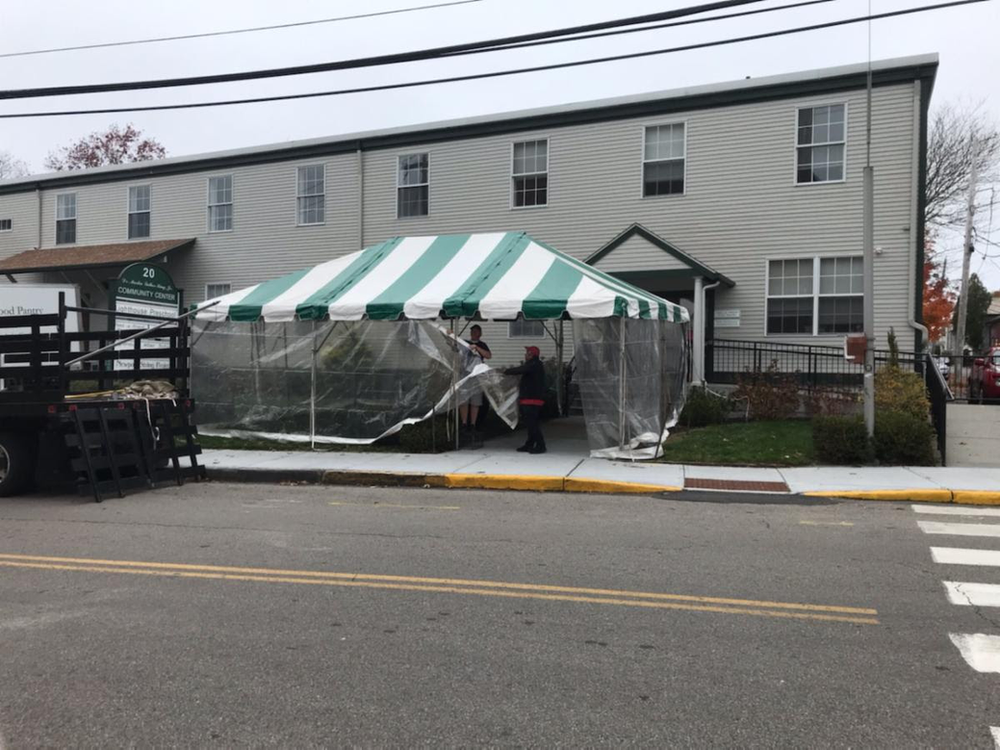 Debido a COVID-19, hemos reducido la cantidad de personas que pueden estar dentro del Centro a la vez. Durante los meses más cálidos, los que esperaban para usar la despensa de alimentos hacían cola a una distancia de 6 pies afuera debajo de una cubierta emergente temporal. Esa estructura es inadecuada para el duro clima invernal. Gracias a una subvención de Restore RI, hemos erigido una nueva carpa de 28 pies resistente a la intemperie, con revestimiento para proteger del viento, nieve o lluvia, y un calentador portátil para calentar el espacio. Entonces, ¿necesita esperar a una distancia de 6 pies para la despensa de alimentos? No hay problema, lo tenemos "cubierto".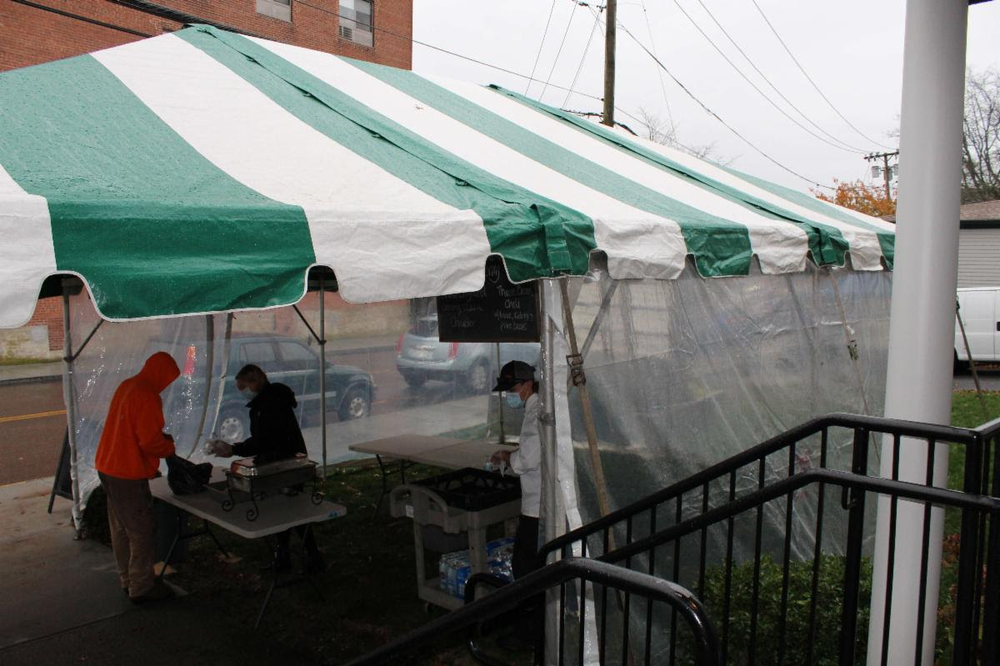 En la foto: Ayer celebramos nuestro almuerzo Grab 'n Go de McGrath debajo de la nueva carpa, ¡que fue útil con la lluvia!
---
VUELTA LOS PAQUETES DE DESPENSA Receta de noviembre: un museli saludable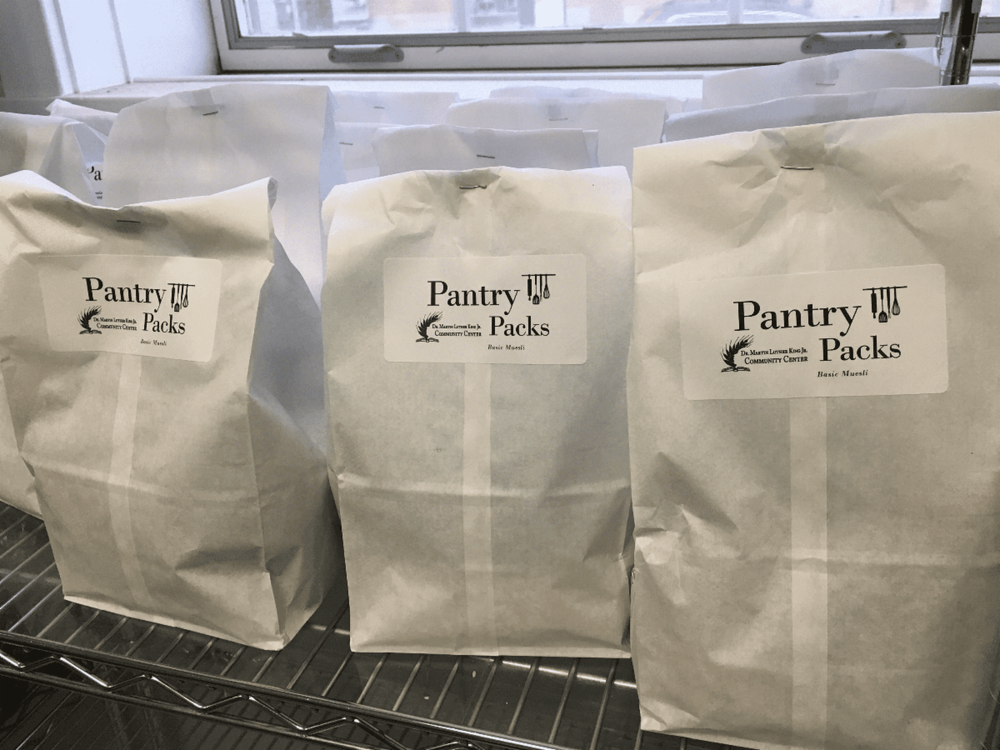 ¡Los paquetes de despensa han regresado a nuestra despensa de alimentos y despensa de alimentos móvil! Estas bolsas para llevar cuentan con todos los ingredientes para hacer una receta saludable, a menudo con ingredientes que pueden no ser tan populares cuando se ofrecen solos en la despensa. Este mes presenta todos los ingredientes necesarios y la receta para un desayuno de muesli saludable: avena integral, nueces, frutas secas, etc. Los clientes pueden elegir un paquete de despensa como parte de su despensa mensual.
---
KITS DE ALIVIO DEL ESTRÉS PARA ESTUDIANTES DESPUÉS DE LA ESCUELA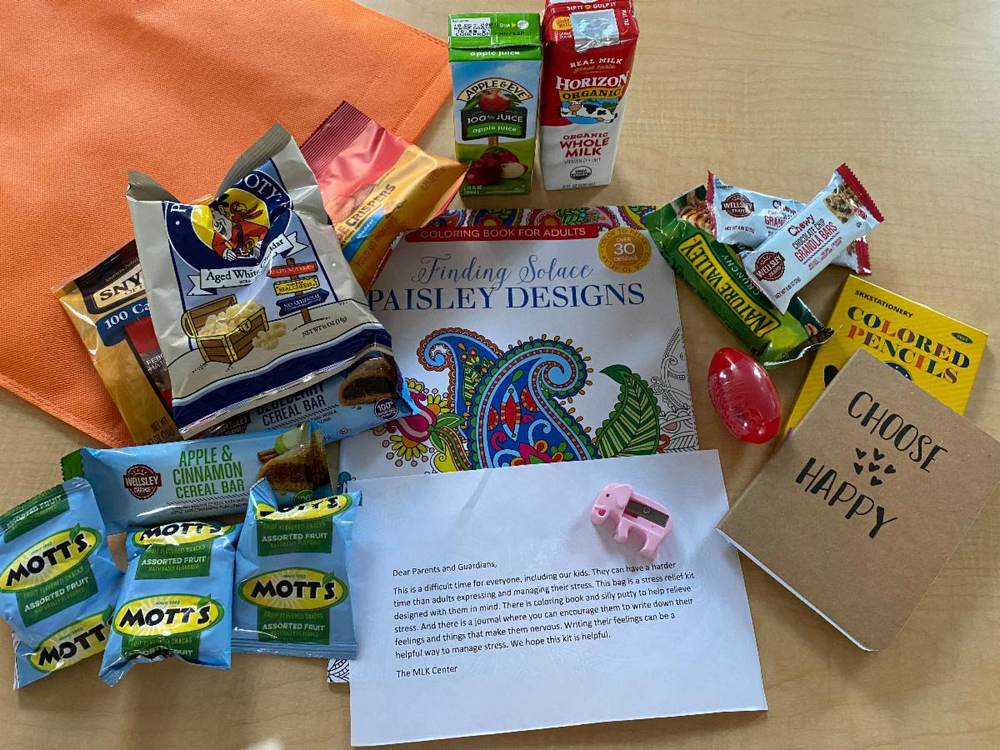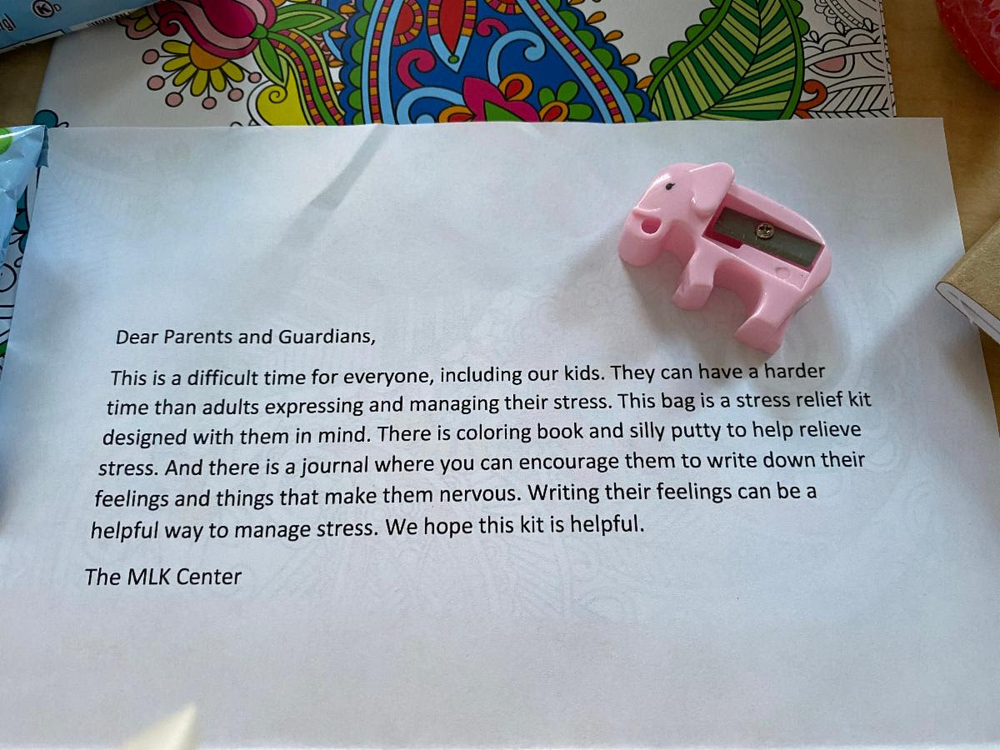 La incertidumbre que rodea a la pandemia nos provoca ansiedad a todos, incluidos los niños. Gracias a Liz Spoden por armar y donar estos kits de alivio del estrés para nuestros estudiantes de After School como su proyecto Capstone para su clase de Salud Comunitaria en URI. Los kits incluyen diarios, páginas para colorear zen, lápices de colores y masilla tonta para ayudar a manejar las emociones difíciles, y también golosinas.
---
PLAZO DE AYUDA DE VACACIONES EXTENDIDO Dada la necesidad sin precedentes de ayuda para las fiestas de este año, hemos extendido el plazo de inscripción para nuestra distribución de alimentos de Acción de Gracias, ¡pero solo por unos días más! Asegúrese de enviar sus materiales de registro lo antes posible, para nuestra distribución de alimentos de Acción de Gracias, distribución de alimentos para las fiestas y el taller de Santa. Para registrarse, visite nuestro ,sitio web (deberá proporcionar su identificación con foto, comprobante de domicilio y comprobante de domicilio), o póngase en contacto con Dezarae a través de ,correo electrónico o llamar (401) 846-4828 x118.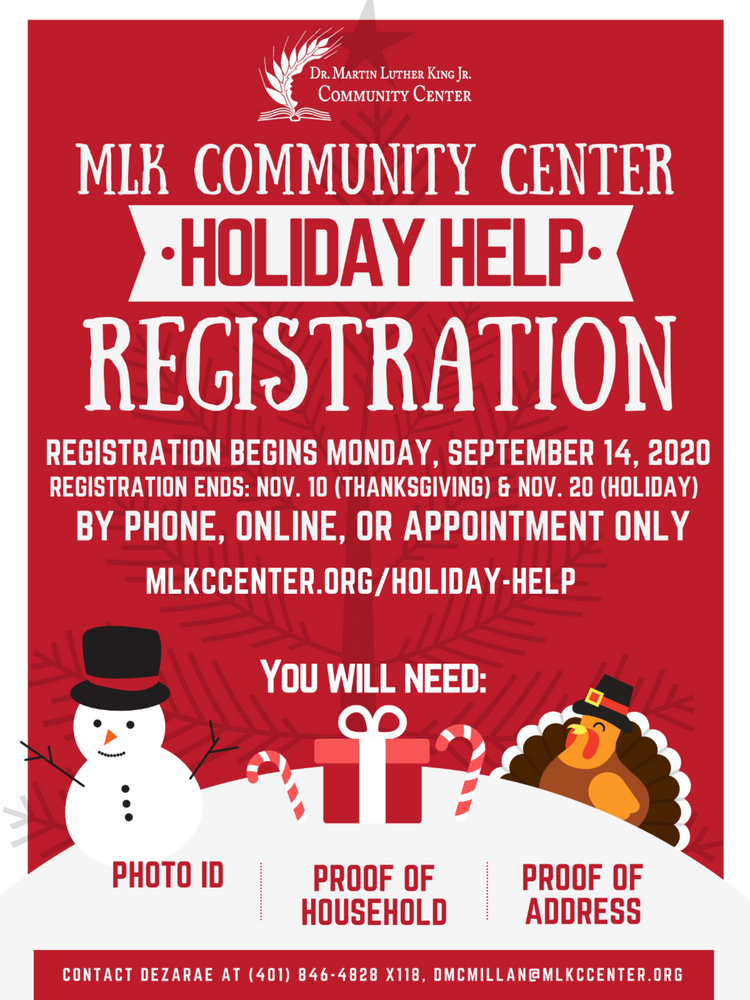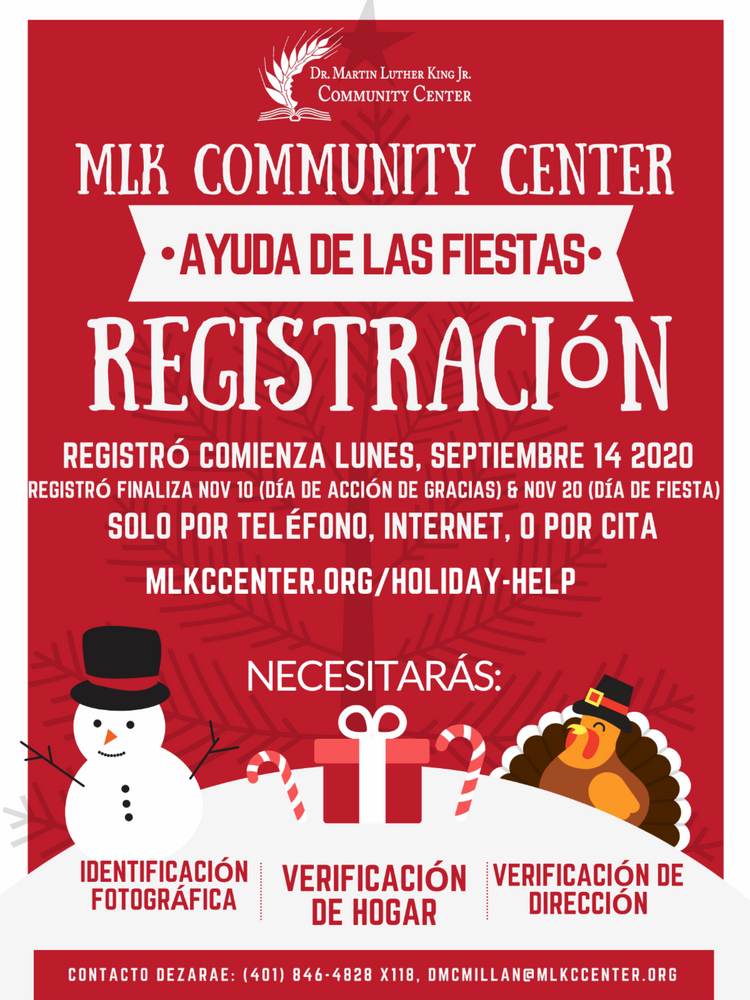 ---

---
AQUÍ PARA AYUDAR
Desayuno para llevar de lunes a viernes, de 7:30 a 8:30 a.m. (entrada de Marcus Wheatland Blvd)
Tenga en cuenta que el Centro estará cerrado el próximo lunes 12 de octubre en conmemoración del Día de la Raza / Día de los Pueblos Indígenas
Desayuno para llevar de lunes a viernes, de 7:30 a 8:30 a.m. (entrada de Marcus Wheatland Blvd)
Entrega de Food 2 Friends para personas mayores confinadas en el hogar
,Visitas móviles de despensa de alimentos a comunidades de viviendas de bajos ingresos
Preescolar para estudiantes de preescolar registrados. Aperturas actualmente disponibles para niños de 3 años. Comuníquese con ,Tanya por correo electrónico o por teléfono: (401) 846-4828 x117
Programa extracurricular para estudiantes registrados
Pan diario: de lunes a viernes en la entrada de Marcus Wheatland Blvd
Despensa de alimentos en el lugar: lunes, miércoles y viernes de 10 a.m. a 2 p.m. y miércoles por la noche a partir de las 4 p.m. a las 6 p.m. Primer sábado de cada mes de 10 a.m. a 12 p.m. Despensa de alimentos en el lugar: lunes, miércoles y viernes de 10 a.m. a 2 p.m. y miércoles por la noche a partir de las 4 p.m. a las 6 p.m. Primer sábado de cada mes de 10 a.m. a 12 p.m.
,Veggie Days distribución semanal de verduras al aire libre, jueves de 10 a.m. a 2 p.m. o hasta agotar existencias. ¡Ahora todo el año!
,Clase de cocina y nutrición LivFit los martes y jueves a las 5 p.m. La clase está socialmente distanciada y se requieren máscaras. Llame o envíe un mensaje de texto a Kristin para asistir: (401) 368-7614
,Almuerzos Grab 'n Go: martes 20 de octubre de 11:30 a.m. a 1 p.m. ¡Gratis! Presentado en colaboración con McGrath's Clambakes. Menú TBD. No se permite comer en el lugar
,Cena comunitaria Grab 'n Go: Lunes 9 de noviembre a partir de las 4 p.m. – 4:45 p.m., disfrute de una deliciosa cena para llevar gratis, presentada en colaboración con McGrath's Clambakes. Menú TBD. No se permite comer en el lugar.
Sorteo de la copa de sopa: miércoles, 4 de noviembre de 4 a 6 p.m. ¡Pase por el Centro para disfrutar de una taza gratis de sopa de pescado galardonada, presentada por Newport Chowder Company!
¡,Ponte en forma! Clase de fitness con Debra: todos los miércoles a las 8:30 a.m. Gratis. Este entrenamiento de cuerpo completo tiene como objetivo mejorar el equilibrio, la salud ósea, la flexibilidad y la fuerza de los participantes en un entorno seguro, acogedor y divertido. RSVP con Mel por correo ,electrónico o teléfono: (401) 846-4828 x124
Programa de mentores Stepping Stones: comience su viaje hacia la seguridad alimentaria y supere los obstáculos que puedan interponerse en su camino con la ayuda del especialista en atención al cliente, Dezarae. Este programa de tutoría individual está abierto a cualquier residente del condado de Newport que desee reunirse (virtualmente o en persona) dos veces al mes durante al menos seis meses, mayores de 18 años, que esté luchando contra la inseguridad alimentaria. Póngase en contacto con Dezarae por correo ,electrónico o llame al (401) 846-4828 x118
,La Biblioteca de imaginación de Dolly Parton, presentada por la Fundación de la Familia Bazarsky en asociación con el Centro Comunitario MLK, pone libros en las manos y corazones de niños de todo el mundo. Se asocian con las comunidades locales para enviar por correo un libro de alta calidad, seleccionado a mano y apropiado para la edad cada mes a los niños registrados desde el nacimiento hasta los cinco años, completamente gratis e independientemente de los ingresos familiares. ,Más información
Los folletos de cupones del mercado de agricultores mayores están disponibles para recoger en MLK. Hasta agotar existencias, los residentes de Rhode Island, personas mayores de 60 años o más que cumplan con los requisitos de ingresos, pueden recoger un folleto por temporada. Los cupones vencen el 31 de octubre
Ayuda de vacaciones: ¡La inscripción está abierta! Comuníquese con Dezarae ,por correo electrónico o por teléfono: (401) 846-4828 x118 ,o regístrese en línea. Debido a los límites de recolección, no se permiten registros directos este año.
Donaciones: Se aceptan donaciones de alimentos no perecederos, productos frescos, artículos para el hogar y artículos de cuidado personal en nuestro muelle de carga de lunes a viernes de 8:30 a.m. a 5:00 p.m. Por favor toque el timbre a su llegada. Se requieren máscaras para donar. Una lista de nuestras necesidades urgentes ,,disponible aquí
Centro Comunitario Dr. Martin Luther King, Jr. (401) 846-4828 anovick@MLKCCenter.org www.MLKCCenter.org