UPDATES FROM THE MLK COMMUNITY CENTER
Friday, August 21st, 2020
---
SUMMER CAMP: TO BE CONTINUED…
Summer Adventure Camp Extended 3 Weeks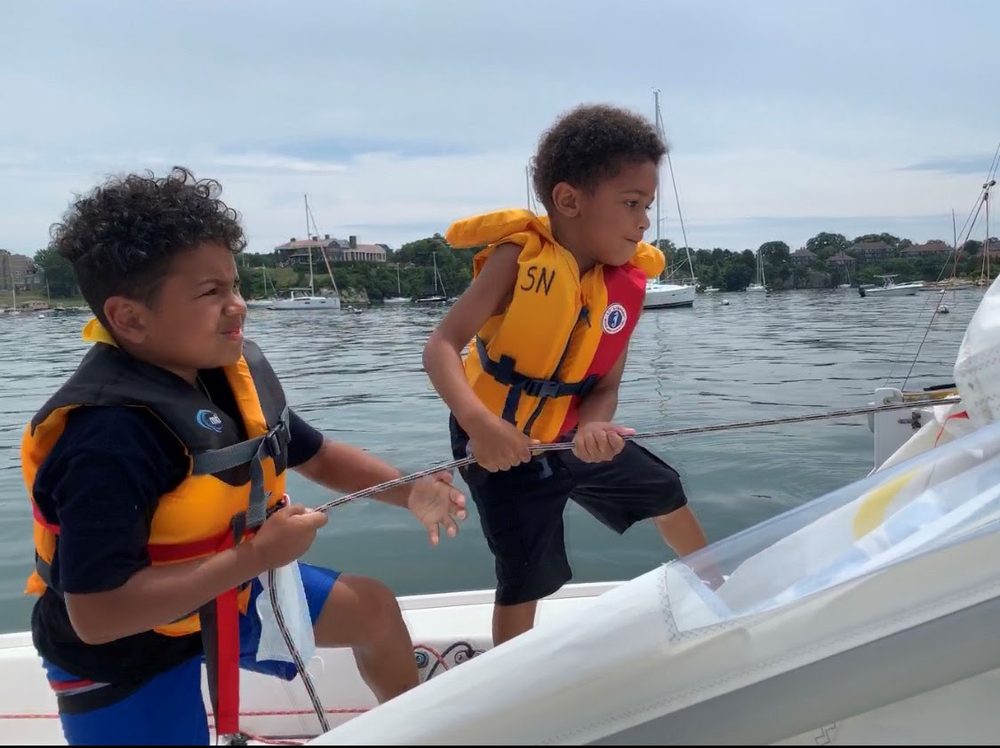 Given the delayed start of the school year and the unprecedented need for reliable, affordable childcare, we are extending Summer Adventure Camp by another 3 weeks. Generous funders and donors mean we can continue to offer scholarships that cover nearly the entire cost of Summer Camp (and Preschool, as well), leaving families to pay just $20 each week for all-day care and experiential learning. The summer fun and learning will continue, and families can rest easy knowing their campers are in good hands for the remainder of the summer.
---
RESTOCK TO REOPEN: We're Almost There!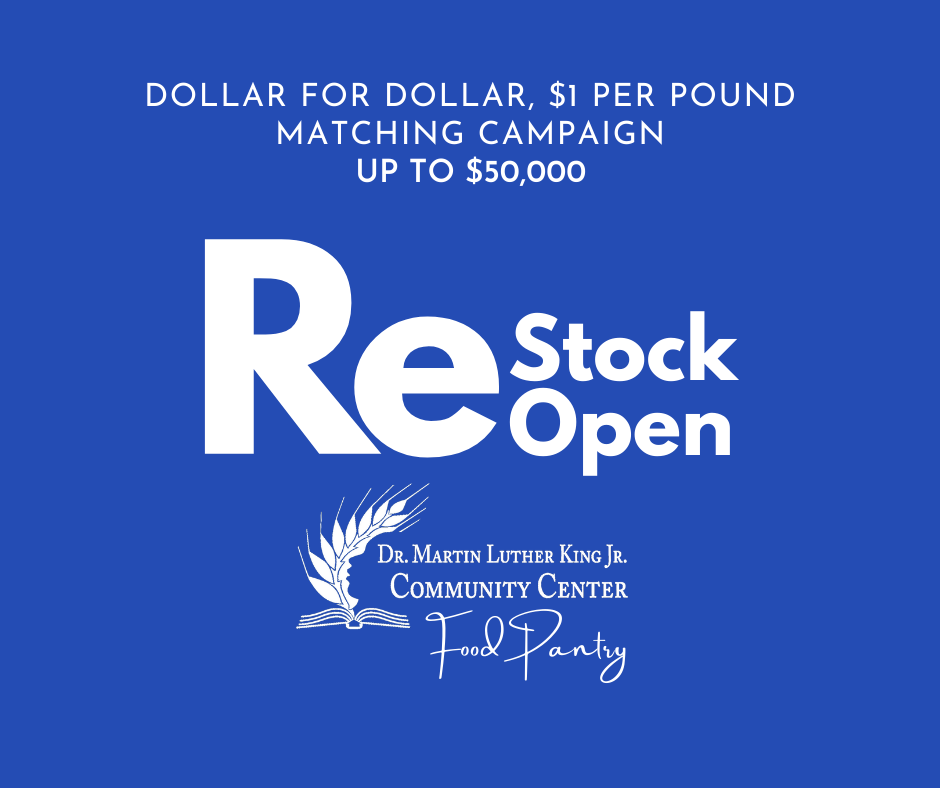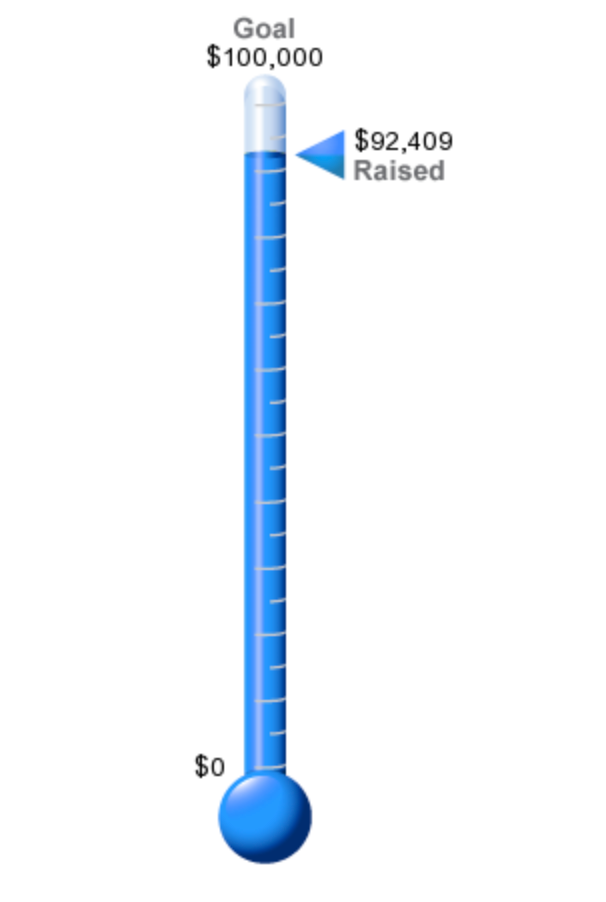 Newport County: look what you've accomplished in just 2 weeks! We're less than $8,000 from meeting our Matching Challenge goal of $100,000. As of yesterday, Thursday, August 20th, you have given an astonishing $92,409 in combined monetary contributions and donations of food, household and personal care items – WOW.
Can we finish this challenge out today!? If you've been waiting for the perfect time to give, it is right now, and every. dollar. counts. Every donation up to $100,000 will be matched, dollar for dollar, or $1 per pound. Stop by the Center anytime before 5 p.m. today with your donation of food, household, and personal care items, or to make your donation online, visit our website. (**And, be sure to say it's for the ReStock to ReOpen campaign!)
---
United Healthcare

UnitedHealthcare, is once again sponsoring an upcoming Mobile Food Pantry at AHEPA II Apartments in Newport on Tuesday, 8/25 from 12 p.m. to 1:15 p.m.! Thanks to their generosity, the MLK Community Center is able to bring non-perishable food, fresh produce, milk, meat, and eggs into communities around Newport County where transportation is often a barrier. These photos were taken at the last Mobile Food Pantry they so generously sponsored.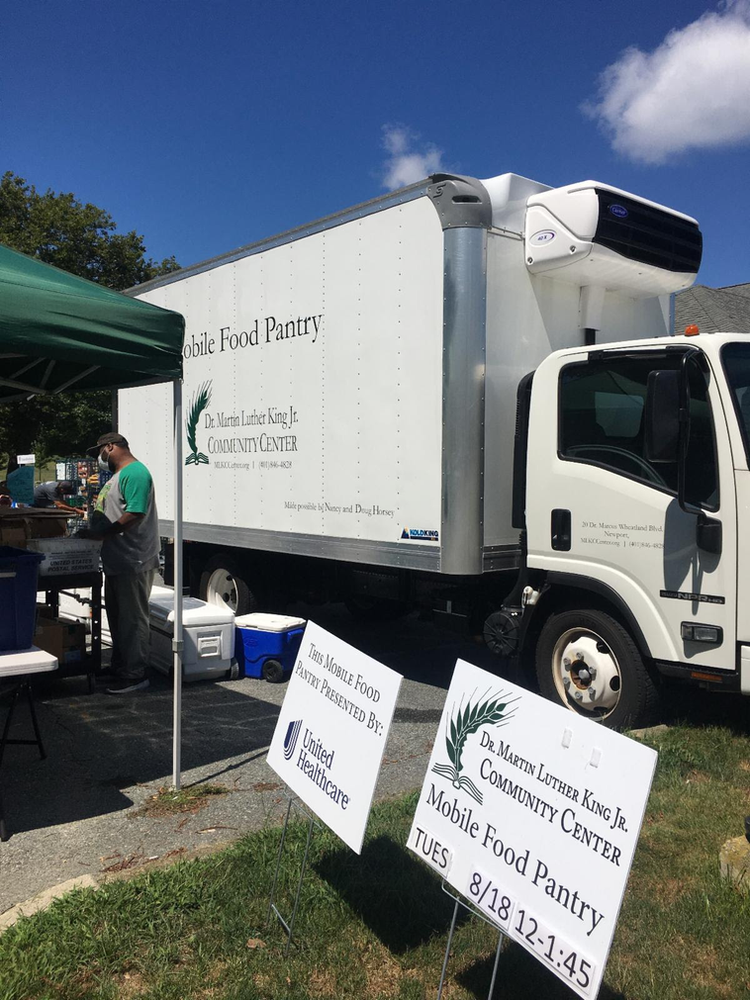 Serving one in five Medicare beneficiaries, UnitedHealthcare Medicare & Retirement is the largest business dedicated to the health and well-being needs of seniors and other Medicare beneficiaries. For four decades, UnitedHealthcare has served the health care coverage needs of Medicare beneficiaries, navigating through multiple evolutions of the Medicare program and growing to become the preferred choice of more beneficiaries than any other company.
Thank you again, UnitedHealthcare!
---
WHO'S BEHIND THE MASK?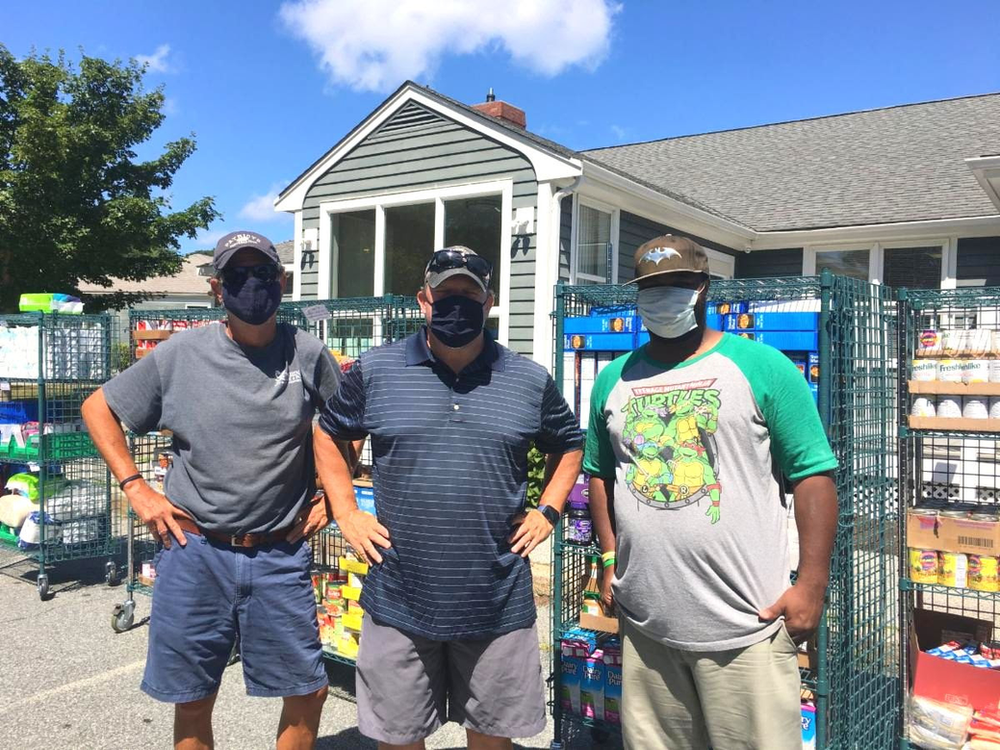 We haven't done a 'Who's Behind the Mask' in a while, so here's three of our wonderful volunteers! From left: Scott L., Scott F., and Tyrone helping out at Tuesday's Mobile Food Pantry, which brings food, meat, fruits and veggies, household and personal care items to neighborhoods across Newport County. These stalwart souls have volunteered without complaint on some of the most hot and humid days of the summer, moving heavy loads of food on and off the truck. If you can't tell, there's great big smiles under those masks. Thanks, guys!
---
HERE TO HELP
Grab-n-Go Breakfast every weekday, 7:30 – 8:30 (Marcus Wheatland Blvd entrance)
Food 2 Friends delivery for homebound seniors
Mobile Food Pantry visits to low-income housing communities
Preschool for registered preschool students
Daily Bread: Available at the Marcus Wheatland Blvd entrance weekdays from 10 a.m. – 4 p.m.
On-site food pantry: Monday, Wednesday, and Friday from 10 a.m. to 2 p.m. and Wednesday evenings from 4 p.m. to 6 p.m. First Saturday of each month from 10 a.m. to 12 p.m., starting Sept. 5th
Veggie Days weekly vegetable distribution outside, Thursdays 10 a.m. to 2 p.m. or while supplies last
Summer Camp for registered summer campers extended 3 weeks
LivFit Cooking & Nutrition class returns every Tuesday & Thursday evening at 5 p.m. beginning in September. Class will be socially distanced and masks are required. Please call or text Kristin if you would like to attend: (401) 368-7614
Senior farmers market coupon booklets are available to pickup at the MLK. While supplies last, Rhode Island residents seniors ages 60+ who meet the income requirements can pick up one booklet per season
Donations: Donations of perishable & non-perishable food, fresh produce, household items, and personal care items are accepted at our loading dock Monday – Friday 8:30 a.m. – 5:00 p.m. Please ring the bell upon arrival. Masks required to donate. A list of our urgent needs available here
---