UPDATES FROM THE MLK COMMUNITY CENTER Friday, March 19, 2021
---
WE'RE "BATTER" TOGETHER: Locals come together to bring St. Paddy's Day smiles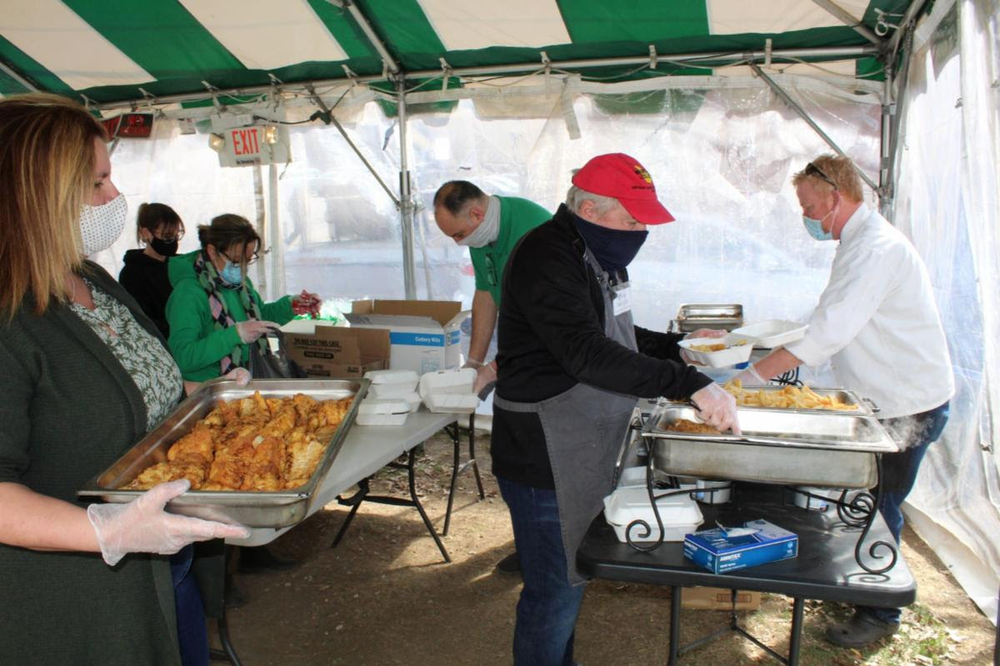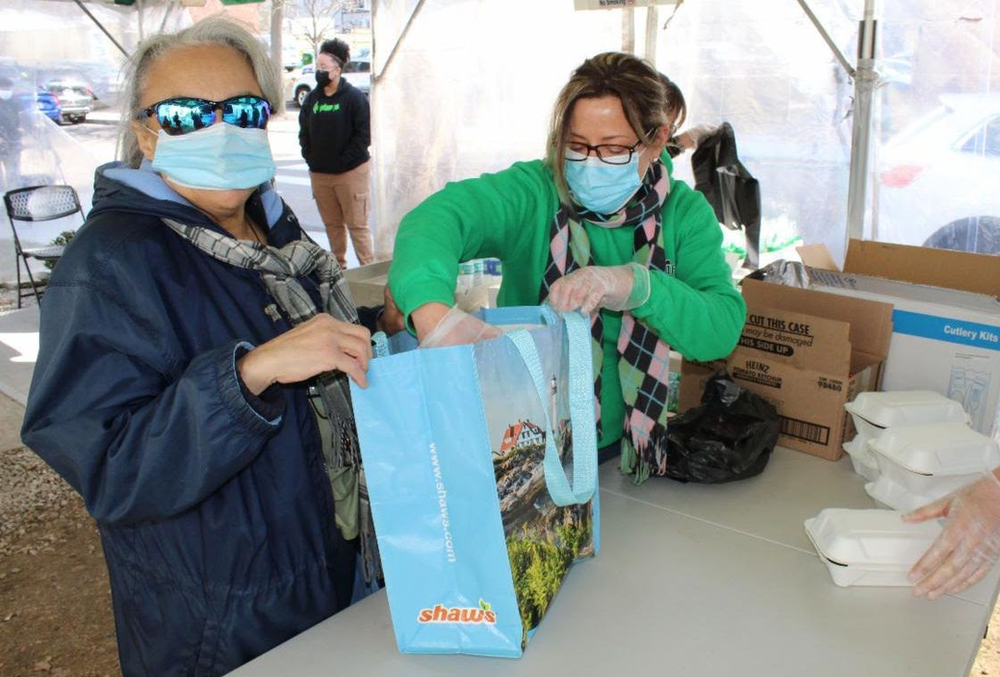 This past Wednesday, March 17th (St. Patrick's Day) a number of different friends from the community came together at our Grab n' Go meal to serve fish & chips (and masked-smiles) to Newport County. As volunteer Jim Van Winkle remarked, "We're batter together."
If you follow the Center on social media (or are a fan of our newsletter!), you'll recall the Fish & Chips For Good campaign that so many Newport County businesses participated in throughout the month of February (*and some continue through Lent): for every order of Fish & Chips sold, the businesses would donate a percentage of the sale to the MLK Community Center. We're thrilled to see our local businesses come together in this way, and thrilled to be able to help promote them, too.
We figured: what better way to tie up the Fish & Chip For Good campaign than to serve fish & chips at our St. Patrick's Day Grab & Go meal! Everyone loves fish & chips and many of you have purchased fish & chips throughout this promotion. But, for most of our clients, going out to eat is not within what budgets allow, especially during this time of widespread unemployment and uncertainty. This meal made fish & chips accessible for anyone who may not have been able to get out to any of the restaurants.
Our Grab & Go meals are the Center's opportunity to make a positive impact on our local economy by contracting with local businesses: Generous community support means we could pay McGrath's Clambakes & Catering to prepare the meals, and the Newport Sweet Shoppe to make the most incredibly festive St. Paddy's day cookies. We invited managers from the restaurants who participated (and, continue to participate!) in the fish & chip giveback program to serve the meal. Guest servers included Charlie Holder of Midtown Oyster Bar, Kerrie Philbin of O'Brien's Pub, and Leah Alexander of Fieldstones Grille.
It was a beautiful, sunny day, and to top it all off, the Newport String Project played festive Irish tunes to create such a welcoming, positive atmosphere for all involved. We kept hearing clients remark, "this is so nice" as they put in music requests with Newport String. The meal was an overwhelming success: 310 meals were served in an hour and a half, and not a French fry remained.
If you're hungry for more, O'Brien's Pub, Midtown Oyster Bar, and Fieldstones Grille continue to donate a percentage of fish & chip sales to the Center Fridays throughout lent (until Friday, April 2nd).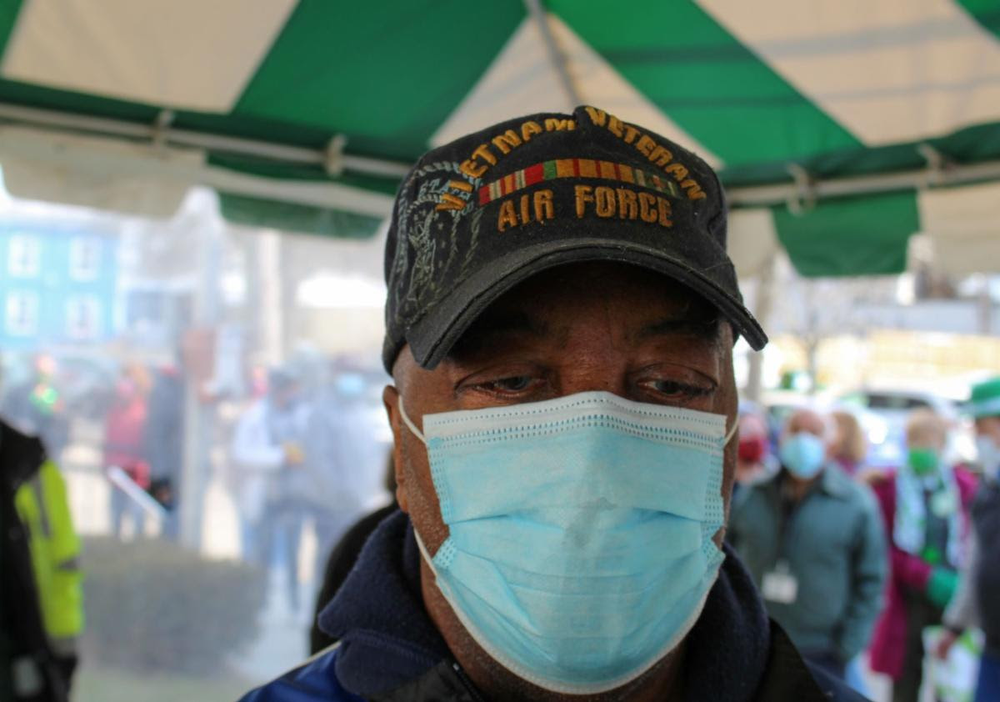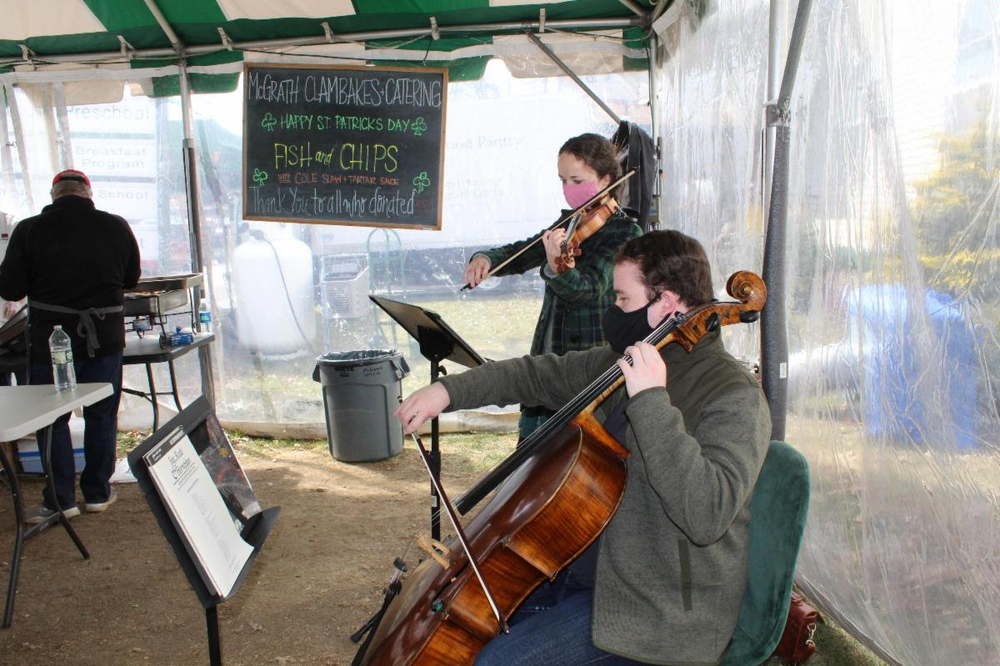 ---
GIVE LOCAL:
The countdown to 401Gives

April 1st is only 12 days away! What's April 1st? 401Gives, of course! United Way of Rhode Island's statewide day of giving. Beginning at 6 AM on 4/1, visit the MLK Community Center's 401Gives donation page to join in this movement of Rhode Islanders dedicated to making our state a better place. More of our neighbors than ever before are struggling during this time of economic uncertainty and look to the MLK Community Center to provide life-changing necessities, like healthy food and high-quality, affordable childcare. It's no April Fool's joke… throughout the day, there will be special opportunities to make your dollar go even further. For instance, if you set your alarm early on 4/1 and give starting at 6 AM, the first $50,000 will be matched as a part of a special early-bird giving initiative. Stay tuned to the MLK's enews & social media leading up for even more special opportunities, too! Any high achievers out there can set up a personal Fundraiser page under their name that will benefit the MLK, and you can create some healthy competition among your friends & neighbors to see who can raise the most funds! (Click "Fundraise" in the yellow bar on the top of our page.) In other words, in your social media posts and texts to friends about 401Gives on the day-of, you can link to your personal fundraising page to raise money for the Center, but it will all fall under your account so you can track how much money you have personally generated.
---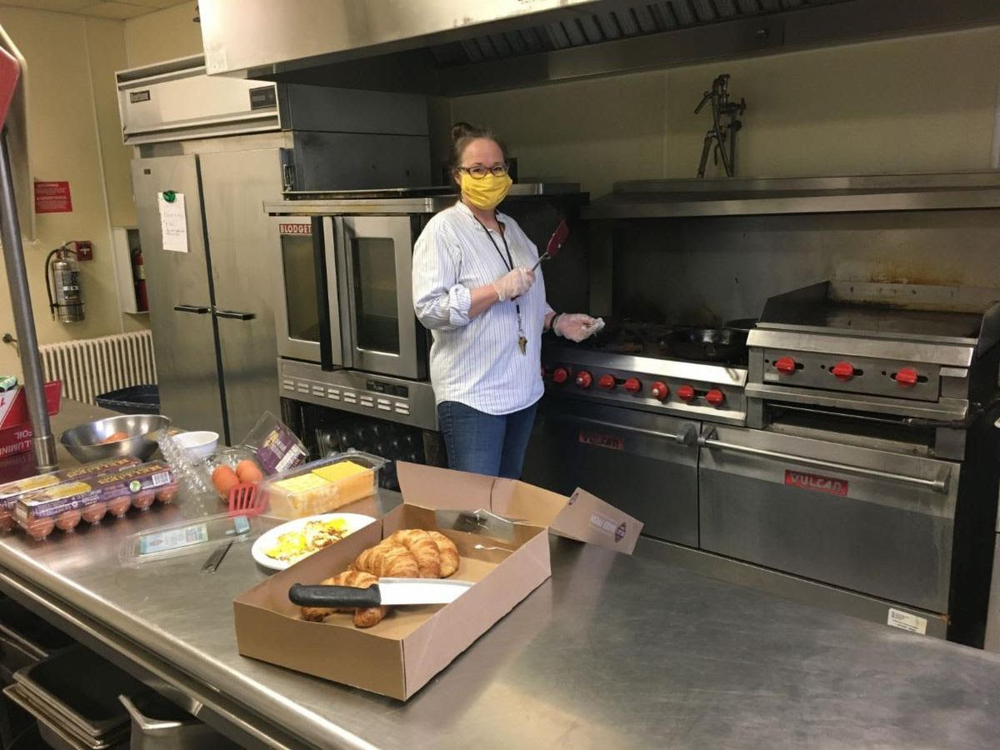 HOT BREAKFAST NOW SERVED DAILY AT THE MLK: Seeking Breakfast Volunteers
News hot off the griddle: we're now offering a hot grab & go-style breakfast, every day, Monday – Friday! Your generous support makes this program enhancement possible. Now, we need help with meal prep: We're seeking volunteer chefs to help prepare meals in advance. SafeServ certified preferred, but this opportunity is open to anyone with the desire and capacity to prepare hearty meals in batches of 50. Contact Nancy via email or call (401) 846-4828 x103. Pictured: Director of Development, Alyson Novick, helped out with breakfast during the height of the COVID lockdown in 2020.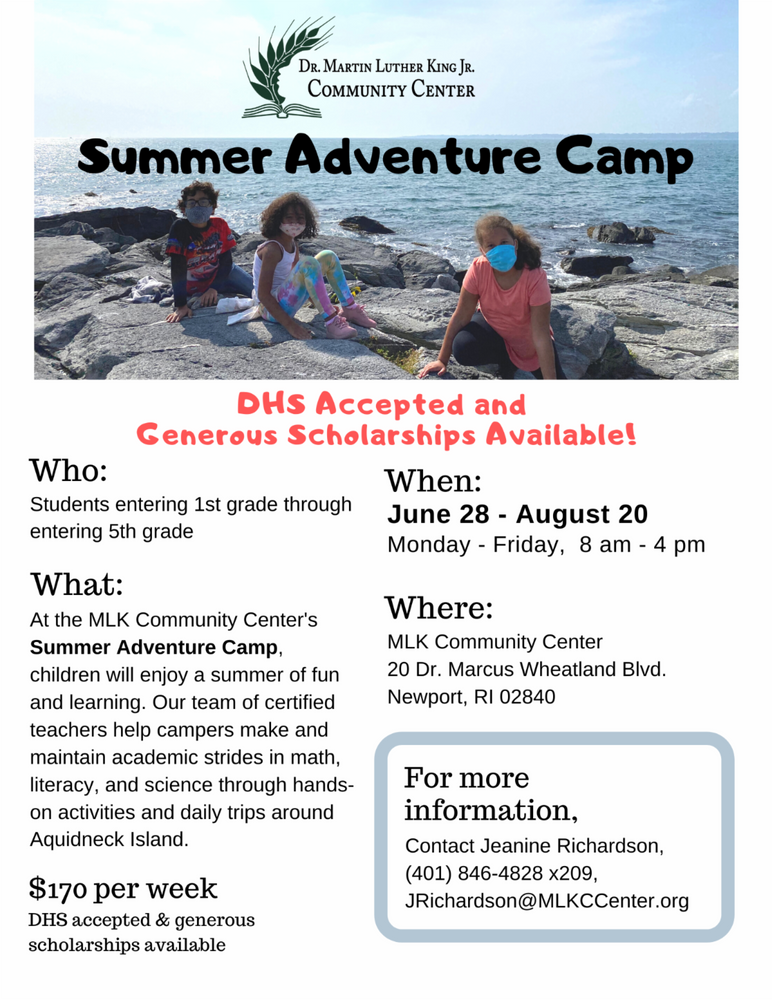 SUMMER ADVENTURE CAMP: OPEN ENROLLMENT
Summer Adventure Camp at the MLK Community Center is now enrolling for Summer 2021! Make this summer unforgettable for your rising 1st – 5th grader. Students will enjoy eight weeks of daily field trips around Aquidneck Island as well as make and maintain academic strides in math, literacy, and science through hands-on activities. DHS accepted and generous need-based scholarships available. Camp begins June 28th. Contact Jeanine via email or call (401) 846-4828 x209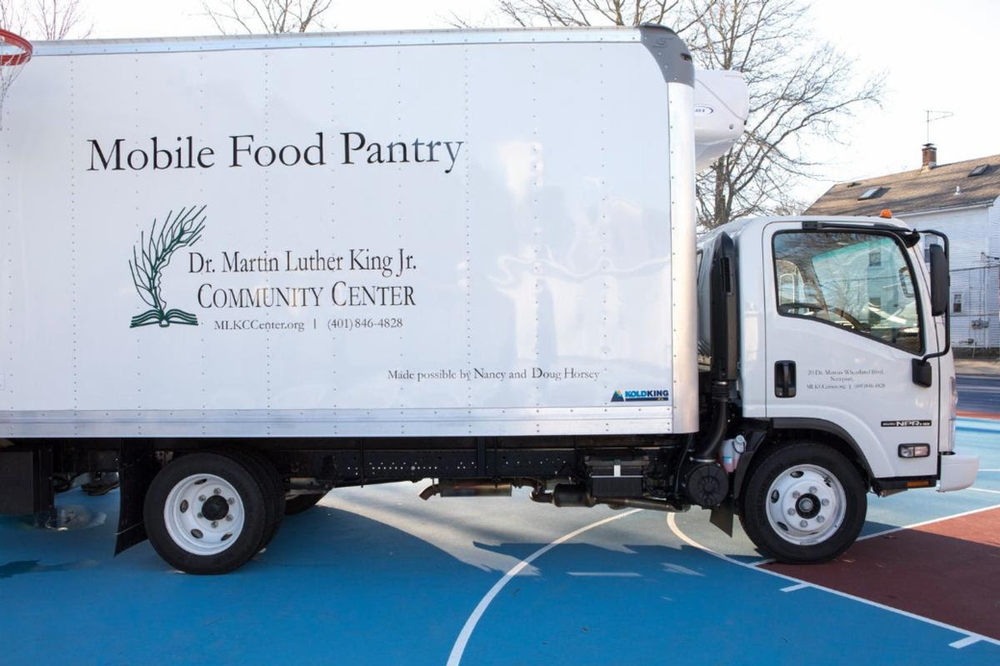 MOBILE FOOD PANTRY:
Now visiting Pell Elementary School
The newest stop on our Mobile Food Pantry route is Claiborne Pell Elementary School in Newport. Anyone in need of non-perishable foods, meat, milk, eggs, fruits & veggies, personal care items, and cleaning supplies is welcome to stop by the next Mobile Food Pantry at Pell Elementary on Tuesday, April 30th from 2:30 pm to 3:30 pm and/or May 25th from 2:30 pm to 4:00 pm. First time clients please bring ID, proof of household size, and reusable bags. Full schedule

LUNCH & LEARN
RETURNS NEXT WEEK!
In an effort to reduce isolation, the Lunch & Learn program for seniors will return to the Center this coming Tuesday, March 23rd at 11:30 am! Registered seniors can enjoy socially-distant, masked BINGO and take home a hearty to-go lunch of shepherd's pie, salad and a cookie. Masks, social distancing, and pre-registration required. RSVP with Mel via email or call (401) 846-4828 x124. Facebook event
---
CAN WE ASK YOU A FOOD PANTRY FAVOR?
We need of cans for all hands

Our Mobile and on-site food pantries are in urgent need of cans for all hands. What do all of these cans have in common? They're all "pop-top." Canned goods with pop-tops are among our most in-demand non-perishable items. Some of us might take for granted is the ability to use a can opener. For those who struggle with can openers like the elderly, the disabled, and children, pop-top cans are a lifesaver. The MLK Community Center is in need of pop-top cans of all varieties, but of particular need are hearty soups with pop-tops that can act as stand-alone, easy meals. Your donations of any and all pop-top canned goods are so appreciated. Our loading dock is open to accept donations from 8 am to 5 pm on weekdays. (If you'd prefer to contribute money toward pop-top canned goods, donate via PayPal and select Hunger Services from the Optional drop-down menu.)
---
HERE TO HELP
Grab & Go Breakfast Mon-Fri, 7:30 – 8:30 am. (Marcus Wheatland Blvd entrance)
Food Pantry: Monday, Wednesday, and Friday from 10 am to 2 pm and Wednesday evenings from 4 pm to 6 pm; first Saturday of each month from 10 am to 12 pm
Food 2 Friends delivery for homebound seniors. Contact Ed for more info
Mobile Food Pantry visits to low-income housing communities. Schedule
CURRENT OPENINGS: Preschool for registered students. DHS accepted & generous scholarships available. Openings available for 3 year olds. Contact Tanya by email or by phone: (401) 846-4828 x117
CURRENT OPENINGS: After School program for registered elementary school students. DHS accepted & generous scholarships available. Contact Jeanine by email or by phone: (401) 846-4828 x209
NOW ENROLLING: Summer Adventure Camp: Offered June 28 – August 20, 2021 Monday – Friday, 8 am to 4 pm for registered campers. Rising 1st through 5th graders eligible. Campers enjoy daily field trips around Aquidneck Island, and make & maintain academic strides in math, literacy, science, & more through daily lesson plans. DHS accepted & generous scholarships available. Contact Jeanine by email or by phone: (401) 846-4828 x209
SPACE LIMITED: SafeSitter Babysitting Safety Course: This free class, presented by LifeSpan, will introduce aspiring babysitters ages 11-14 to essential babysitting safety guidelines, including first aid, CPR, sitter safety, and more. Wednesday, April 21 (April break), 8:45 am – 2:15 pm. Space is limited, so register with Jeanette at LifeSpan ASAP: via email or call (401) 444-8088. Facebook event
Daily Bread: Mon-Fri at the Marcus Wheatland Blvd entrance, while supplies last
AARP Tax Prep: We are still unsure as to whether tax prep will return to the Center in 2021. In the meantime, anyone interested in having their taxes prepared may contact the Edward King House at 401-846-7426 or the Portsmouth Senior Center at 401-683-4106 for appointments. Taxes will be prepared virtually; no in-person appointments
Veggie Days weekly vegetable distribution, Thursdays 10 am to 1 pm or while supplies last.
Grab & Go lunches: Every Tuesday and Thursday from 11:30 am to 1 pm. Free! Presented in collaboration with McGrath's Clambakes & Catering. Menu TBD. Eating on-site not permitted. Main Entrance on Marcus Wheatland Blvd
THIS COMING WEEK: The Lunch & Learn program for seniors will return Tuesday, March 23rd at 11:30 am. Registered seniors can enjoy socially-distant, masked BINGO and take home a hearty to-go lunch. RSVP with Mel via ,email or call (401) 846-4828 x124
NEW: Yoga Class: Yoga class is now offered at the Center every Tuesday morning at 9 am. All skill levels welcome. Masks required & space is limited. RSVP with Mel: email or call (401) 846-4828 x124
Toning in '21 Fitness Class: Every Wednesday at 8:30 am, this full-body workout aims to improve balance, bone health, flexibility, and strength of participants in a safe, welcoming, and fun environment. All skill-levels welcome. Masks required & space limited. RSVP with Mel: email or call (401) 846-4828 x124
NEW: "L.E.A.D." Teen Support Group: LEAD, or Love, Equity, Acceptance, and Dreams, is an inclusive, supportive setting in which teen LGBTQQ* youth can acquire and hone these skills in a judgement-free environment. Program will begin April 28th at 2:30 pm and take place every other week thereafter in-person at the Center. (LGBTQQ = lesbian, gay, bisexual, transgender, queer, & questioning. All teens are welcome) To participate, reach out to Mirasia by email or call (401) 846-4828 x201
Zumba Fitness Class: Every Thursday morning at 8:30 am. All skill levels welcome. Masks required & space is limited. RSVP with Mel: email or call (401) 846-4828 x124
---
No temenos la capacidad de traducir cada entrada del blog a español porque usamos una herramienta de traducción en el internet. Por favor, disculpe cualquier error gramática. Por favor, llame al Centro si tiene alguna pregunta.
Nosotras somos "mejores" juntas
ACTUALIZACIONES DEL CENTRO COMUNITARIO DE MLK
Viernes, 19 de marzo de 2021
---
SOMOS "BATEADORES" JUNTOS:
Los lugareños se unen para traer sonrisas del Día de San Patricio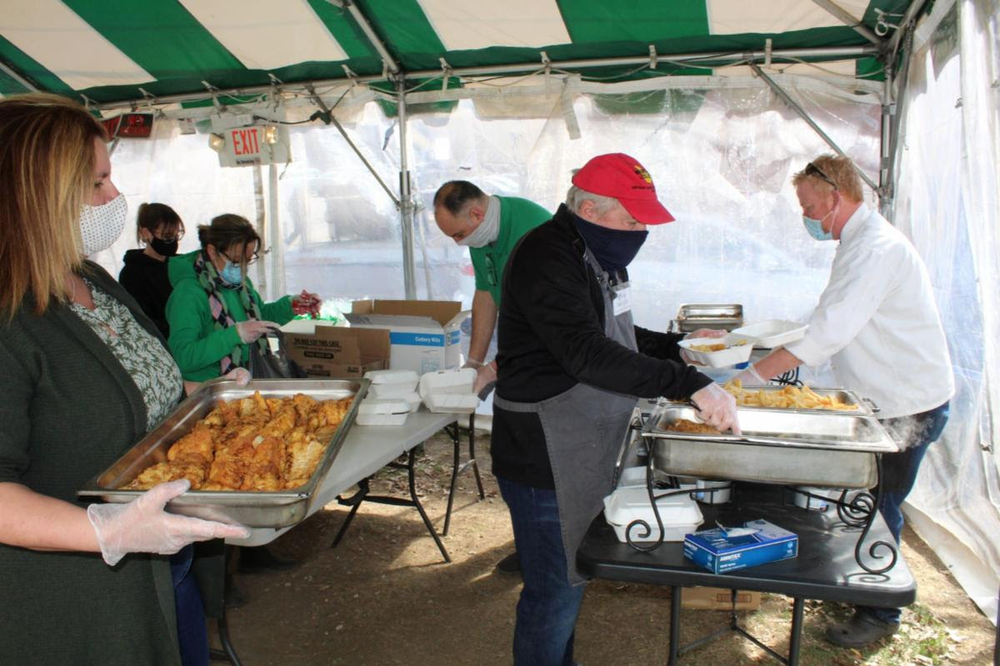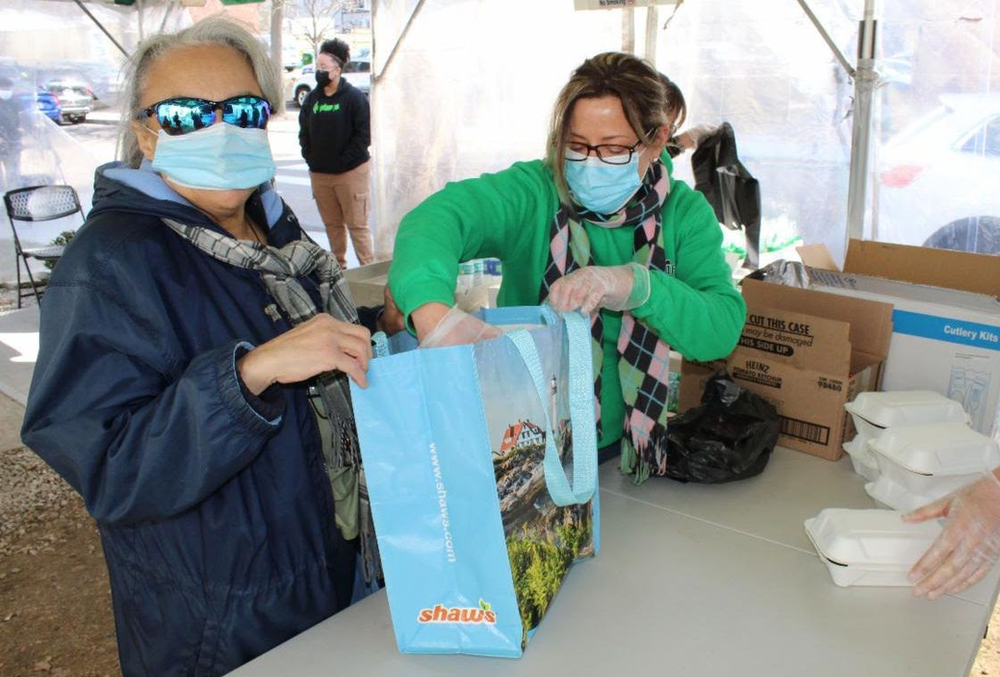 El pasado miércoles 17 de marzo (Día de San Patricio) varios amigos de la comunidad se reunieron en nuestra comida Grab n 'Go para servir pescado y patatas fritas (y sonrisas enmascaradas) en el condado de Newport. Como comentó el voluntario Jim Van Winkle, "Estamos juntos".
Si sigue al Centro en las redes sociales (¡o es fanático de nuestro boletín informativo!), Recordará la campaña Fish & Chips For Good en la que participaron tantas empresas del condado de Newport durante el mes de febrero (* y algunas continúan durante la Cuaresma ): por cada pedido de Fish & Chips vendido, las empresas donarían un porcentaje de la venta al MLK Community Center. Estamos encantados de ver cómo nuestros negocios locales se unen de esta manera y también de poder ayudar a promoverlos.
Pensamos: ¡qué mejor manera de atar la campaña Fish & Chip For Good que servir pescado y patatas fritas en nuestra comida Grab & Go del Día de San Patricio! A todo el mundo le encanta el pescado y patatas fritas y muchos de ustedes han comprado pescado y patatas fritas durante esta promoción. Pero, para la mayoría de nuestros clientes, salir a comer no está dentro de lo que permiten los presupuestos, especialmente durante esta época de desempleo e incertidumbre generalizados. Esta comida hizo que el pescado y las patatas fritas fueran accesibles para cualquiera que no haya podido salir a ninguno de los restaurantes.
Nuestras comidas Grab & Go son la oportunidad del Centro para tener un impacto positivo en nuestra economía local mediante la contratación de empresas locales: el generoso apoyo de la comunidad significa que podríamos pagar McGrath's Clambakes & Catering Para preparar las comidas, y la Newport Sweet Shoppe para hacer las galletas del día de San Patricio más increíblemente festivas. Invitamos a los gerentes de los restaurantes que participaron (¡y continúan participando!) En el programa de devolución de pescado y papas fritas para que sirvan la comida. Los servidores invitados incluyeron a Charlie Holder de Midtown Oyster Bar, Kerrie Philbin de O'Brien's Pub, y Leah Alexander de Fieldstones Grille.
Era un día hermoso y soleado, y para colmo, el Newport String Project tocó melodías festivas irlandesas para crear una atmósfera tan acogedora y positiva para todos los involucrados. Seguimos escuchando a los clientes comentar, "esto es tan agradable", ya que presentaban solicitudes de música con Newport String. La comida fue un éxito abrumador: se sirvieron 310 comidas en una hora y media, y no quedó ni una patata frita.
Si tienes hambre de más O'Brien's Pub, Midtown Oyster Bar, y Fieldstones Grille continuar donando un porcentaje de las ventas de pescado y patatas fritas al Centro los viernes durante toda la Cuaresma (hasta el viernes 2 de abril).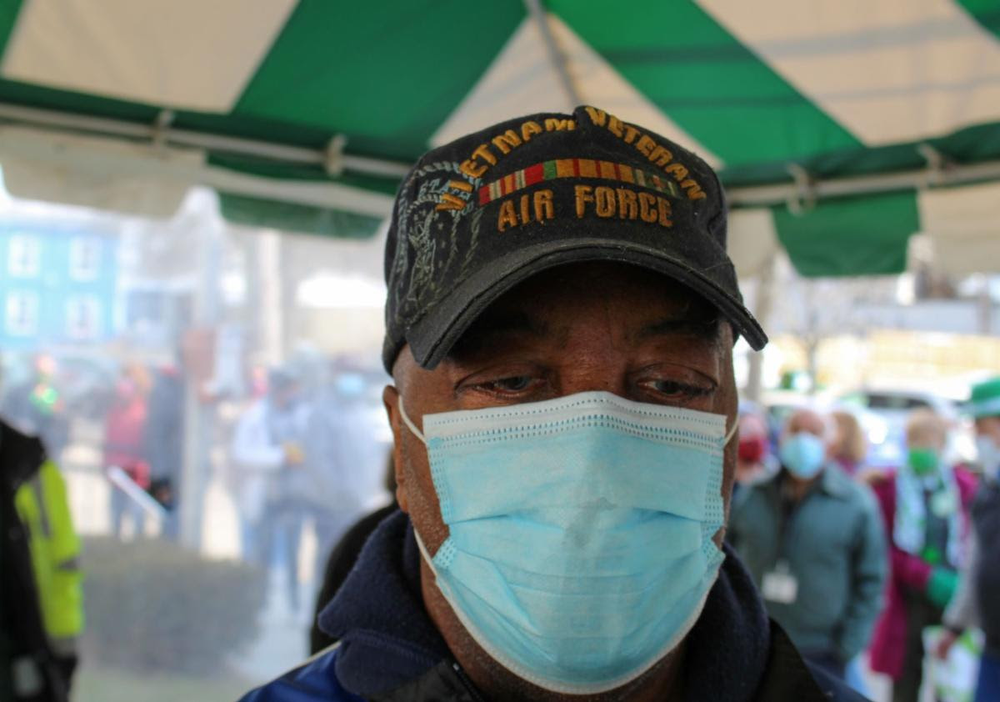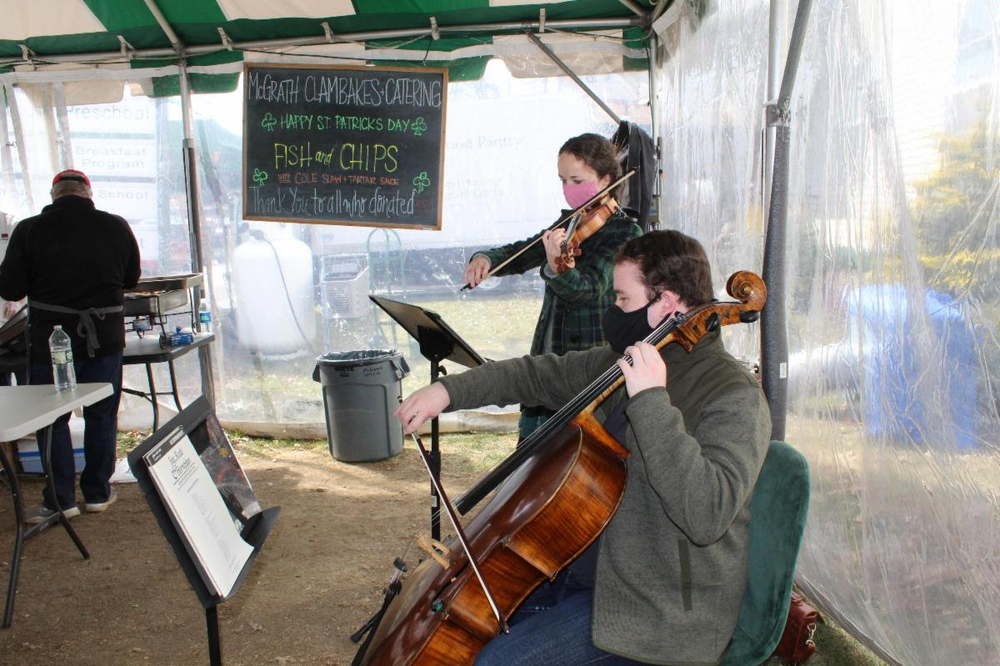 ---
DAR LOCAL:
La cuenta regresiva para 401Gives

¡Solo faltan 12 días para el 1 de abril!
¿Qué es el 1 de abril? 401Gives, ¡por supuesto! Día de donaciones de United Way of Rhode Island en todo el estado. A partir de las 6 a. M. Del 1 de abril, visite el Centro Comunitario de MLK 401Gives donation page para unirnos a este movimiento de los habitantes de Rhode Island dedicados a hacer de nuestro estado un lugar mejor. Más vecinos que nunca están luchando durante este tiempo de incertidumbre económica y esperan que el Centro Comunitario MLK proporcione necesidades que cambian la vida, como alimentos saludables y cuidado de niños asequible y de alta calidad.
No es una broma de April Fool … a lo largo del día, habrá oportunidades especiales para hacer que su dólar vaya aún más lejos. Por ejemplo, si pones tu alarma temprano el 4/1 y das a partir de las 6 a.m., los primeros $ 50,000 se igualarán como parte de una iniciativa especial de donación por reserva anticipada. ¡Estén atentos a los enews y las redes sociales de MLK que conducen a oportunidades aún más especiales también!
Cualquier gran triunfador puede set up a personal Fundraiser page bajo su nombre que beneficiará a MLK, y puede crear una competencia saludable entre sus amigos y vecinos para ver quién puede recaudar la mayor cantidad de fondos. (Haga clic en "Recaudar fondos" en la barra amarilla en la parte superior de our page.) En otras palabras, en sus publicaciones en las redes sociales y mensajes de texto a amigos sobre 401Gives el día de, puede vincular a su página personal de recaudación de fondos para recaudar dinero para el Centro, pero todo estará incluido en su cuenta para que pueda realizar un seguimiento de cuánto dinero que ha generado personalmente.
---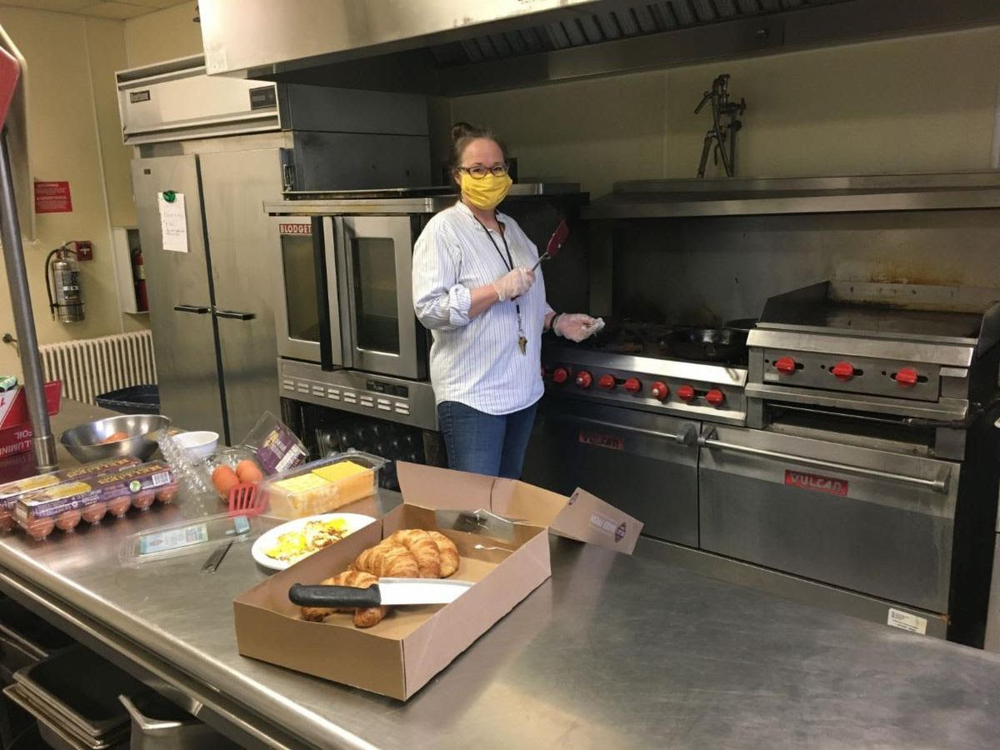 DESAYUNO CALIENTE AHORA SERVIDO DIARIAMENTE EN EL MLK: Buscando voluntarios para el desayuno
Noticias recién salidas de la plancha: ahora ofrecemos un desayuno caliente para llevar, todos los días, de lunes a viernes. Su generoso apoyo hace posible esta mejora del programa. Ahora, necesitamos ayuda con la preparación de las comidas: estamos buscando chefs voluntarios para ayudar a preparar las comidas con anticipación. Se prefiere la certificación SafeServ, pero esta oportunidad está abierta a cualquier persona con el deseo y la capacidad de preparar comidas abundantes en lotes de 50. Comuníquese con Nancy via email o llame al (401) 846-4828 x103. En la foto: la Directora de Desarrollo, Alyson Novick, ayudó con el desayuno durante el apogeo del cierre de COVID en 2020.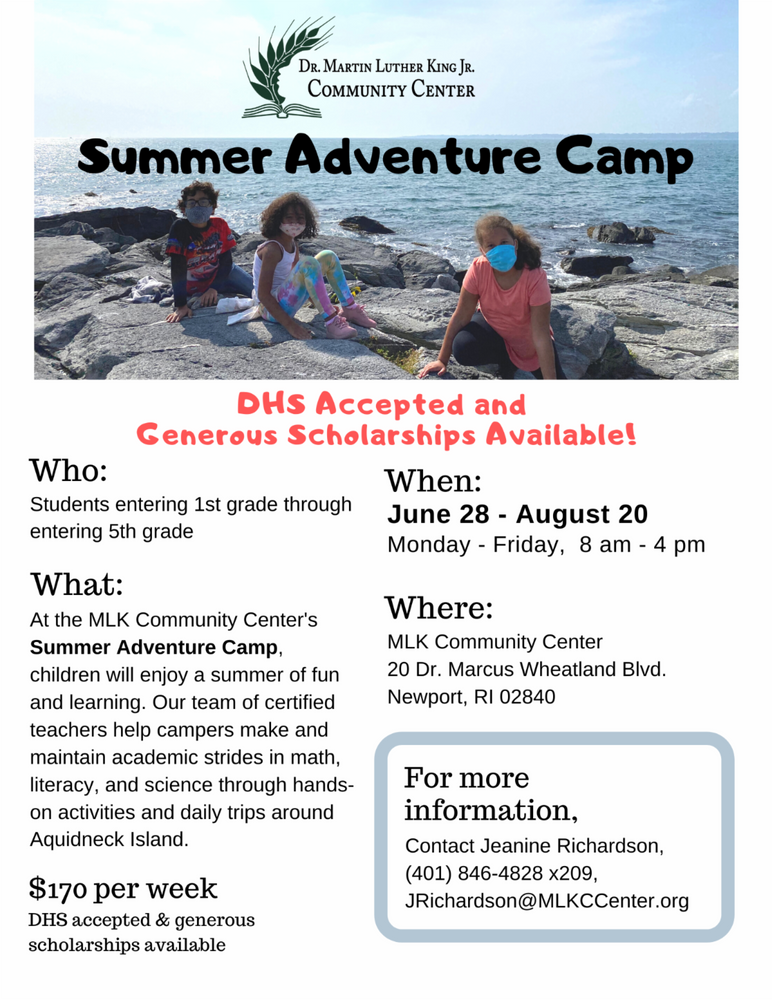 CAMPAMENTO DE AVENTURA DE VERANO: INSCRIPCIÓN ABIERTA
¡El Campamento de Aventuras de Verano en el Centro Comunitario de MLK se está inscribiendo para el Verano de 2021! Haga que este verano sea inolvidable para su estudiante de primer a quinto grado. Los estudiantes disfrutarán de ocho semanas de excursiones diarias alrededor de Aquidneck Island, así como también harán y mantendrán avances académicos en matemáticas, alfabetización y ciencias a través de actividades prácticas. El DHS acepta y ofrece generosas becas basadas en las necesidades. El campamento comienza el 28 de junio. Contactar con Jeanine via email o llamar (401) 846-4828 x209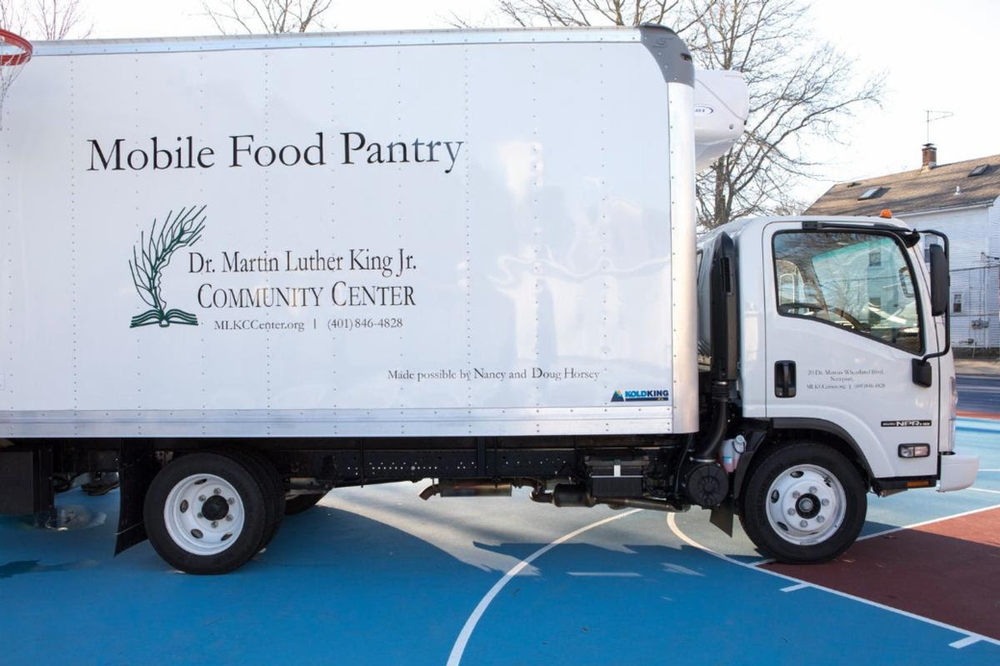 DESPENSA DE ALIMENTOS MÓVIL:
Ahora visitando la escuela primaria Pell
La parada más reciente en nuestra ruta Mobile Food Pantry es la escuela primaria Claiborne Pell en Newport. Cualquier persona que necesite alimentos no perecederos, carne, leche, huevos, frutas y verduras, artículos de cuidado personal y artículos de limpieza puede pasar por la próxima despensa móvil de alimentos en la escuela primaria Pell el martes 30 de abril de 2:30 pm a 15: 30h y / o 25 de mayo de 14: 30h a 16: 00h. Clientes nuevos deben traer identificación, comprobante del tamaño del hogar y bolsas reutilizables. Full schedule

ALMUERZO Y APRENDIZAJE
DEVOLUCIONES LA PRÓXIMA SEMANA!
¡En un esfuerzo por reducir el aislamiento, el programa Lunch & Learn para personas mayores regresará al Centro el próximo martes 23 de marzo a las 11:30 am! Las personas mayores registradas pueden disfrutar de BINGO enmascarado socialmente distante y llevarse a casa un abundante almuerzo para llevar con tarta de pastor, ensalada y una galleta. Se requiere máscaras, distanciamiento social y preinscripción. RSVP con Mel via email o llamar(401) 846-4828 x124. Facebook event
---
¿PODEMOS PEDIRLE UN FAVOR DE DESPENSA DE ALIMENTOS?
Necesitamos latas para todas las manos

Nuestras despensas de alimentos móviles y en el lugar necesitan con urgencia latas para todos.
¿Qué tienen todas estas latas en común? Todos son "pop-top".
Los productos enlatados con pop-tops se encuentran entre nuestros productos no perecederos de mayor demanda. Algunos de nosotros podríamos dar por sentada la capacidad de usar un abrelatas. Para aquellos que luchan con los abrelatas como los ancianos, los discapacitados y los niños, las latas con tapa abatible son un salvavidas. El Centro Comunitario de MLK necesita latas pop-top de todas las variedades, pero una necesidad particular son las sopas abundantes con pop-tops que pueden actuar como comidas sencillas e independientes.
Sus donaciones de todos y cada uno de los productos enlatados pop-top son muy apreciados. Nuestro muelle de carga está abierto para aceptar donaciones de 8 am a 5 pm los días de semana. (Si prefiere contribuir con dinero para productos enlatados pop-top, done a través de PayPal y seleccione Servicios contra el hambre en el menú desplegable Opcional).
---
AQUÍ PARA AYUDAR
Desayuno para llevar de lunes a viernes, de 7:30 a 8:30 a. M. (Entrada de Marcus Wheatland Blvd)
Despensa de alimentos: lunes, miércoles y viernes de 10 a 14 horas y miércoles por la noche de 16 a 18 horas; primer sábado de cada mes de 10 a.m. a 12 p.m.
Entrega de Food 2 Friends para personas mayores confinadas en el hogar. Contact Ed para más información
Mobile Food Pantry visitas a comunidades de viviendas para personas de bajos ingresos.Schedule
APERTURAS ACTUALES: Preescolar para alumnos matriculados. DHS acepta y hay generosas becas disponibles. Aperturas disponibles para niños de 3 años. Póngase en contacto con Tanya por email o por teléfono: (401) 846-4828 x117
APERTURAS ACTUALES: Programa extracurricular para estudiantes registrados de la escuela primaria. DHS acepta y hay generosas becas disponibles. Póngase en contacto con Jeanine por email o por teléfono: (401) 846-4828 x209
INSCRIPCIÓN AHORA: Campamento de verano de aventuras: Se ofrece del 28 de junio al 20 de agosto de 2021 de lunes a viernes, de 8 am a 4 pm para los campistas registrados. Elegibles para estudiantes de 1º a 5º grado. Los campistas disfrutan de excursiones diarias alrededor de Aquidneck Island y logran y mantienen avances académicos en matemáticas, alfabetización, ciencias y más a través de planes de lecciones diarias. DHS acepta y hay generosas becas disponibles. Póngase en contacto con Jeanine poremail o por teléfono: (401) 846-4828 x209
ESPACIO LIMITADO: Curso de seguridad de niñera SafeSitter: esta clase gratuita, presentada por LifeSpan, presentará a las niñeras aspirantes de 11 a 14 años las pautas de seguridad esenciales para el cuidado de niños, que incluyen primeros auxilios, resucitación cardiopulmonar, seguridad de los cuidadores y más. Miércoles 21 de abril (receso de abril), 8:45 am – 2:15 pm. El espacio es limitado, así que regístrese con Jeanette en LifeSpan lo antes posible: a través de email o llamar (401) 444-8088. Facebook event
Pan diario: de lunes a viernes en la entrada de Marcus Wheatland Blvd, hasta agotar existencias.
Preparación de impuestos de AARP: Todavía no estamos seguros de si la preparación de impuestos volverá al Centro en 2021. Mientras tanto, cualquier persona interesada en que se preparen sus impuestos puede comunicarse con Edward King House al 401-846-7426 o con el Centro para personas mayores de Portsmouth al 401-683-4106 para citas. Los impuestos se prepararán virtualmente; sin citas en persona
Veggie Days distribución semanal de verduras, los jueves de 10 am a 1 pm o hasta agotar existencias.
Grab & Go lunches: Todos los martes y jueves de 11:30 a 13:00 horas. ¡Libre! Presentado en colaboración con McGrath's Clambakes & Catering. Menú TBD. No se permite comer en el lugar. Entrada principal en Marcus Wheatland Blvd
ESTA PRÓXIMA SEMANA: Lunch & Learn El programa para personas mayores regresará el martes 23 de marzo a las 11:30 am. Las personas mayores registradas pueden disfrutar de BINGO enmascarado socialmente distante y llevarse a casa un abundante almuerzo para llevar. RSVP con Mel a través de ,email o llamar (401) 846-4828 x124
NUEVA: Yoga Class: La clase de yoga ahora se ofrece en el Centro todos los martes por la mañana a las 9 am. Todos los niveles de habilidad son bienvenidos. Se requieren máscaras y el espacio es limitado. RSVP con Mel:email o llamar (401) 846-4828 x124
Toning in '21 Fitness Class: Todos los miércoles a las 8:30 am, este entrenamiento de cuerpo completo tiene como objetivo mejorar el equilibrio, la salud ósea, la flexibilidad y la fuerza de los participantes en un ambiente seguro, acogedor y divertido. Todos los niveles de habilidad son bienvenidos. Se requieren máscaras y espacio limitado. RSVP con Mel: email o llamar (401) 846-4828 x124
NUEVA: "L.E.A.D." Teen Support Group: LEAD, o Amor, Equidad, Aceptación y Sueños, es un entorno inclusivo y de apoyo en el que los jóvenes LGBTQQ * adolescentes pueden adquirir y perfeccionar estas habilidades en un entorno libre de juicios. El programa comenzará el 28 de abril a las 2:30 pm y se llevará a cabo cada dos semanas a partir de entonces en persona en el Centro. (LGBTQQ = lesbiana, gay, bisexual, transgénero, queer y cuestionamiento. Todos los adolescentes son bienvenidos) Para participar, comuníquese con Mirasia por email o llamar (401) 846-4828 x201
Zumba Fitness Class: Todos los jueves por la mañana a las 8:30 am. Todos los niveles de habilidad son bienvenidos. Se requieren máscaras y el espacio es limitado. RSVP con Mel: email o llamar (401) 846-4828 x124
---