UPDATES FROM THE MLK COMMUNITY CENTER
Friday, December 4th, 2020
---
YOUR GENEROSITY MADE THIS #GIVINGTUESDAY THE BEST EVER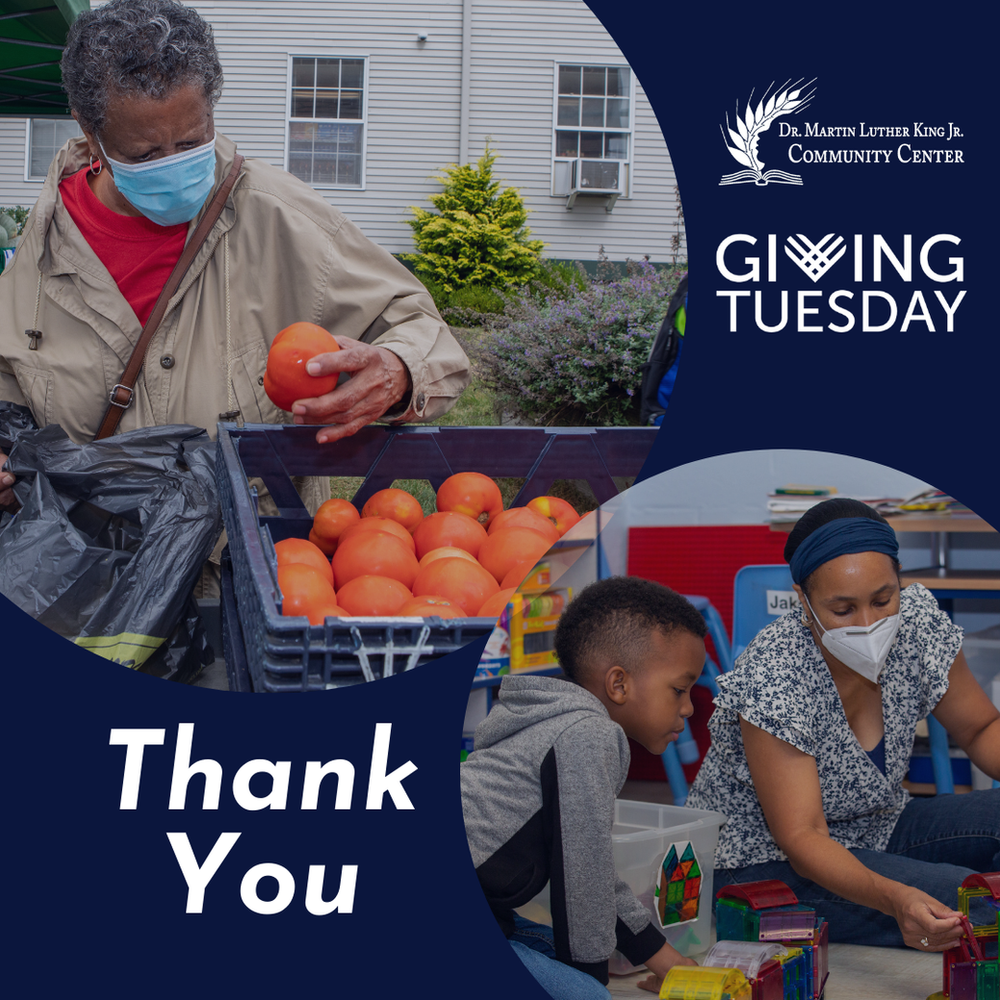 Thanks to your incredible generosity for #GivingTuesday, we far exceeded our goal! Our goal was to raise one dollar for every person the MLK will serve in 2020: 4,786 people, which is the most we've ever served in our near 100-year history. This has been an historic year, so it's fitting and humbling that our neighbors have shown the MLK an historic outpouring of support, too. THANK YOU. And, a special shout-out to our friends at Phoenix Bulk Carriers, who offered up a 2:1 match up to $9,572, which inspired so many to give for the first time, or to give more. (*Match is now closed.)
Thank you for uplifting Newport County. You help us purchase food for neighbors in need; help our children excel; helps neighbors embrace healthy lifestyles, and help seniors avoid isolation. You make our community stronger.
---
BEHIND THE SCENES, AND IN HOLIDAY MODE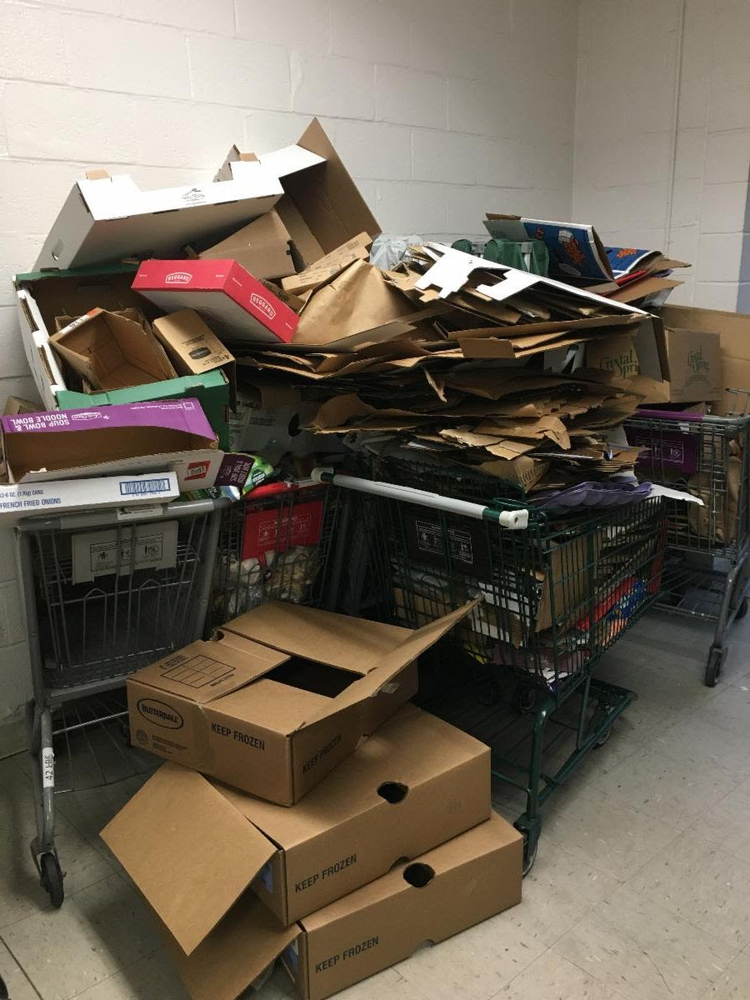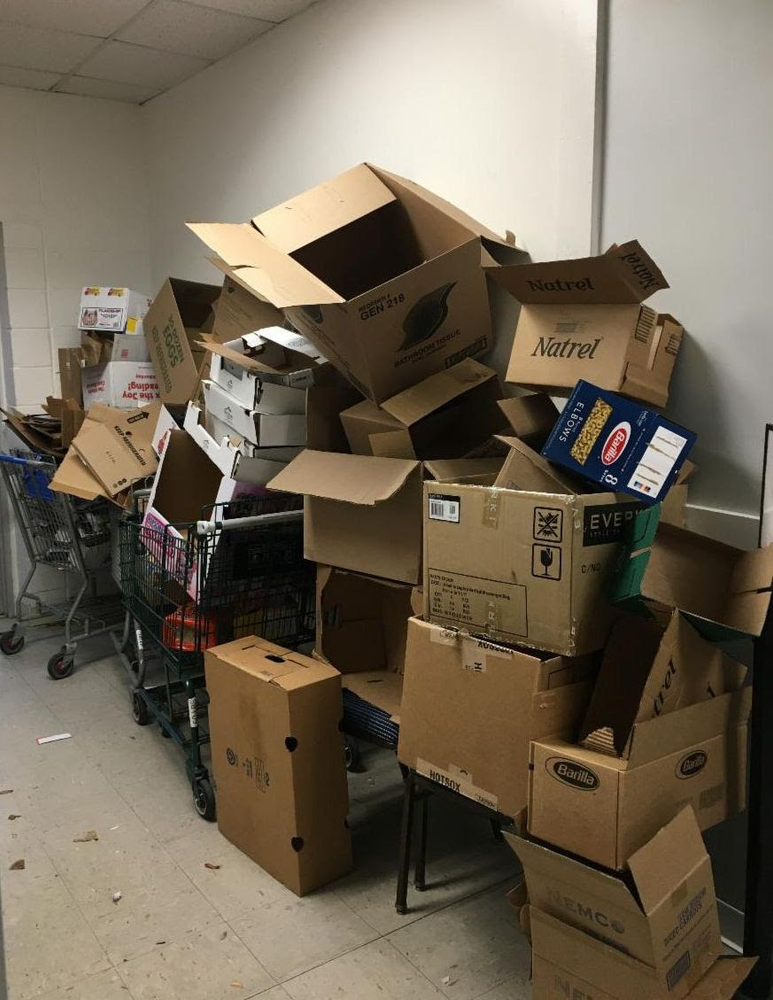 Okay – we know this is a mess, and we promise our back room doesn't look like this for long, thanks to our amazing volunteers. But, we think this does a good job of showing the scale of what we do. Taken before Thanksgiving, the boxes in this photo represent only two days' worth of donations and purchases to supply our Hunger Services programs. Every day, food arrives at our Loading Dock, is weighed, sorted, and stored, then moves into the Pantry for distribution. Breaking down boxes for recycling is an essential part of our day. It's not the most fun job, but it's definitely a necessary one. We're grateful to the volunteers who break down boxes so our staff can do other work.
Santa's Workshop & Holiday Food:
Santa's Helpers are currently busy getting the Center ready for Santa's Workshop and our Holiday food distribution. This year, increased safety measures are being taken to keep clients socially-distanced and to make Santa's Workshop as no-touch as possible.
Thanksgiving Food Distribution:
We're in elf mode now, so it's especially hard to believe Thanksgiving was just a few days ago. This year, your support meant we could provide Thanksgiving turkeys, produce, and all the fixings to 1,385 individuals from 578 families in Newport County.
---
SUPPORTING DISTANCE LEARNING: THOMPSON MIDDLE SCHOOL STUDENTS AT THE MLK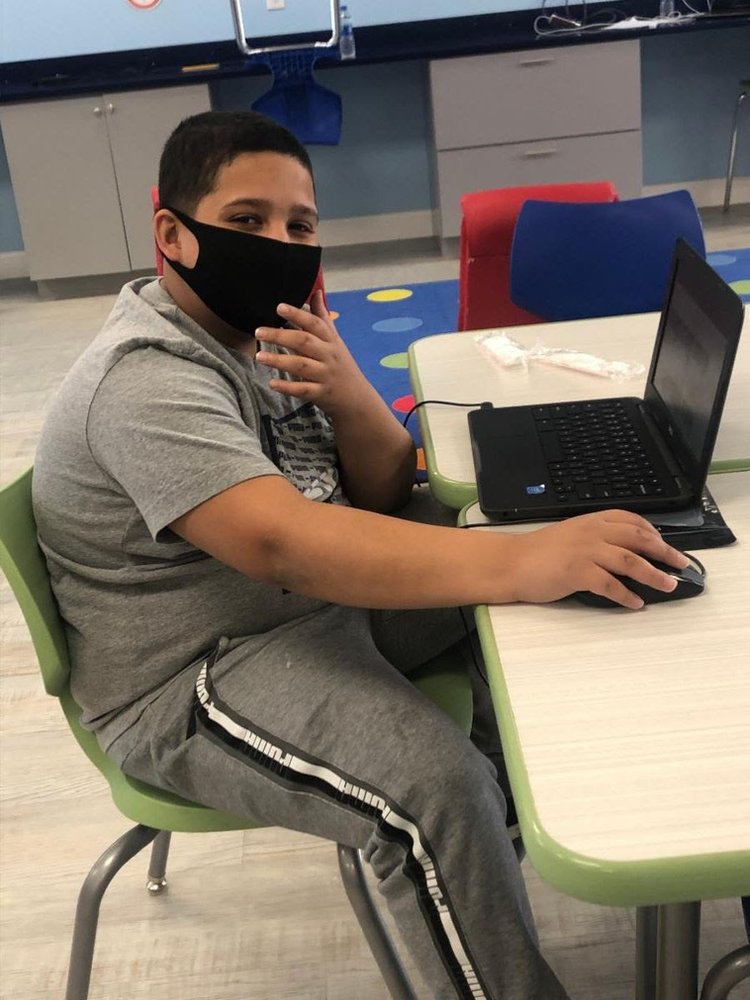 At the MLK, we strive to meet the needs of the community, especially in these uncertain times. That means collaborating in new ways.
The MLK is providing space for a small group of students from Thompson Middle School to receive distance learning support, from 8 am to 1 pm. The students, grades 5 – 8, were selected by their teachers to receive this extra support, as they've been struggling with distance learning. Three AmeriCorps "Check and Connect" support staff provide one-on-one support and instruction. Breakfast and lunch are delivered by Newport Public Schools.
This program and all students and staff are separated from MLK staff and education programs.
"Since I starting coming to this program, my grades have improved… A LOT. When I was home for distance learning, I was doing nothing but sleeping all day,"remarked one student (not shown)
---
MOBILE FOOD PANTRY SPONSOR
Calvary United Methodist Church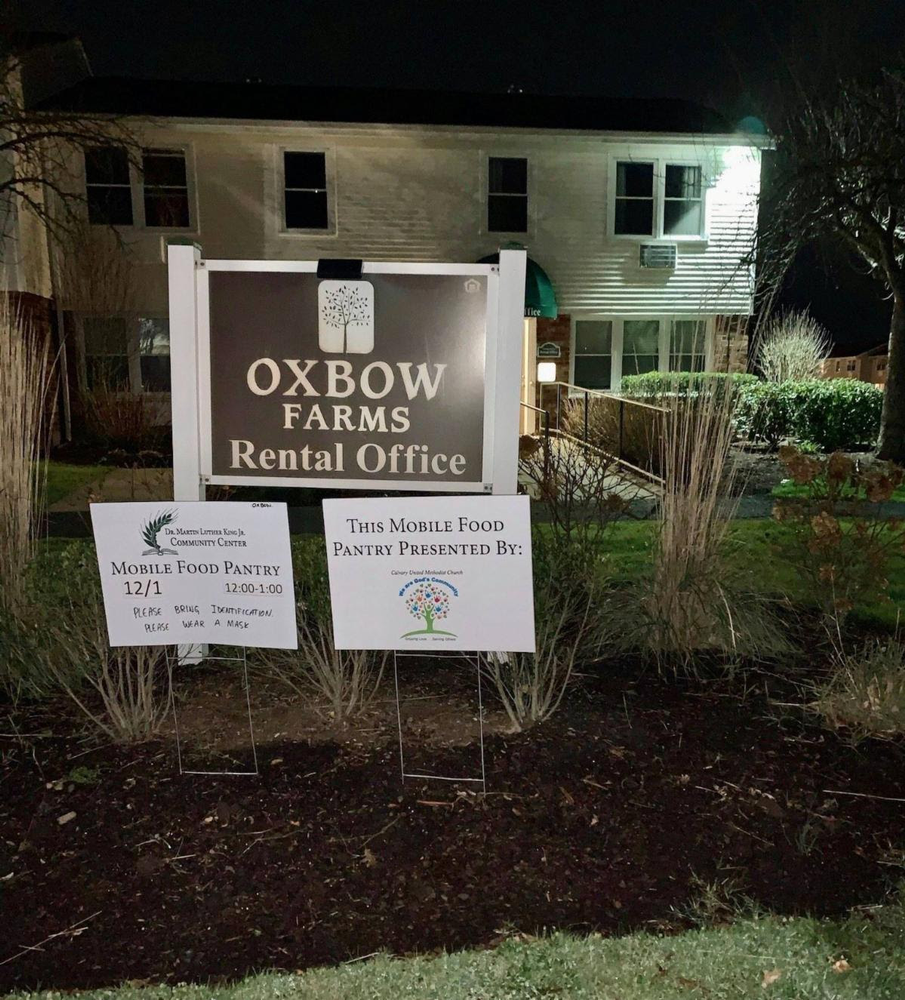 Thanks to our generous Mobile Food Pantry sponsors, the MLK's Mobile Food Pantry brings non-perishable food, fresh produce, milk, meat, and eggs into Newport County communities where transportation is often a barrier.
Our sponsor for this past Tuesday, December 1st's Mobile Food Pantry at Oxbow Farms in Middletown was Calvary United Methodist Church in Middletown, RI. They are also our generous sponsor for Tuesday, December 15th's Mobile Food Pantry at Park Holm in Newport (12-1:45 pm).
To sponsor a Mobile Food Pantry, click here.
"We are so blessed to be a part of this wonderful ministry," said Pastor Laurie. "Our community is our community together and so let us always be in partnership to serve."
For more information on Calvary United Methodist Church, visit their website: middletownmethodist.com
(Photo taken at Oxbow Farms this past week, after sunset. It gets dark so early these days!)
---
GIUSTO'S "BUY ONE GIVE ONE" LASAGNA PROGRAM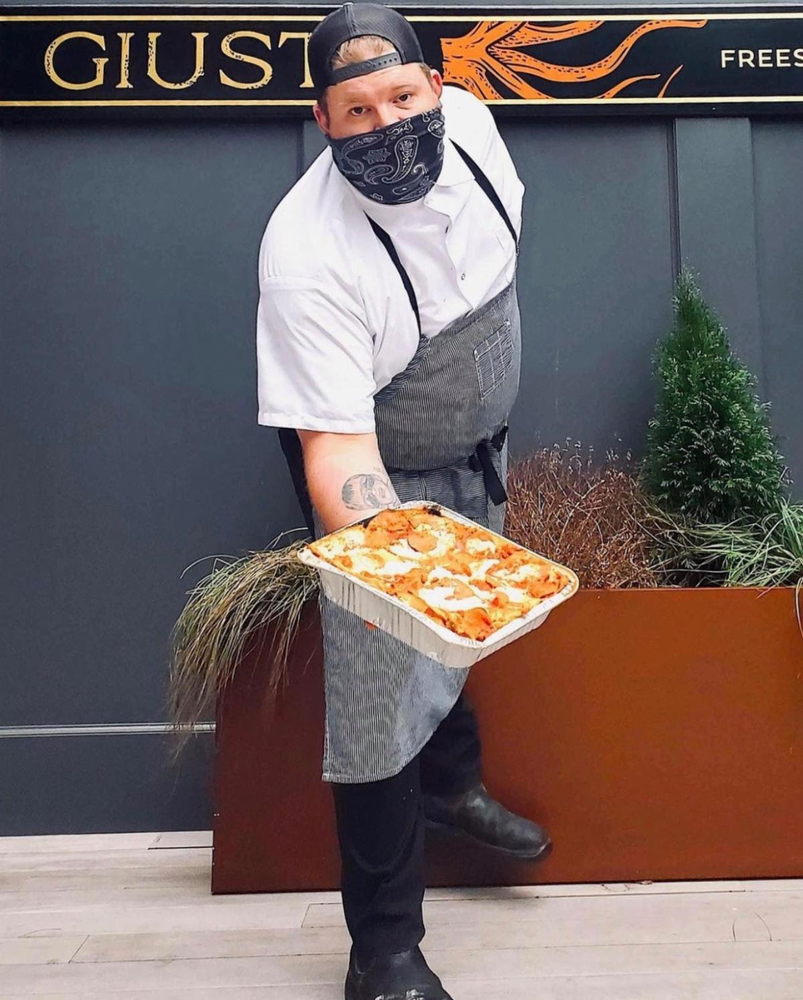 How is your dinner tonight supporting your community!? With Giusto Newport,'s "Buy One, Give One" lasagna partnership, you'll have tonight's dinner covered (+ leftovers for lunch!) AND support the MLK Center. For every Mom's Lasagna sold (serves 8-10), they'll donate one to the Center, which will be distributed in our Mobile and on-site Food Pantries. Order online or give them a call for take-out: giustonewport.com
---

---
HERE TO HELP
The MLK Community Center will be closed Friday, December 25th until the New Year for our winter break. We will reopen on Monday, January 4th, 2021.
Grab-n-Go Breakfast Mon-Fri, 7:30 – 8:30 a.m. (Marcus Wheatland Blvd entrance)
Food 2 Friends delivery for homebound seniors. Contact Ed for more info
Mobile Food Pantry visits to low-income housing communities
Preschool for registered preschool students. Openings currently available for 3 year olds. Contact Tanya by email or by phone: (401) 846-4828 x117
After School program for registered students
Daily Bread: Mon-Fri at the Marcus Wheatland Blvd entrance
On-site food pantry: Monday, Wednesday, and Friday from 10 a.m. to 2 p.m. and Wednesday evenings from 4 p.m. to 6 p.m. First Saturday of each month from 10 a.m. to 12 p.m.
Veggie Days weekly vegetable distribution outside, Thursdays 10 a.m. to 1 p.m. or while supplies last. ,Now year-round!
Grab 'n Go lunches: ,Every Tuesday and Thursday December 1st – December 24th from 11:30 a.m. to 1 p.m. Free! Presented in collaboration with McGrath's Clambakes. Menu TBD. Eating on-site not permitted.
Stepping Stones mentoring program: Start your journey to food security and overcome the obstacles that might stand in your way with the help of Client Support Specialist, Dezarae. This one-on-one mentoring program is open to any Newport County resident willing to meet (virtually or in-person) twice per month for at least six months, aged 18+, who is struggling with food insecurity. Contact Dezarae via email or call (401) 846-4828 x118
Dolly Parton's Imagination Library, presented by the Bazarsky Family Foundation in partnership with the MLK Community Center, puts books into the hands and hearts of children across the world. They partner with local communities to mail a hand-selected, age-appropriate, high-quality book each month to registered children from birth to age five, completely free of cost & regardless of family income. More info
Holiday Help: Registration is EXTENDED! Contact Dezarae by email or by phone: (401) 846-4828 x118 or register online. Due to limits on gathering, no drop-in registrations permitted this year.
Donations: Donations of non-perishable food, fresh produce, household items, and personal care items are accepted at our loading dock Mon-Fri 8:30 a.m. – 5:00 p.m. Please ring the bell upon arrival. Masks required to donate. A list of our current needs available here; Holiday needs available here
---
Dr. Martin Luther King, Jr. Community Center
(401) 846-4828
---
No temenos la capacidad de traducir cada entrada del blog a español porque usamos una herramienta de traducción en el internet. Por favor, disculpe cualquier error gramática. Por favor, llame al Centro si tiene alguna pregunta.
Asociación de Thompson Middle School, # GivingTuesday gracias y más
ACTUALIZACIONES DEL MLK COMMUNITY CENTER
Viernes 4 de diciembre de 2020
---
SU GENEROSIDAD HIZO ESTE #GIVINGTUESDAY EL MEJOR DE TODOS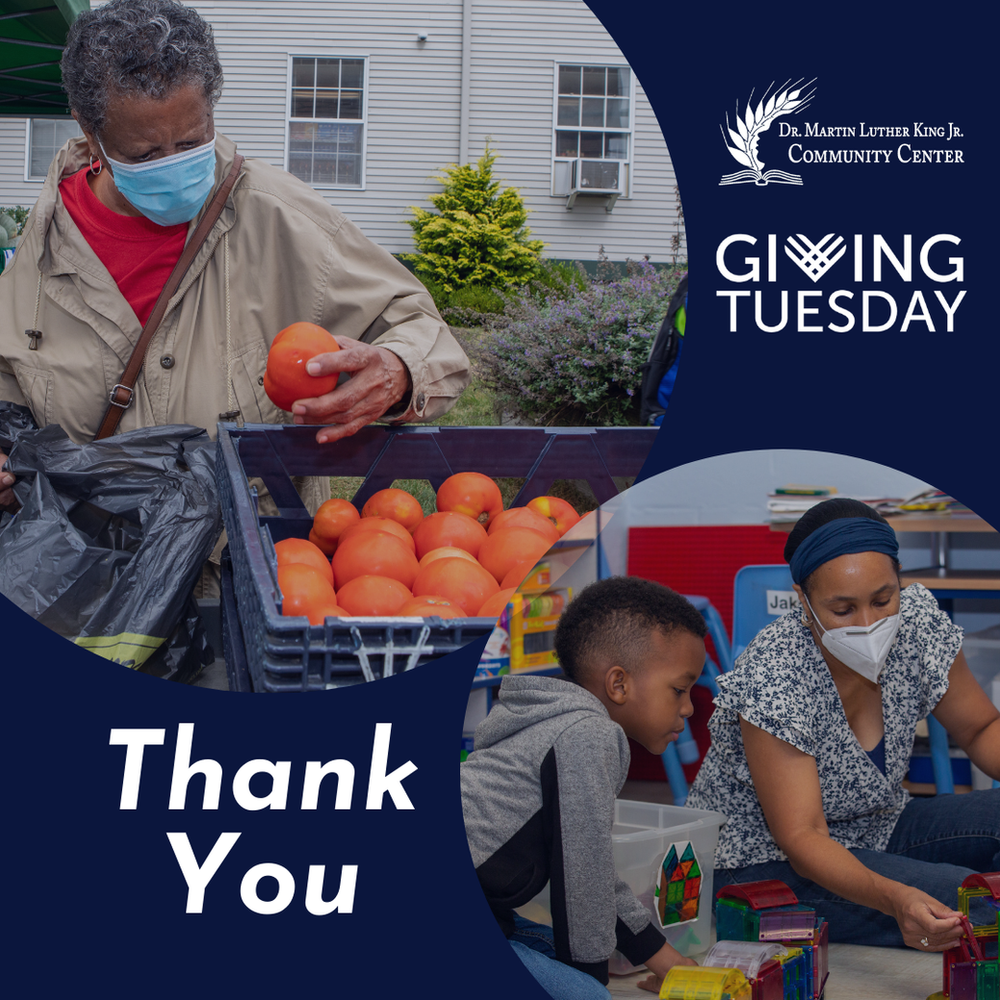 Gracias a su increíble generosidad por ,#GivingTuesday, ¡superamos con creces nuestra meta! Nuestro objetivo era recaudar un dólar por cada persona a la que el MLK atenderá en 2020: 4,786 personas, que es lo máximo que hemos servido en nuestros casi 100 años de historia. Este ha sido un año histórico, por lo que es apropiado y humillante que nuestros vecinos también hayan mostrado al MLK una gran cantidad de apoyo histórico. GRACIAS. Y, un agradecimiento especial a nuestros amigos de Phoenix Bulk Carriers, quienes ofrecieron una contrapartida 2: 1 de hasta $ 9,572, lo que inspiró a muchos a donar por primera vez, o dar más. (* El partido ya está cerrado).
Gracias por animar al condado de Newport. Nos ayudas a comprar comida para vecinos necesitados; ayudar a nuestros hijos a sobresalir; ayuda a los vecinos a adoptar estilos de vida saludables y ayuda a las personas mayores a evitar el aislamiento. Haces que nuestra comunidad sea más fuerte.
---
DETRÁS DE ESCENAS Y EN MODO VACACIONES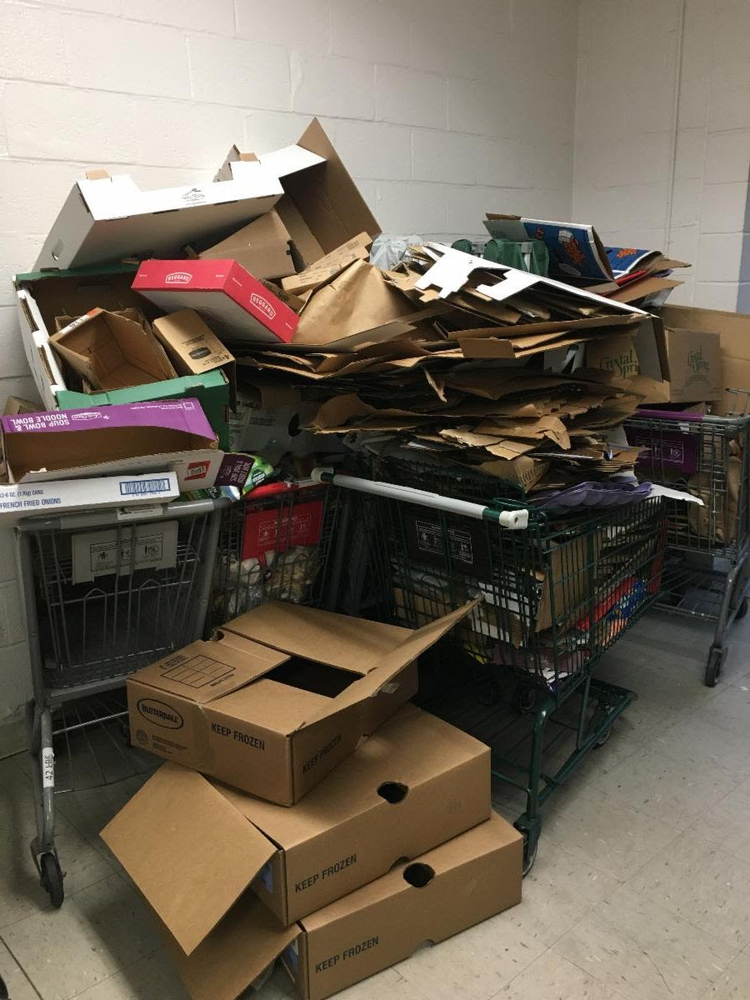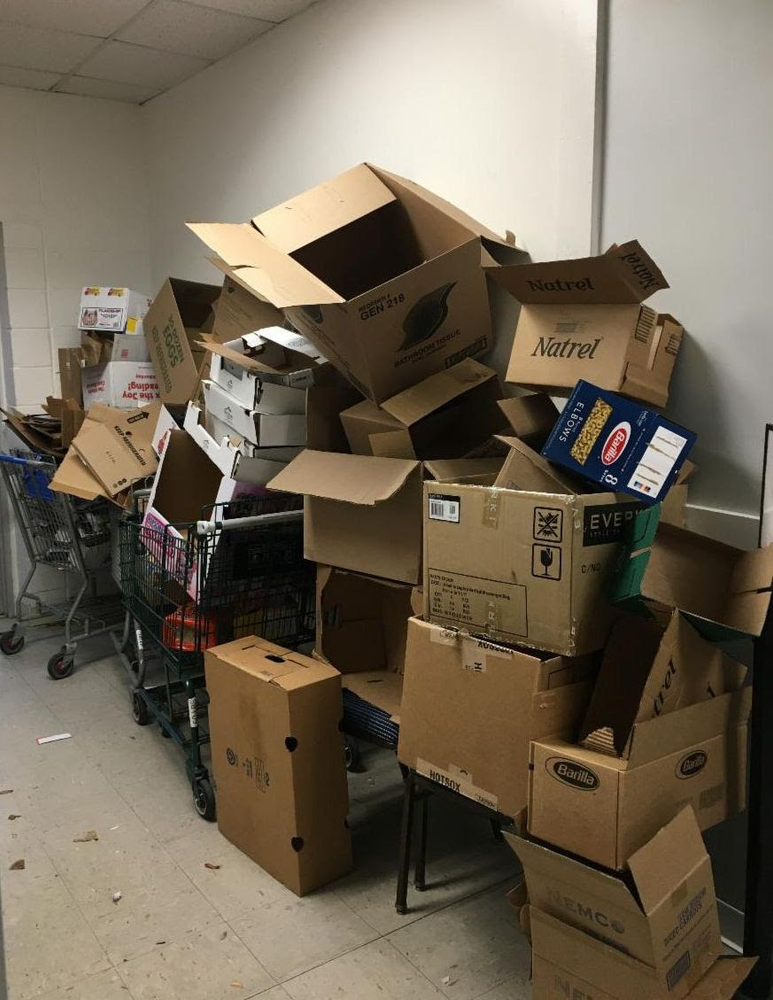 Bien, sabemos que esto es un desastre y prometemos que nuestra trastienda no se verá así por mucho tiempo, gracias a nuestros increíbles voluntarios. Pero creemos que esto hace un buen trabajo al mostrar la escala de lo que hacemos. Tomadas antes del Día de Acción de Gracias, las cajas en esta foto representan solo dos días de donaciones y compras para abastecer nuestros programas de Servicios contra el Hambre. Todos los días, los alimentos llegan a nuestro muelle de carga, se pesan, clasifican y almacenan, luego se trasladan a la despensa para su distribución. Romper las cajas para reciclarlas es una parte esencial de nuestro día. No es el trabajo más divertido, pero definitivamente es necesario. Estamos agradecidos con los voluntarios que desarman cajas para que nuestro personal pueda hacer otro trabajo.
Taller de Santa y comida navideña:
Santa's Helpers están actualmente ocupados preparando el Centro para el Taller de Santa y nuestra distribución de comida navideña. Este año, se están tomando mayores medidas de seguridad para mantener a los clientes socialmente distanciados y hacer que Santa's Workshop sea lo más sencillo posible.
Distribución de alimentos de Acción de Gracias:
Ahora estamos en modo elfo, por lo que es especialmente difícil de creer que el Día de Acción de Gracias fue hace solo unos días. Este año, su apoyo significó que pudiéramos proporcionar pavos de Acción de Gracias, productos agrícolas y todas las fijaciones a 1,385 personas de 578 familias en el condado de Newport.
---
APOYO AL APRENDIZAJE A DISTANCIA: ESTUDIANTES DE ESCUELA INTERMEDIA DE THOMPSON EN EL MLK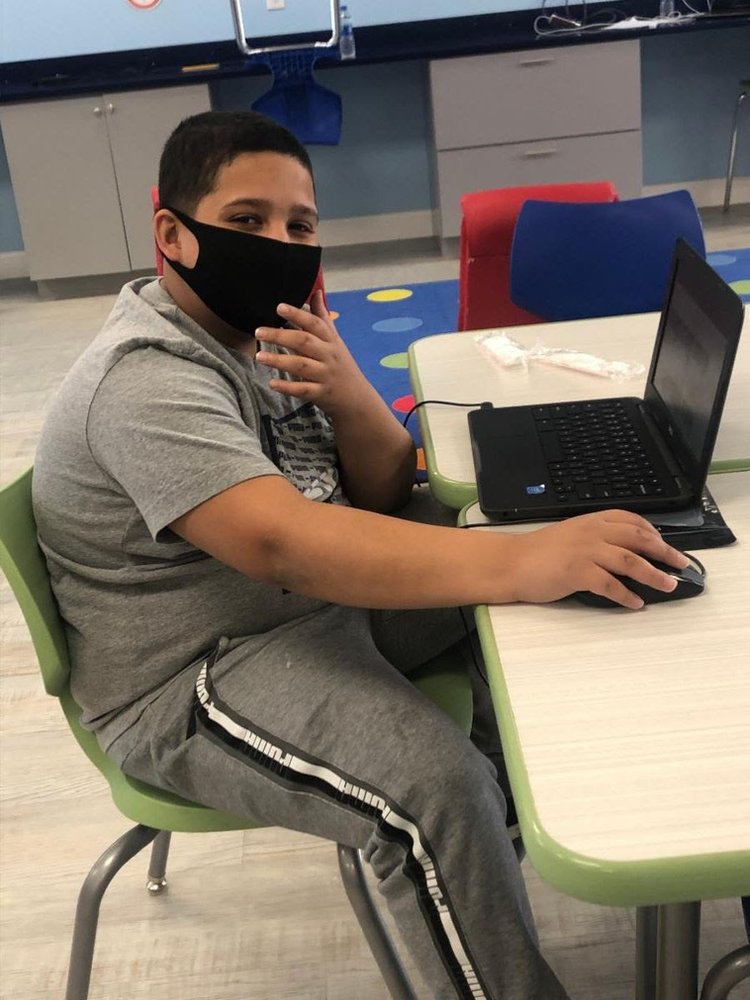 En MLK, nos esforzamos por satisfacer las necesidades de la comunidad, especialmente en estos tiempos inciertos. Eso significa colaborar de nuevas formas.
El MLK ofrece espacio para que un pequeño grupo de estudiantes de la escuela secundaria Thompson reciba apoyo de aprendizaje a distancia, de 8 am a 1 pm. Los estudiantes, de quinto a octavo grado, fueron seleccionados por sus maestros para recibir este apoyo adicional, ya que han estado luchando con el aprendizaje a distancia. Tres miembros del personal de apoyo "Check and Connect" de AmeriCorps brindan apoyo e instrucción individualizados. El desayuno y el almuerzo son entregados por las Escuelas Públicas de Newport.
Este programa y todos los estudiantes y el personal están separados del personal y los programas educativos de MLK.
"Desde que comencé a venir a este programa, mis calificaciones han mejorado … MUCHO. Cuando estaba en casa para el aprendizaje a distancia, no hacía nada más que dormir todo el día ", comentó un estudiante (no se muestra).
---
PATROCINADOR DE DESPENSA DE ALIMENTOS MÓVIL
Iglesia Metodista Unida Calvary
Gracias a nuestros generosos patrocinadores de Mobile Food Pantry, la Mobile Food Pantry de MLK lleva alimentos no perecederos, productos frescos, leche, carne y huevos a las comunidades del condado de Newport, donde el transporte suele ser una barrera.
Nuestro patrocinador de la despensa móvil de alimentos del pasado martes 1 de diciembre en Oxbow Farms en Middletown fue ,Calvary United Methodist Church en Middletown, RI. También son nuestro generoso patrocinador de la despensa móvil de alimentos del martes 15 de diciembre en Park Holm en Newport (12-1: 45 pm).
Para patrocinar una despensa de alimentos móvil, haga clic aquí.
"Estamos muy bendecidos de ser parte de este maravilloso ministerio", dijo el pastor Laurie. "Nuestra comunidad es nuestra comunidad unida y, por lo tanto, estemos siempre asociados para servir".
Para obtener más información sobre la Iglesia Metodista Unida Calvary, visite su sitio web: ,middletownmethodist.com
(Foto tomada en Oxbow Farms la semana pasada, después del atardecer. ¡Está oscuro tan temprano estos días!)
---
PROGRAMA DE LASAÑA "COMPRA UNO, DALE UNO" DE GIUSTO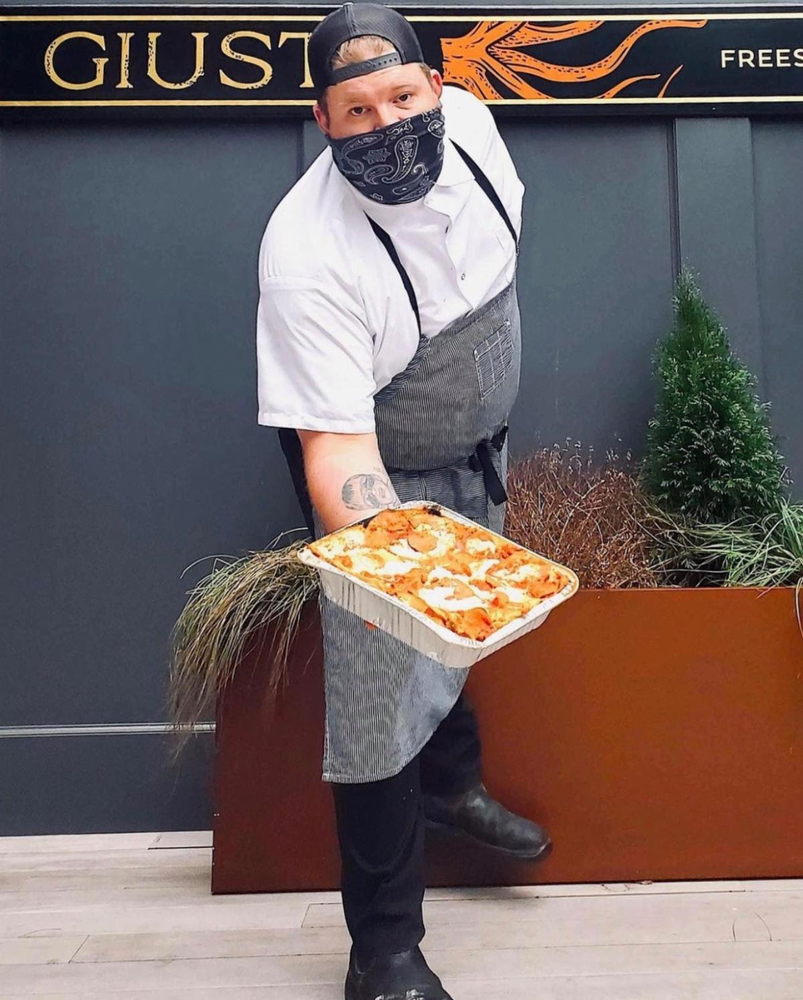 ¿Cómo está apoyando su cena a su comunidad? Con la asociación de lasaña "Buy One, Give One" de ,Giusto Newport, tendrá la cena de esta noche cubierta (¡+ sobras para el almuerzo!) Y apoyará al Centro MLK. Por cada Lasaña de Mamá vendida (para 8-10 porciones), donarán una al Centro, que se distribuirá en nuestras Despensas de Alimentos móviles y en el lugar. Haga su pedido en línea o llámelos para pedir comida para llevar: ,giustonewport.com
---

---
AQUÍ PARA AYUDAR
El Centro Comunitario de MLK estará cerrado el viernes 25 de diciembre hasta el Año Nuevo para nuestras vacaciones de invierno. Reabriremos el lunes 4 de enero de 2021.
Desayuno para llevar de lunes a viernes, de 7:30 a 8:30 a.m. (entrada de Marcus Wheatland Blvd)
Entrega de Food 2 Friends para personas mayores confinadas en el hogar. ,Comuníquese con Ed para obtener más información
,Visitas móviles de despensa de alimentos a comunidades de viviendas de bajos ingresos
Preescolar para estudiantes de preescolar registrados. Aperturas actualmente disponibles para niños de 3 años. Comuníquese con Tanya por correo electrónico o por teléfono: (401) 846-4828 x117
Programa extracurricular para estudiantes registrados
Pan diario: de lunes a viernes en la entrada de Marcus Wheatland Blvd
Despensa de alimentos en el lugar: lunes, miércoles y viernes de 10 a.m. a 2 p.m. y miércoles por la noche a partir de las 4 p.m. a las 6 p.m. Primer sábado de cada mes de 10 a.m. a 12 p.m.
,Veggie Days distribución semanal de verduras al aire libre, jueves de 10 a.m. a 1 p.m. o hasta agotar existencias. ¡Ahora todo el año!
,Almuerzos Grab 'n Go: Todos los martes y jueves del 1 de diciembre al 24 de diciembre de 11:30 a.m. a 1 p.m. ¡Gratis! Presentado en colaboración con McGrath's Clambakes. Menú TBD. No se permite comer en el lugar.
Programa de mentores Stepping Stones: comience su viaje hacia la seguridad alimentaria y supere los obstáculos que puedan interponerse en su camino con la ayuda del especialista en atención al cliente, Dezarae. Este programa de tutoría individual está abierto a cualquier residente del condado de Newport que desee reunirse (virtualmente o en persona) dos veces al mes durante al menos seis meses, mayores de 18 años, que esté luchando contra la inseguridad alimentaria. Póngase en contacto con Dezarae a través de ,correo electrónico o llame al (401) 846-4828 x118
La Biblioteca ,de imaginación de Dolly Parton, presentada por la Fundación de la familia Bazarsky en asociación con el Centro Comunitario MLK, pone libros en las manos y corazones de niños de todo el mundo. Se asocian con las comunidades locales para enviar por correo un libro de alta calidad, apropiado para la edad y seleccionado a mano cada mes a los niños registrados desde el nacimiento hasta los cinco años, completamente gratis e independientemente de los ingresos familiares. ,Más información
Ayuda para las fiestas: ¡El registro se ha EXTENDIDO! Póngase en contacto con Dezarae por ,correo electrónicoor por teléfono: (401) 846-4828 x118 o ,registro en línea. Debido a los límites en la recolección, no se permiten registros directos este año.
Donaciones: Se aceptan donaciones de alimentos no perecederos, productos frescos, artículos para el hogar y artículos de cuidado personal en nuestro muelle de carga de lunes a viernes de 8:30 a.m. a 5:00 p.m. Por favor toque el timbre a su llegada. Se requieren máscaras para donar. Una lista de nuestras necesidades actuales ,disponible aquí; Necesidades de vacaciones ,disponibles aquí
---
Dr. Martin Luther King, Jr. Community Center
(401) 846-4828
---