UPDATES FROM THE MLK COMMUNITY CENTER
Friday, August 14, 2020
---
RESTOCK TO REOPEN MATCHING CHALLENGE now up to $100,000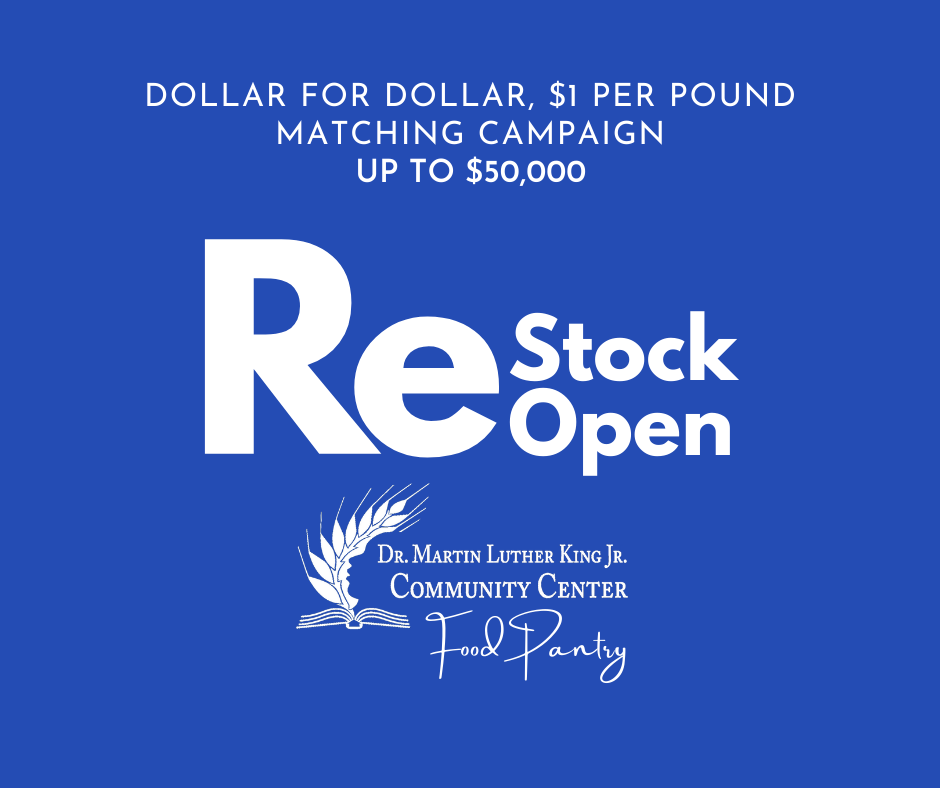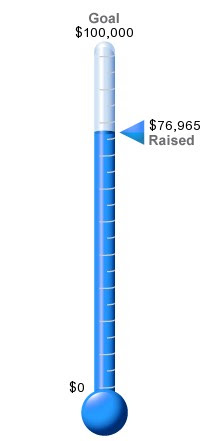 Wow, look what you've done in just one week, Newport County! We are delighted to report as of today, Friday, August 14th, you have given an astonishing $76,965 in combined monetary contributions and donations of food, household and personal care items. The COVID19 Response Fund at the Rhode Island Foundation has just provided a generous grant. And, a generous local family in Newport learned about the campaign and wants to help with an added $50,000 match to ensure all donations are matched up to $100,000.
Every donation up to $100,000 will be matched, dollar for dollar, or $1 per pound. Make your donation to the MLK have DOUBLE THE IMPACT! Donate today. For more info and to make your donation, visit our website.
---
SUMMER CAMP: ICYMI
In Case You Missed It…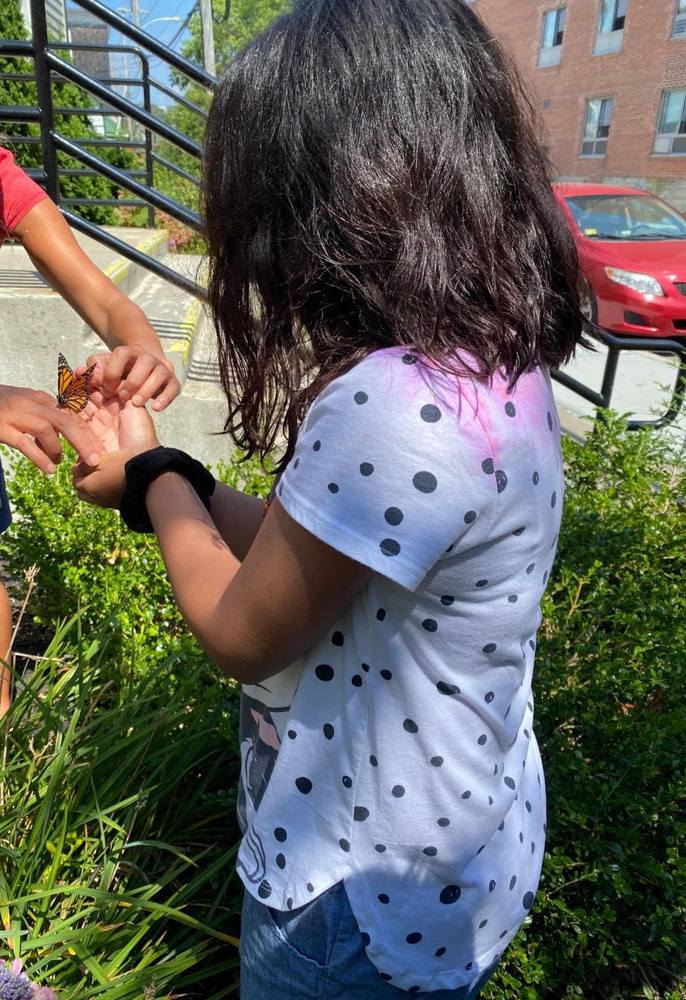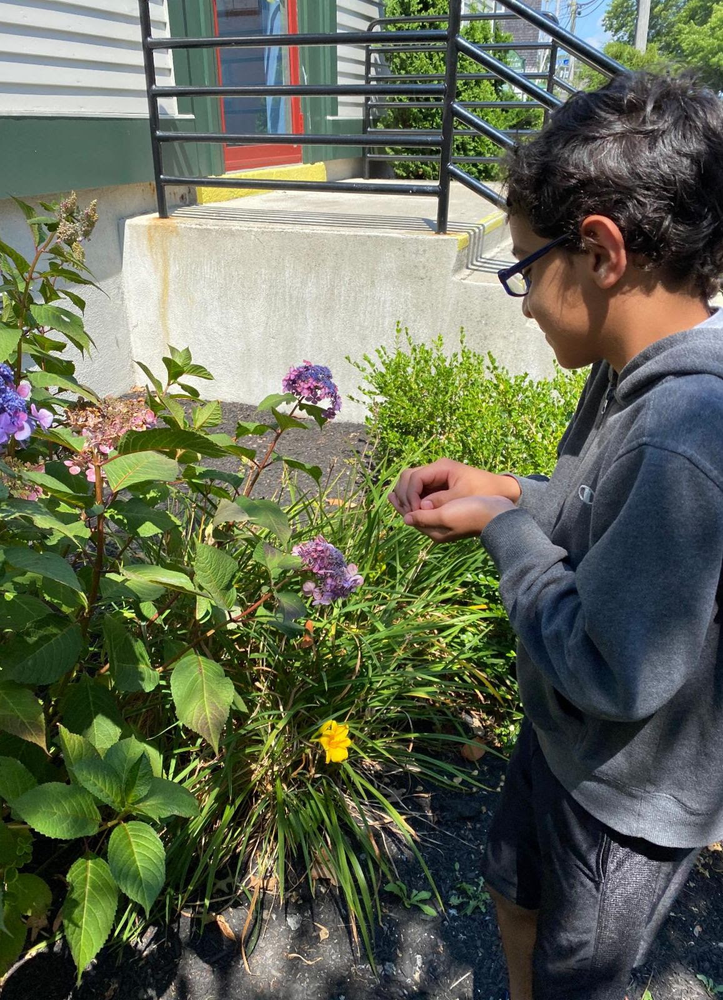 Pictured: Campers release the butterfly that they raised into the wild
Summer Campers at the MLK Summer Adventure Camp have been busy these past few weeks! In case you missed it, last week, summer campers were meteorologists and gave a daily weather report on Facebook and Instagram every morning! Check out last Friday's weather report here. Campers took turns delivering the weather report, which allowed them to practice their public speaking skills, critical thinking skills, and use their scientific vocabulary in context. This week, campers were botanists, so this week's math, literacy, and science lessons centered around the scientific study of plants. Campers also enjoyed sailing lessons with Sail Newport; visited the Oliver Hazard Perry where they learned lessons in buoyancy and water density; enjoyed swim and play time at the beach; practiced breathing and self-regulating emotions with Movement & Mindfulness; and much more. Another very exciting moment from this week: the butterfly that campers raised from larvae metamorphosed from caterpillar into a butterfly! The campers said their goodbyes as they released it into the wild. Along the way, campers learned about the life cycle of insects.
---
MOBILE FOOD PANTRY SPONSOR
United Healthcare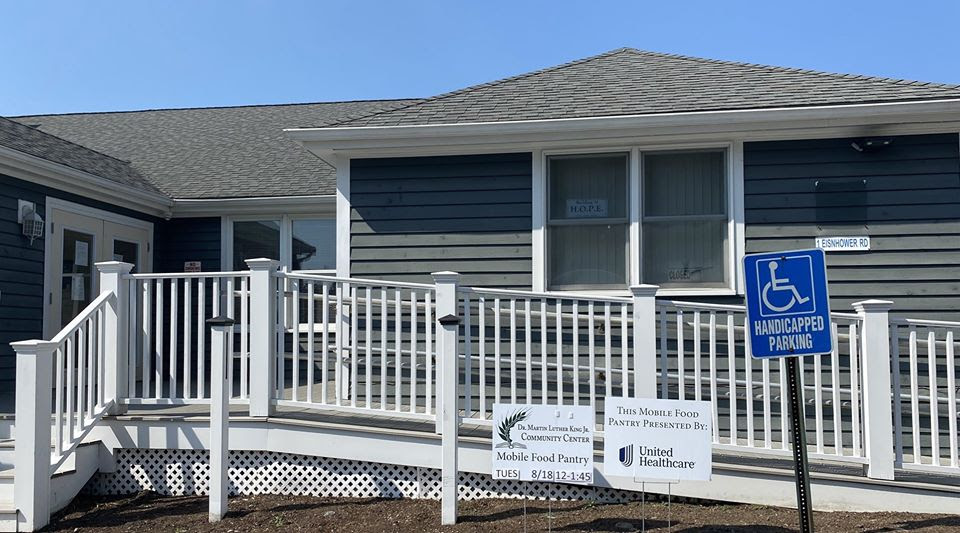 We are proud to announce our FIRST Mobile Food Pantry Sponsor:
UnitedHealthcare! Thanks to their generosity, the MLK Community Center is able to bring non-perishable food, fresh produce, milk, meat, and eggs into communities around Newport County where transportation is often a barrier. UnitedHealthcare will be sponsoring Tuesday, August 18th's Mobile Food Pantry visit to Parkholm Senior Center (shown) from 12 p.m. to 1:45 p.m.
UnitedHealthcare is dedicated to helping people nationwide live healthier lives by simplifying the health care experience, meeting consumer health and wellness needs, and sustaining trusted relationships with care providers. The company offers the full spectrum of health benefit programs for individuals, employers and Medicare and Medicaid beneficiaries, and contracts directly with more than 800,000 physicians and care professionals, and 6,000 hospitals and other care facilities nationwide.
Thank you for being a community champion, UnitedHealthcare!
---
HERE TO HELP
Grab-n-Go Breakfast every weekday, 7:30 – 8:30 (Marcus Wheatland Blvd. entrance)
Food 2 Friends delivery for homebound seniors
Mobile Food Pantry visits to low-income housing communities
Preschool for registered preschool students
Daily Bread: Available at the Marcus Wheatland Blvd entrance weekdays from 10 am – 4 pm.
On-site food pantry: Monday, Wednesday, and Friday from 10 a.m. to 2 p.m. and Wednesday evenings from 4 p.m. to 6 p.m. First Saturday of each month from 10 a.m. to 12 p.m., starting Sept. 5th.
Veggie Days weekly vegetable distribution outside, Thursdays 10 a.m. to 2 p.m. or while supplies last
Summer Camp for registered summer campers
THIS WEEK – Grab 'n Go lunch: Tuesday, August 18th from 11:30 a.m. to 1 p.m. Free! Presented in collaboration with McGrath's Clambakes. Menu TBD. Eating on-site not permitted.
Senior farmers market coupon booklets are available to pickup at the MLK. While supplies last, Rhode Island residents seniors ages 60+ who meet the income requirements can pick up one booklet per season.
Donations: Donations of perishable & non-perishable food, fresh produce, household items, and personal care items are accepted at our loading dock Monday – Friday 8:30 a.m. – 5:00 p.m. Please ring the bell upon arrival. Masks required to donate. A list of our urgent needs available here.
---